A costly defeat for Leicester City
Leicester City went into the last gameweek of the 2020/21 Premier League season knowing that they were still in the race for top-4 and a win against Tottenham Hotspur was necessary. Chelsea were on 67 points in third place, while Liverpool and the Foxes had 66 points, with the Reds leading on goal difference.
But Chelsea's loss against Aston Villa in the last gameweek meant that a win for Leicester would have taken through to the UEFA Champions League group stages next season. The Foxes even lead twice against Spurs but the match ended in a 4-2 loss, with Brendan Rodgers' men completely capitulating in the last 15 minutes.
With Liverpool winning their game against Crystal Palace, Jurgen's Klopp side joined Manchester City, Manchester United and Chelsea in the top 4. The Blues only made the top 4 because of Spurs' win. So how did such a costly defeat come about for Leicester? Let us analyse.
The set-up by Brendan Rodgers
Rodgers went with a 3-4-1-2 formation against Spurs, a set-up that he has trusted in recent gameweeks. As in any such formation, the three centre-backs are supplemented in defence by the wide midfielders, who also double as wingers in attack. Jamie Vardy and Kelechi Iheanacho, two true No.9s, started together.
As visible in Image A, Luke Thomas, a naturalized left-back, played as a left-midfielder while Marc Albrighton was on the right-hand side; this would lead fans to believe that Rodgers wanted to have a defensive approach to the Spurs' right flank, which had Steven Bergwijn starting. (h/t Transfermarkt)
But is that how it transpired? Image B shows that the on-paper set-up and in-game formation was a bit different. In the average player positions for the starting XI of both teams, both Thomas and Albrighton were equally defensive and Leicester played in almost a 3-1-3-2-1 formation, with Iheanacho (14) and James Maddison (10) playing as wide forwards alongside Vardy (9).
Spurs, on the other hand, were more attacking, with their full-backs more advanced than Leicester's considering they played with two centre-backs against Leicester's three. Sergio Reguilon (3) almost played as a left-winger at times while Son Heung-min, who started as a left-midfielder, drifted in to play as a striker.
Another interesting thing Leicester did was making Timothy Castagne, who started as a centre-back, offer support to Albrighton on the right-hand side of the defence.
Image C shows one of many instances where Castagne (yellow circle) dropped in as a right-back while Albrighton (black circle) played as a right-midfielder, giving Leicester City a 4-4-2 shape (with Vardy out of the frame of the image).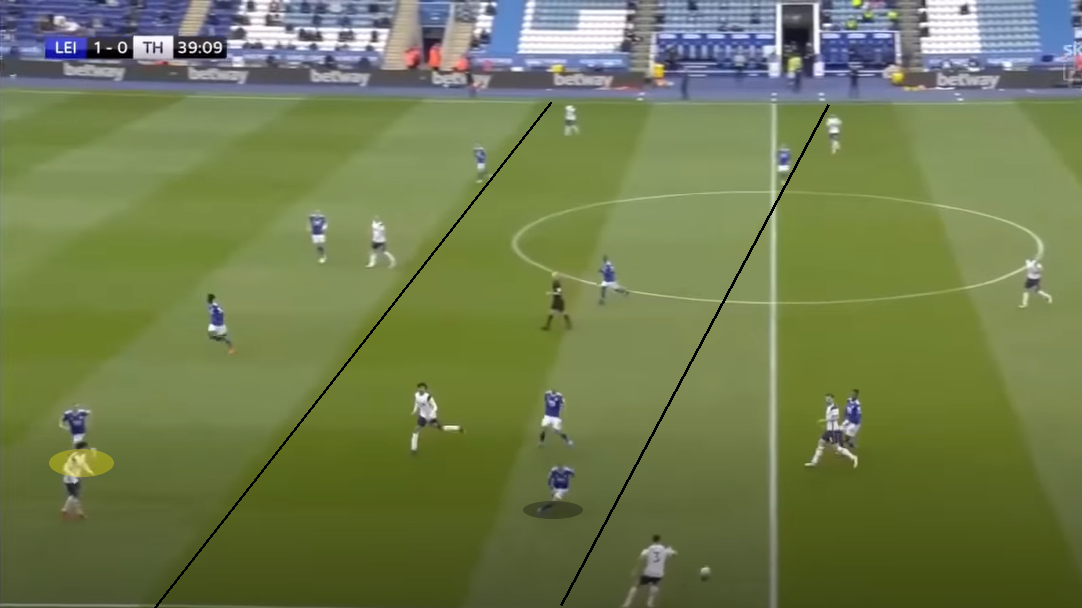 The first three goals
Things were going good for the Foxes. Jamie Vardy and Iheanacho played as counter targets and mostly stayed up whenever Tottenham attacked. This led to a big counter-attack in the 17th minute, where, in Image D, Jamie Vardy (in possession of the ball) and Iheanacho (closest Leicester player to Vardy) attacked the Lilywhites' defence, with right-back Serge Aurier nowhere in the frame.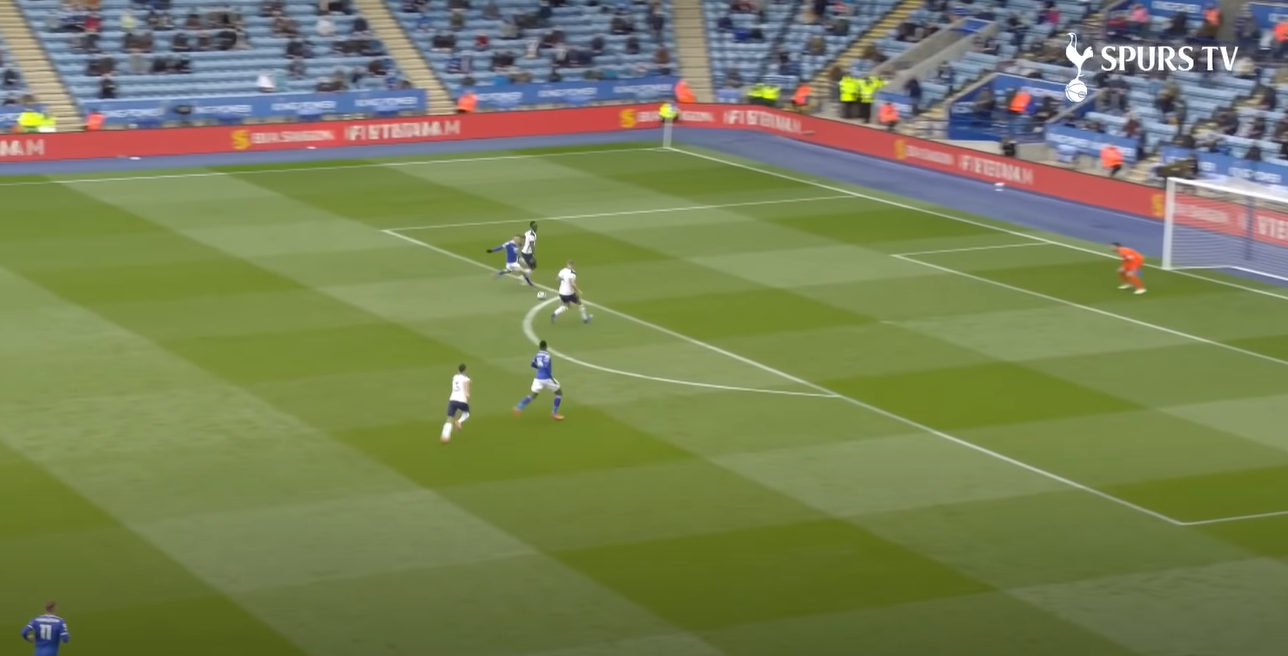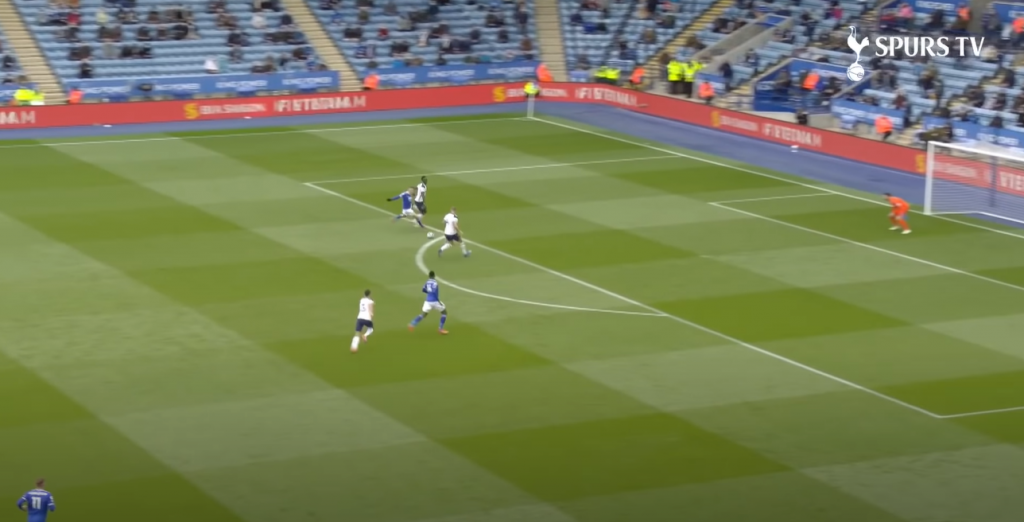 A tackle by Toby Alderweireld led to a penalty, which Vardy dispatched to put the Foxes 1-0 with just 18 minutes on the clock. Maybe, the goal came too early for Rodgers' side as they started to sit back very deep.
Image E shows how, between 19th and 41st minute (Kane's equalizer), Leicester had just one shot and were trailing to Tottenham in passes and touches. Spurs also made a lot more passes in the final third when compared to Leicester.
This cost them big time. As you can see in Image F, Spurs defenders are needlessly too deep in their box. This invites pressure, and needless to say, spaces around the edge of the box.
In this case, Kane (yellow circle), was somehow left free despite the Foxes players being in huge numbers inside the box. Their backs-to-the-wall approach ended up in a Harry Kane volley to make the score 1-1.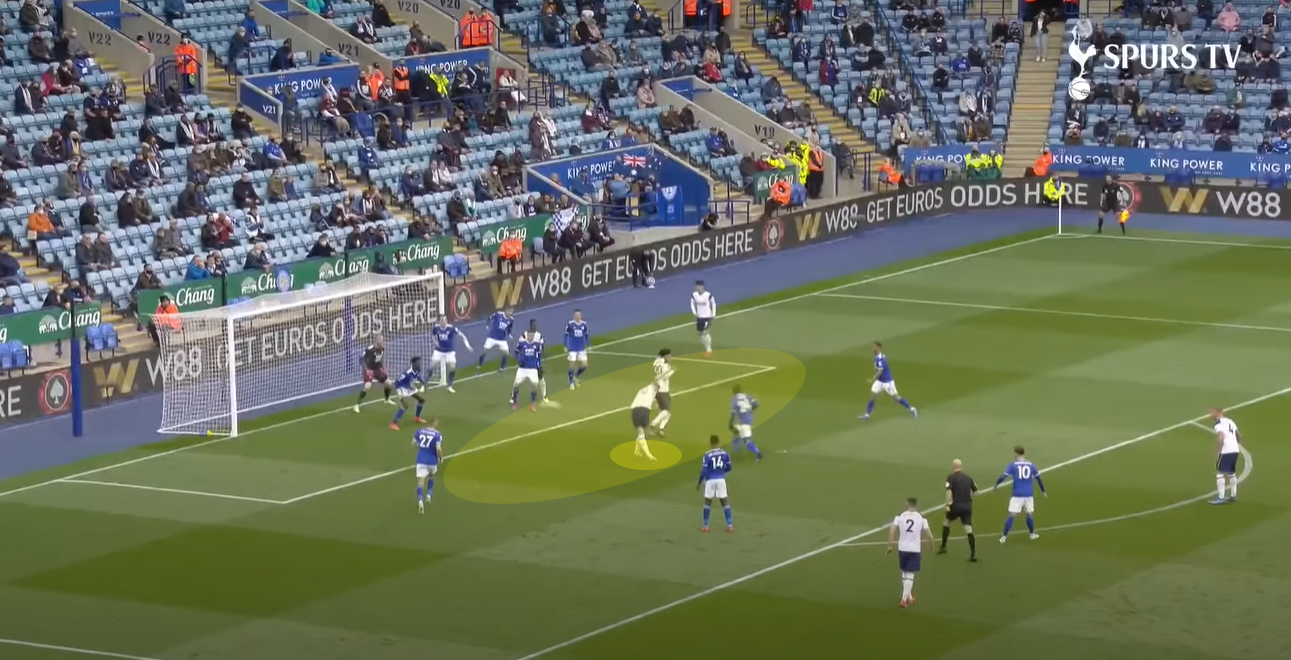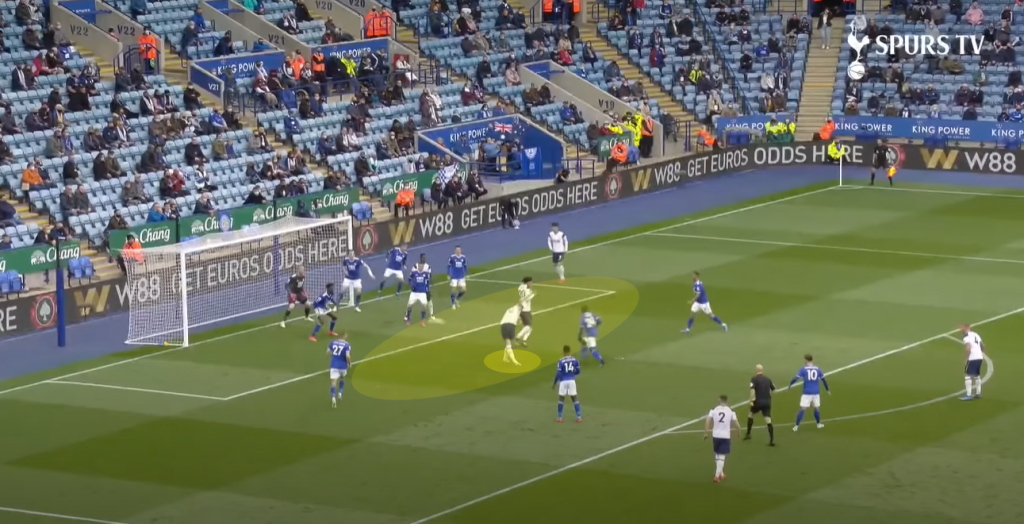 Things changed then. Leicester City started to attack and Vardy found himself in the box just after the start of the second half. As Image G shows, it was because Vardy (yellow circle) had the space to make a diagonal run into space vacated by Matt Doherty (black circle). A foul by Davinson Sanchez resulted in a penalty, which Vardy scored again to make it 2-1 in the 52nd minute.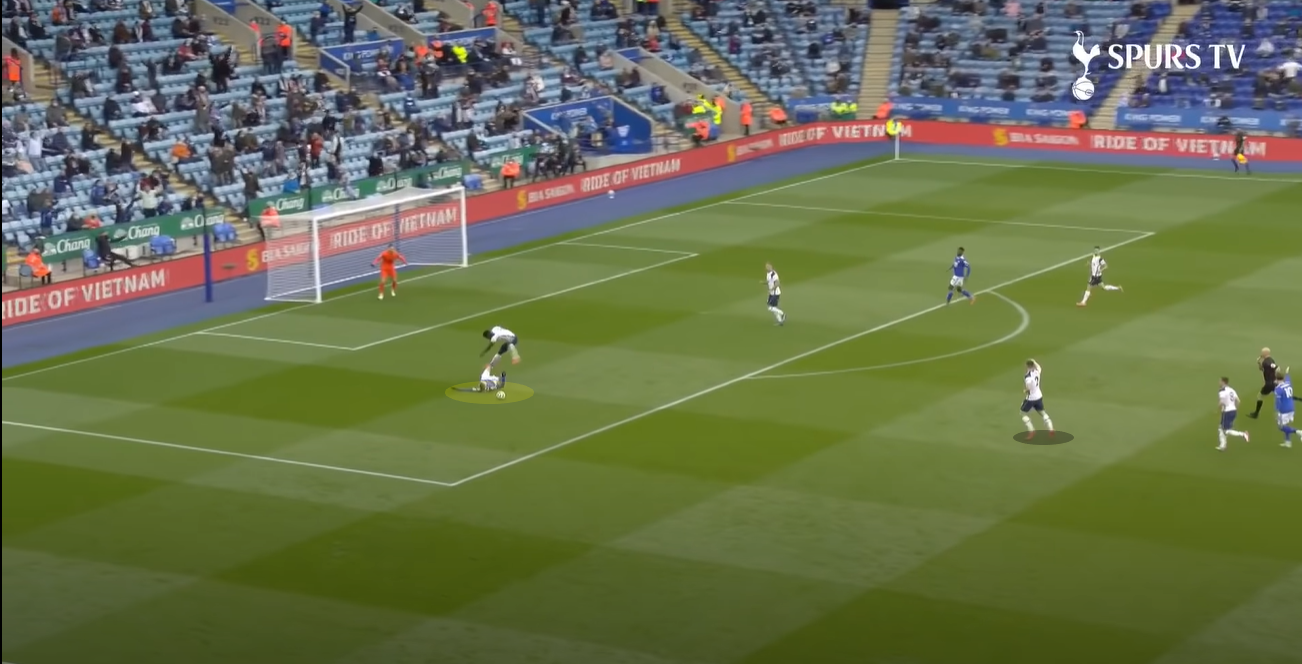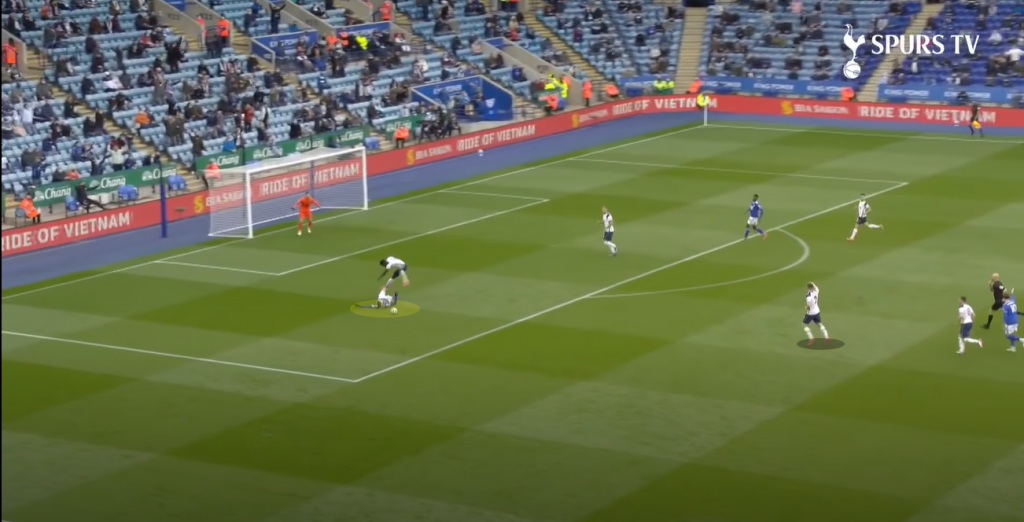 The final 15 minutes for Leicester City
That is the difference between Leicester being in the UCL and being in the UEFA Europa League… just 15 minutes. They were in the lead by the 75th minute. But their tendency to defend the lead really made them feel the pressure. A corner in the 76th-minute was mishandled by goalkeeper Kasper Schmeichel amidst intense pressure from Spurs player.
This one was down to an individual error but Leicester really let Spurs come on to them, managing just one shot between Vardy's second goal and Schmeichel's own goal. While Leicester started to attack more in order to score the winner, Spurs found chances to counter-attack.
However, the same mistake was repeated by Leicester. As shown in Image F, Image H shows how deep Leicester's defenders and midfielders without any reason, affording space to Gareth Bale, who latched onto a pass in free space to make it 3-2 in the 87th minute.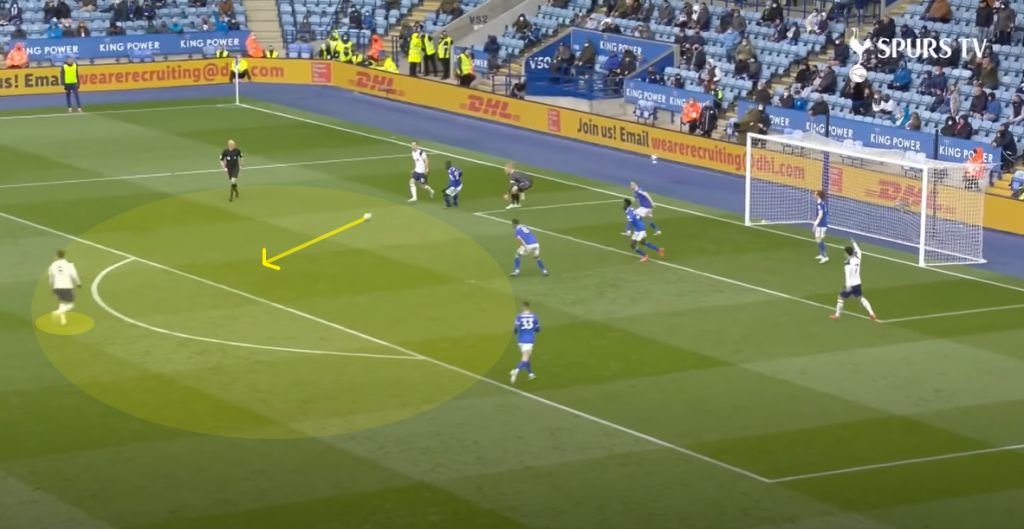 Spurs were countering Leicester a lot after it was 2-2 and while it can be excused because the Foxes wanted a goal, the aforementioned picture would baffle any fan. Leicester had men back to defend but no one had the awareness to mark runners into the box, that too someone as potent as Bale.
We've talked about Bale's tendency to often play centrally at times with Kane and Son drifting wider (Image H shows an example of it). And it was brilliant management from Ryan Mason to bring on Bale with more than 20 minutes left on the clock to impact the game.
Rodgers made no positive substitutions when he had the time, with Ayoze Perez coming on in the 82nd minute. Taking off Maddison for Pereira around the hour mark baffled Leicester fans too.
Then, in added time, as shown in Image I, Bale played centrally again, with Kane (red circle) making a wide run which took Caglar Soyuncu (red circle) with him. Leicester were short at the back now.
This gave Bale the space to make a run straight down the middle as the centre-backs were split. Bale's role as a second central striker really troubled Leicester a lot and resulted in two costly goals.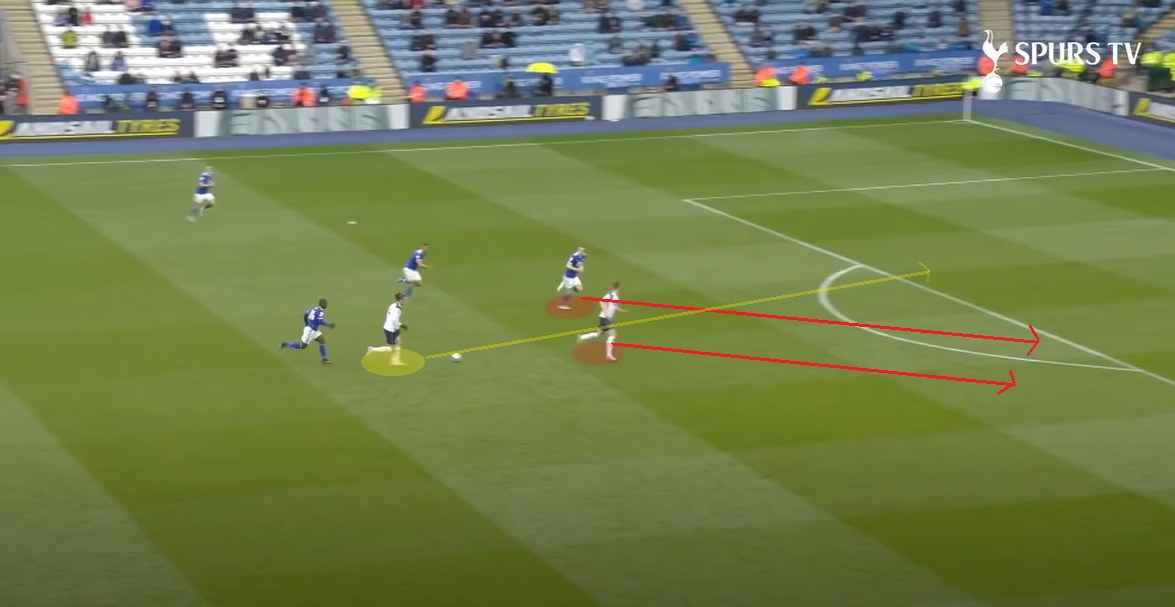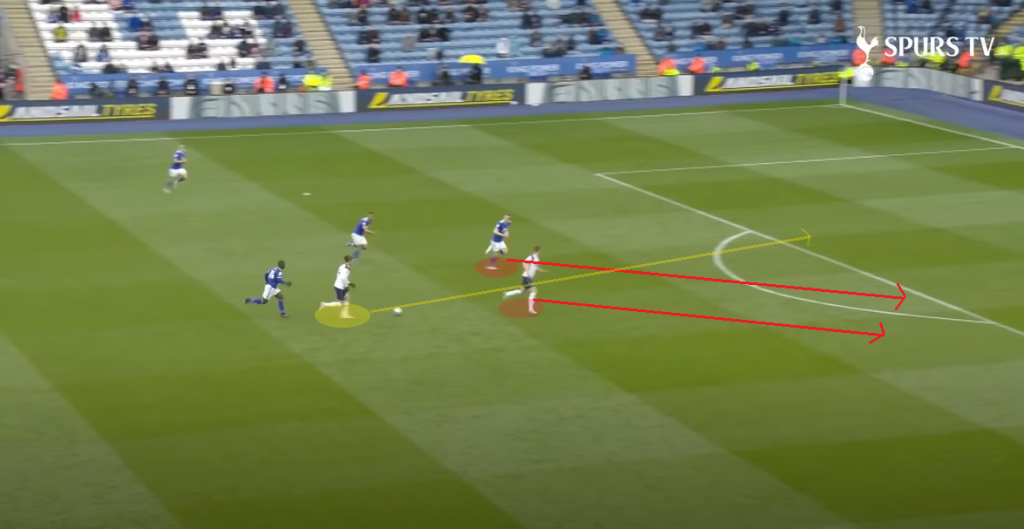 Verdict
Both teams played an open game and it was Spurs who took their chances when it mattered the most. Leicester had more shots on target than Tottenham (as Image J shows), but still failed to make them count, with both their goals coming from the penalty spot. The xG (expected goals) of both teams were similar, but Spurs scored 4 non-penalty goals to Leicester's 0.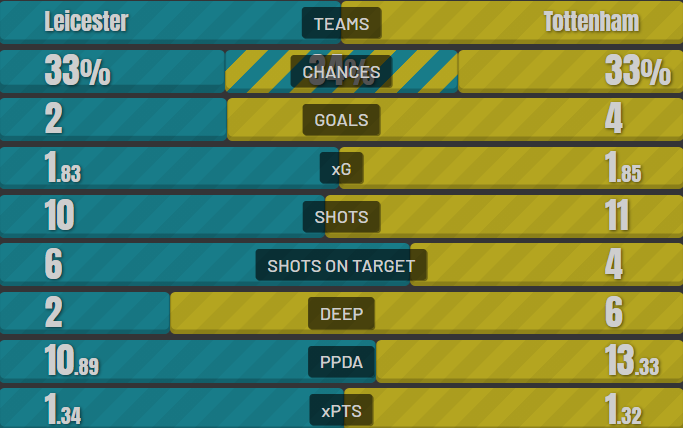 Bale was clearly the danger man once he came on but wasn't marked. Brendan Rodgers too admitted Leicester's shortcomings and stated how the Foxes weren't at their best. (h/t Leicester Live)
"I didn't think we were brilliant in the game but we showed moments of quality, Vards has done great for the penalties and showed great composure to get us in front of the game. We've conceded two goals that are disappointing.

We had issues at the beginning of the season, when we were missing players of the profile, and having Jonny and Wesley out, we didn't have the same authority at set-pieces and ultimately we conceded two."
Leicester had a very tough end of the season fixture list but they still only managed 2 wins out of their last 6 games. That is not the run of form of a team that should be in the Champions League. They have the squad, but if they work on the mentality and fix the shortcomings, the Foxes could be back challenging for 4th place again next term.