The Australian may always have a big grin on his face, but he is a razor-sharp racer in the track. Here's a look at Daniel Ricciardo's net worth.
Daniel Ricciardo combines all-out speed with impressive race craft. Never afraid to push to the limits if it means pulling off a pass, Ricciardo is a proven race-winner who is consistent with his performance. Here are his net worth, salary, records and endorsements.
Daniel Ricciardo Facts
| | |
| --- | --- |
| Birth Place | Perth, Western Australia |
| Father's Name | Giuseppe "Joe" Ricciardo |
| Mother's Name | Grace Ricciardo |
| Star Sign | Cancer |
| Net Worth (2021) | $50 Million |
| Salary (2021) | $17 Million |
| Age | 32 |
| Date of Birth | July 1, 1989 |
| Height (cm) | 1.80m (5′ 9″) |
| Weight (kg) | 66kg |
| Nationality | Australian |
| F1 Debut | 2011 |
| Teams | HRT (2011), Toro Rosso (2012-2013), Red Bull (2014-2018), Renault (2019-2020), McLaren (2021-) |
| F1 Race Wins | 7 |
| F1 Pole Positions | 3 |
| F1 Championship Wins | 0 |
| F1 podiums | 31 |
| Achievements | Lorenzo Bandini Trophy (2014), Laureus Breakthrough of the Year (2015), Formula Renault 2.0 WEC (2008), British Formula 3 (2009) |
| Marital status | Unmarried |
| Girlfriends | Jemma Boskovich, Annemarie Horbass, Jessica Gomes |
| Endorsements | Go Pro, Blue Coast, Puma, Amazon and Stance Stocks |
Daniel Ricciardo is one of the sweetest racers present in modern-day Formula 1. Aptly nicknamed 'The Honey Badger', Ricciardo is fuzzy on the outside and feisty on the inside.
Debuting in 2011, Riccardo has always been a podium finisher and is known for his iconic celebration – the 'Shoey'. However, he recently signed with McLaren and is still hoping for his maiden Championship title.
Daniel Ricciardo net worth and Salary
According to sources, it is estimated that Ricciardo earns a huge amount of $15 million. This figure excludes driver performances bonuses and personal sponsors. With various endorsements and sponsorships, the Australian's net worth is estimated to be around $50 million.
Ricciardo was ranked 48th on the Forbes list of highest-paid athletes in 2020. He reportedly earned $29M in 2020, with $27M coming through F1 winnings and salary and $2M through Endorsement deals.
Daniel Ricciardo F1 career
Ricciardo debuted on 30 June 2011 for Hispania Racing. He also raced in the inaugural Indian Grand Prix along with Karthikeyan.
In 2012, he joined Toro Rosso alongside Frenchman Jean-Eric Vergne. At the 2012 Australian Grand Prix on 18 March 2012, Ricciardo managed to overtake his teammate Vergne late on the last lap to come home in ninth place, securing his first two World Championship points. In 2013, Ricciardo finished 13th in the championship with 20 points.
From 2014 to 2018 Ricciardo raced for Red Bull where he achieved many accolades. His first podium came at the Spanish GP in 2014 when he finished third. He followed it up with another third-place finish in Monaco. The Perth native snatched his maiden win at the 2014 Canadian Grand Prix. Ricciardo went on to win two more races that year, in Hungary and Belgium.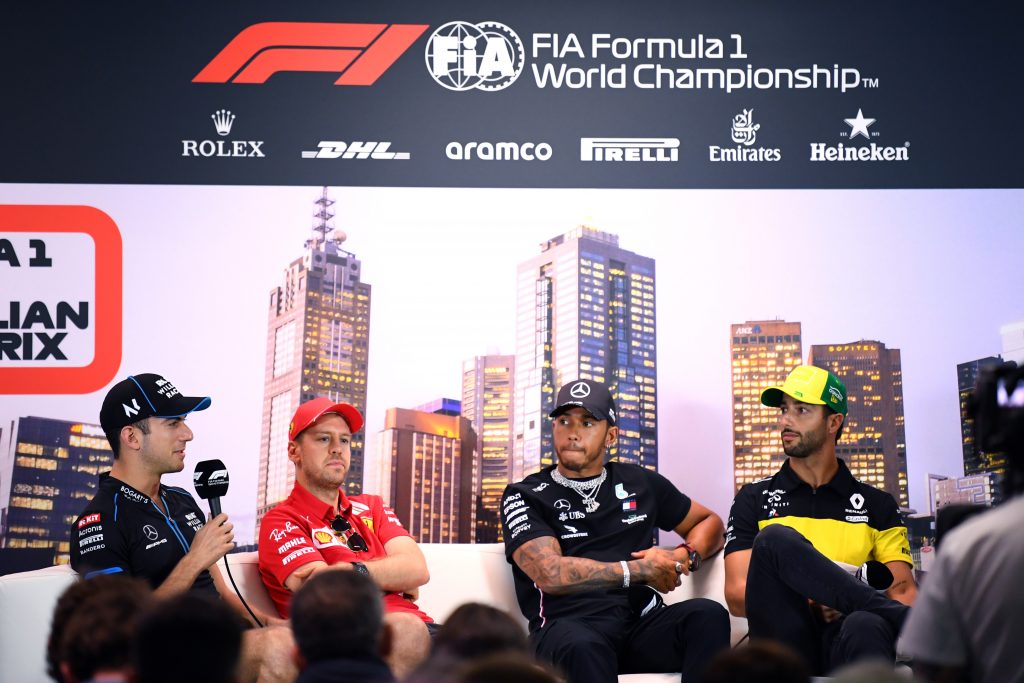 During the rest of his career at Red Bull, he took four more wins. They were in Malaysia 2016, Azerbaijan 2017, China 2018, and Monaco 2018. His highest position in the Drivers' Championship has been third in 2014 and 2016.
Ricciardo raced for Renault from 2019 to 2020. Here, at the Italian Grand Prix 2019, Ricciardo finished in 4th place, his best result of the year. After two years at Renault, Ricciardo joined McLaren in 2021, replacing Carlos Sainz Jr. and partnering with Lando Norris.
Daniel Ricciardo Personal Life
Daniel Ricciardo is the son of Giuseppe "Joe" Ricciardo and Grace Ricciardo. He also has a sister named Michelle Ricciardo.
Ricciardo is reportedly dating model Jessica Gomes. He was also in a long-time relationship with Jemma Boskovich but they officially parted ways in 2016.
Daniel Ricciardo endorsements
The native Australian is sponsored by Go Pro, Blue Coast, Puma, Amazon and Stance Stocks. He is also sponsored by McLaren.
Daniel Ricciardo 'Shoey' celebration
Ricciardo is known by his F1 fans for his iconic celebration, 'The Shoey'. The world first got to witness the 'Shoey' at the 2016 German Grand Prix. To this day, it is continued and many people emulate him or even drink from his boot.
An epic post-race celebration, the drivers at the podium pour Champagne in their shoes and drinks out of it. However, the 'Shoey' is temporarily stopped due to coronavirus regulations.
Daniel Ricciardo FAQs
What is the age and date of birth of Daniel Ricciardo?  
Daniel Ricciardo is 32 years old and was born on July 1, 1989.
What is the net worth of Daniel Ricciardo?  
Daniel Ricciardo has a net worth of $50 million.  
What brands endorse Daniel Ricciardo?  
Daniel Ricciardo has endorsement deals with Go Pro, Blue Coast, Puma, Amazon and Stance Stocks.
What is the nationality of Daniel Ricciardo?  
Daniel Ricciardo is an Australian.
Where was Daniel Ricciardo born?  
Daniel Ricciardo was born in Perth, Australia
Does Daniel Ricciardo have a girlfriend?
Daniel Ricciardo is reportedly dating Jessica Gomes.
How many F1 titles has Daniel Ricciardo won?  
Daniel Ricciardo has not won any F1 titles.
What is the nickname of Daniel Ricciardo?
Daniel Ricciardo is nicknamed as 'The Honey Badger'.
What were the previous teams of Daniel Ricciardo?
Daniel Ricciardo was a driver for HRT, Toro Rosso, Red Bull and Renault before driving for McLaren
What is the celebration of Daniel Ricciardo called?
The celebration is known as the 'Shoey'.
More Formula One news:
Follow our dedicated Formula One page for instant Formula One news and updates