Alexa Bliss is one of the most popular superstars in the company and has shown extreme potential and charisma in all the gimmicks she has played
WWE is vividly known for its usage of various sorts of gimmicks and characters. Several pro wrestlers used and made their gimmicks popular all over the world. Gimmicks such as The Fiend,  Mick Foley's Mankind, The Undertaker, and Kane are some of the most well-known ones.
WWE has used these characters to their fullest, and the wrestlers took them to their full potential. In recent times, gimmicks such as Alexa Bliss', Roman Reigns, and Seth Rollins are among the top sought ones.
A few months back, in an interview with Metro, Alexa Bliss opened up on her current state of gimmick in WWE. Her prime came as The Goddess, a heel character. However, after she aligned herself with the fiend and chose the dark path, her downfall began. After WrestleMania 37, she was written off television for a long time. Bliss returned after a long hiatus, where
She is currently stuck in the tag team shuffle alongside former WWE Raw Women's Champion Asuka. With how things are running for her currently, she described her situation as being "in a limbo".  She said, "Now I'm in this limbo of, I don't really now where I'm going with my character yet. I kind of evolved so many times in the last nine years – I feel like I've had more characters than any other woman on the roster."
The 31-year-old explained her current run in WWE and said, "It's finding that creative process of trying to figure out what's gonna be, one, fun for me, two, what's gonna relate to an audience, and what's gonna be easy for the writers to write for."
Alexa Bliss has always been one of the most over-stars in WWE. Her character, promo skills, and wrestling abilities have always been top-notch. After her long gap, she has now found her touch back and has been featuring on tv shows regularly.
Alexa Bliss speaks on her two gimmicks, The Goddess and Dark Alexa
During her interview with Metro, she said, "Everything I do in the ring is a creative escape for me, because this is the first time I've actually been myself on TV, but before in the last eight years I've never been me."
She explained that even after receiving advices on being herself, she never was herself on tv. Bliss explained the reason as, "They always say "Be yourself but turned up", but for me in life – I like me. For TV, I'm not entertaining, I know that! I'm boring! They always say "Be yourself but turned up", but for me in life – I like me. For TV, I'm not entertaining, I know that! I'm boring!"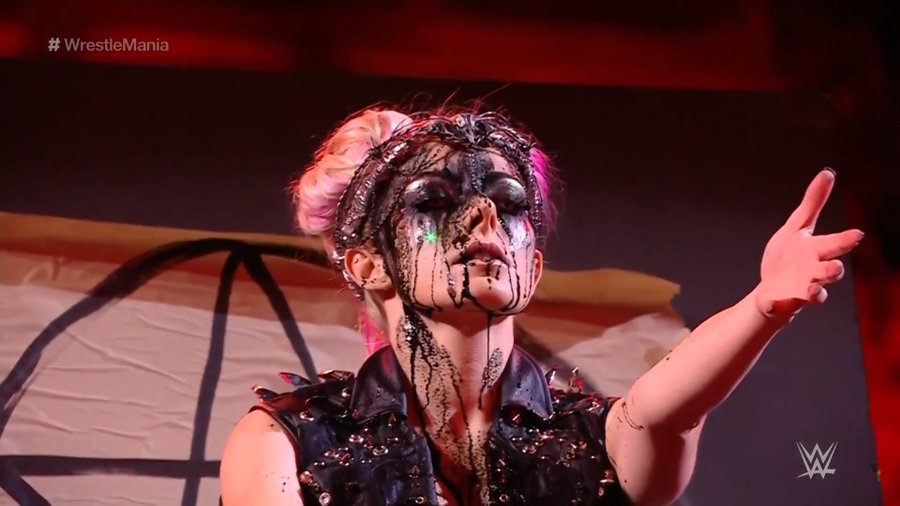 T
he former RAW Women's Champion then explained her inspirations for both of her characters. Bliss claimed, "Even when I was the Goddess, I was using that an escape to be the people I went to high school with and mimic those girls. Everyone knows that girl, and I got a lot of inspiration from TV and movies. Especially with the Dark Alexa character, I had a lot of inspiration from my real life things. It was fun, it was an escape, I liked being able to almost be a persona. Put on a mask, go out, be that person, and then after my segment, take it off and then just be me."
Alexa Bliss returned to WWE, after several on-screen therapy sessions, where she got rid of her dark persona. But even now, some of those bits can still be seen aesthetically, and one can wonder if it might return soon.
Read More: