Know all about Kyle Lowry's Wife. Kyle Lowry, an esteemed American basketball player, has established himself as a force to be reckoned with. Born on March 25, 1986, Kyle was born and raised in North Philadelphia where he kick-started his basketball journey.
Growing up in challenging circumstances, Kyle found his life's purpose on the basketball court. His formative years were marked by turbulence, but he discovered his true calling as a point guard at Cardinal Doughtery High School. With his exceptional skills and leadership qualities, Lowry quickly emerged as the team's standout player.
Through his unwavering dedication and relentless drive, Lowry's journey from those early days at school set the stage for the remarkable career that awaited him in the world of professional basketball. He entered the NBA in 2006 and has since left a prominent mark on the league.
Who is Kyle Lowry's Wife, Ayahna Lowry?
Kyle Lowry's personal life has been a subject of interest among fans and media alike, particularly when it comes to his wife, Ayahna Lowry. Ayahna, formerly known as Ayahna Cornish is a woman of many talents and accomplishments. She is a dedicated philanthropist, a former basketball player, and a supportive partner of the NBA Star.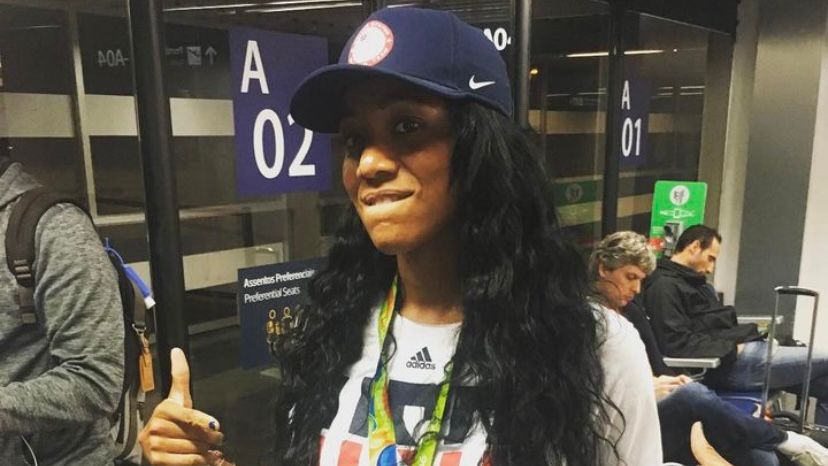 During her high school years, she discovered her passion for sports and basketball in particular. Hailed in Philadelphia, she was introduced to the sport at a young age and quickly developed a love for it. This passion led her to pursue basketball in college, where she became a member of the women's team at St. Joseph's University.
Her talent on the court was undeniable, earning her recognition and accolades. She was honored with the Best Offensive Player award for two consecutive years and was selected four times for the All-City team. Additionally, she received the MVP award twice for the Philadelphia Catholic League Northern Division. Her leadership skills were also evident as she served as the team captain for St. Joseph's University, and her remarkable performance landed her a spot in the Atlantic 10 All-Conference Second Team.
Unfortunately, Ayahna's basketball journey took an unexpected turn when she suffered an ACL injury, forcing her to retire from the game during her junior season. Despite the setback, her love for the sport remained strong.
Kyle Lowry Career
Kyle Lowry's basketball journey is a testament to his unwavering determination and fierce passion for the game. After a standout collegiate career at Villanova University, Lowry made his mark in the NBA.
Throughout his illustrious career, Lowry has sported the jerseys of notable teams such as the Memphis Grizzlies, Houston Rockets, and Toronto Raptors. It was with the Raptors that he truly rose to stardom, leading the team to its first-ever NBA championship in 2019. His contributions were not only recognized by the Raptor's organization but the fans worldwide.
Throughout his NBA career, Lowry has established himself as a dynamic and versatile player. Lowry's ability to command the game with his promptness, court vision, and tenacious defense has earned him numerous accolades, including being named the NBA All-Star Game MVP in 2020.
Lowry showcased his talent and dedication as a valuable member of the U.S. men's national team. He played a pivotal role in their success at the 2016 Rio De Janeiro Summer Olympics, where they clinched the gold medal. Head coach Mike Krzyzewski hailed him as the team's "unsung hero," acknowledging his crucial contributions that often went unnoticed but were vital to the team's achievements. Assistant coach Jim Boeheim went even further and acclaimed Lowry as " the best team player out of everybody".
Off the court, his philanthropic endeavors have been remarkable. Through his wife's Lowry Love Foundation, he has actively supported various causes, particularly in his hometown of Philadelphia.
Kyle Lowry's Family and Kids
Kyle Lowry's family is an integral part of his life, providing love and support throughout his journey. He shares a loving and strong bond with his wife, Ayahna Lowry.
Ayahna and Kyle's love story began long before his rise to basketball stardom. Throughout their relationship, Ayahna and Kyle have shared a remarkable love story that spans over a decade. From their high school days to their marriage in 2014, the couple has been together for 12 years. Despite facing the challenges of maintaining a long-distance relationship during college, they remained committed to each other. Their love has only blossomed over the years and the Lowry's have now become the doting parents to their two beautiful sons – Karter and Kameron.
While Kyle's professional commitments keep him busy, he ensures he spends quality time with his family and creates lasting memories. In various interviews and social media posts, Kyle has expressed his love and gratitude for his family. He often shares heartwarming moments and milestones, offering fans a glimpse into the joys of fatherhood and the blessings of having a supportive partner by his side.
With his impact on the court and his dedication to his loved ones, Kyle Lowry continues to inspire aspiring basketball players and captivate fans with his electrifying performances and his charming personality.
More Entertainment News:
Who is DC Young Fly? What tragedy took place with his partner Jacky Oh?
Is Grimes dating someone now? Was she dating Chelsea Manning previously?
DC Young Fly Net Worth, Personal Life, Career, Girlfriend, and More