What is 'Light the Beam' all about for the Sacramento Kings? Learn all there is to know about the NBA movement that has gone viral.
The Sacramento Kings were knocked out of the NBA Playoffs courtesy of a Stephen Curry 50-point show for the Golden State Warriors in Game 7 of their clash. The Warriors went on to overturn a 2-0 deficit to progress onto the Western Conference semi-final, however, the Kings will be remembered for being an inspiring underdog that took the champions to the brink.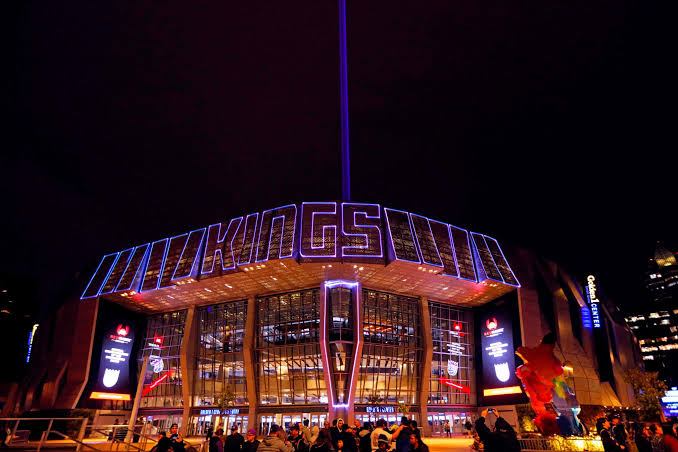 While De'Aaron Fox and company were incredible for the Sacramento franchise in the first round of the Western Conference post-season, the run was also synonymous with a gesture that has since gone viral. The Kings' inspirational post-season run has become synonymous with the "Light the Beam" gesture that was debuted on the first game of the Play-off series.
The Sacramento Kings outlasted the defending champions Golden State Warriors in a thriller, 126-123, to capture their first playoff game since 2006 and take a 1-0 lead in the intriguing first-round series. But even after the final buzzer sounded, Sacramento fans knew that the day's work was not yet done – they were yet to see the beginning of a viral tradition.
Who started the "Light the Beam" tradition for the Sacramento Kings?
It was De'Aaron Fox who initiated the "Light the Beam" tradition for the Sacramento Kings.
Fox, who finished with 38 points and five assists in another stellar performance, walked over to center court where Kings owner Vivek Ranadive was waiting next to a purple button. As the crowd counted down from five in unison, Fox smashed the button, sending a giant purple laser beam into the night sky above Golden 1 Center. The beam was lit as just their season was.
The Kings exceeded expectations to not only make the playoffs for the first time since 2006, ending the longest postseason drought in major North American professional sports but also claimed the No. 3 seed in the Western Conference. Their underdog story and exciting, fast-paced style of basketball made them perhaps the most well-liked team in the league, a status that was buoyed by their unique victory celebration.
More News:
• Did Shaq actually fart on air? NBA legend opens up on claim
• Who drafted Jimmy Butler into the NBA?