In the world of professional sports, athletes are often celebrated for their physical prowess and athletic achievements. However, Carl Nassib, a professional football player in the National Football League (NFL), has made headlines not only for his skills on the field but also for his courage, integrity, and dedication to promoting inclusivity and acceptance.
Born on April 12, 1993, in West Chester, Pennsylvania, Carl Nassib had an impressive college football career at Penn State University. He was a standout defensive lineman, earning the honour of Big Ten Defensive Player of the Year in 2015. In the NFL, he has played for several teams, including the Cleveland Browns, Tampa Bay Buccaneers, and Las Vegas Raiders. Nassib's journey to the NFL is a testament to hard work and perseverance, as he went from being a walk-on player at Penn State to becoming a successful professional athlete.
Fact
Information
Full Name
Carl Paul Nassib
Date of Birth
April 12, 1993
Place of Birth
West Chester, Pennsylvania
College
Penn State University
College Football Achievements
– Big Ten Defensive Player of the Year (2015)
– Consensus All-American (2015)
NFL Teams Played For
– Cleveland Browns
– Tampa Bay Buccaneers
– Las Vegas Raiders
NFL Draft Year and Round
Selected in the 3rd round of the 2016 NFL Draft by the Cleveland Browns
Position
Defensive End
Coming Out as Gay
June 21, 2021 (First active NFL player to come out as gay)
Philanthropic Contribution
Donated $100,000 to The Trevor Project, a LGBTQ+ youth support organization
Impact on LGBTQ+ Community
Became a prominent LGBTQ+ advocate in the sports world
Social Media Presence
Active on social media platforms, using his platform for advocacy and awareness
Notable Achievements
Trailblazer for LGBTQ+ inclusivity in the NFL, inspiring others to be authentic
Carl Nassib's decision to come out was met with an outpouring of support from fellow athletes, teams, and fans. The NFL, in particular, expressed its commitment to creating an inclusive and welcoming environment for all players. Nassib's brave declaration has paved the way for other LGBTQ+ athletes to feel more comfortable being their authentic selves in a traditionally heteronormative and hyper-masculine sports culture.
Beyond his personal journey, Nassib has used his platform to make a difference. He announced a generous donation of $100,000 to The Trevor Project, a non-profit organization dedicated to providing crisis intervention and suicide prevention services to LGBTQ+ youth. His financial support and advocacy work have drawn attention to the mental health struggles that LGBTQ+ individuals often face, and he has become a role model for young people navigating their own journeys of self-discovery and acceptance.
In the world of professional sports, where stereotypes and expectations about masculinity have long prevailed, Carl Nassib's courage to be authentic has shattered barriers and created a more inclusive atmosphere. He has demonstrated that diversity is not a weakness but a strength that enriches the sports world and society as a whole. Carl Nassib's legacy extends far beyond the football field; he is a trailblazer who has set a powerful example for future generations of athletes, inspiring them to embrace their true selves and advocate for inclusivity in sports and society.
Was Carl Nassib gay?
What truly distinguishes Nassib is his announcement in June 2021 that he is gay. This revelation made him the first active NFL player to come out as gay, a historic moment in the league's history. Currently, he is in a relationship with Olympian Soren Dahl.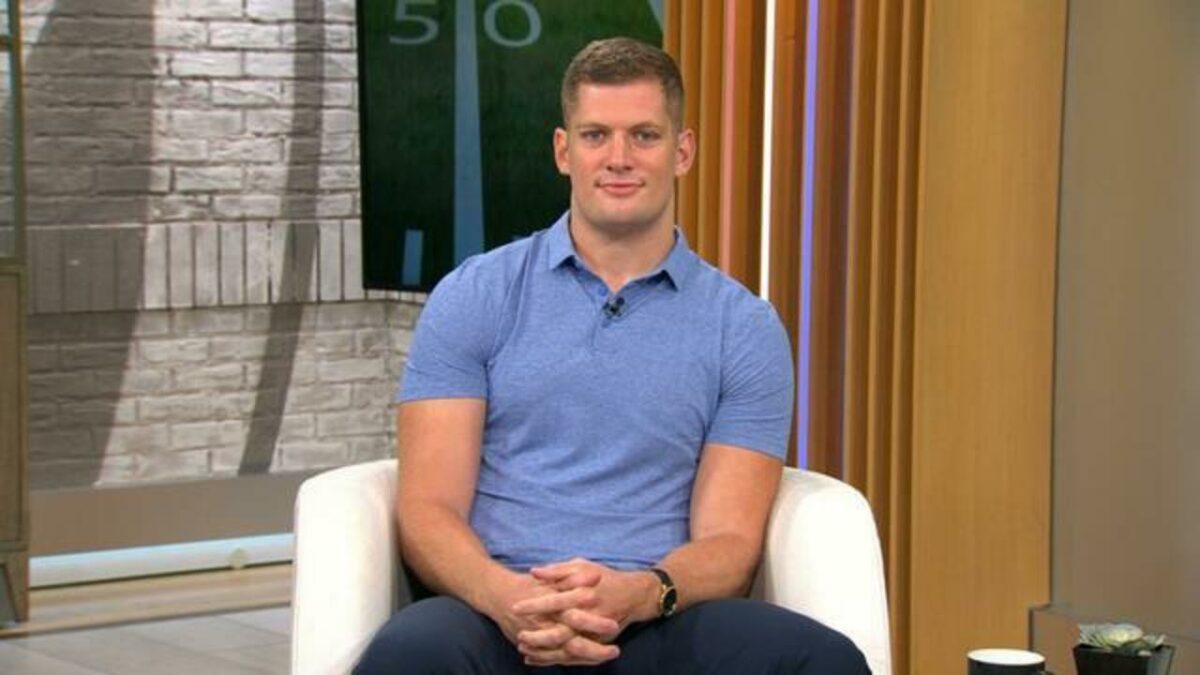 Nassib's decision to publicly embrace his identity has had a profound impact on the world of sports. His openness has not only inspired countless individuals struggling with their own sexuality but has also pushed the NFL and its fans to confront issues of diversity, equity, and inclusion
About his retirement
Carl Nassib, who made history as the NFL's first openly gay active player two years ago, has officially retired from his professional football career. The 30-year-old defensive lineman shared his emotions in a heartfelt Instagram post, calling this moment "bittersweet." Nassib expressed deep gratitude, acknowledging that football had exceeded his wildest dreams.
In his poignant message, he declared, "I can now hang up my helmet for good, knowing I left nothing on the field." Nassib's journey, from being a walk-on to realizing his NFL dream, stands as a testament to his unwavering commitment and resilience, leaving him feeling incredibly fortunate.
More entertainment news: