Learn all there is to know about Castlevania Nocturne's cast of interesting characters, as well as the actors who voice them.
Video game adaptations are notoriously difficult to make, but one of the best examples to ever come out of the genre is Netflix's Castlevania in 2017. And now, the series returns with a new Belmont, new monsters, and a new big bad that threatens to destroy everything. Castlevania: Nocturne picks up 300 years after the end of the original Castlevania and follows one of Trevor and Sypha's descendants.
It's late 18th century France, and revolution is sweeping the nation. At the heart of the aristocracy's counter-revolution lies the mysterious Vampire Messiah, a powerful being who promises to crush the resistance and enslave humanity. Richter Belmont, son of Julia Belmont and the last in the family line, must fight alongside the revolutionaries to defeat the vampires and save the world. If you want to know more about the characters, you are at the right place – as we have all you need to know about the key players (Nocturne's cast of characters) in Castlevania.
Richter Belmont (Edward Bluemel)
Richter is the last descendant of the Belmont line. After witnessing the death of his mother, Julia, at the hands of vampire Olrox, the young Belmont temporarily loses his innate magical abilities. But being a vampire hunter is in Richter's blood, and he comes to master the famed Belmont whip. Thanks to a chance encounter with a previously unknown relative, Richter finds it in his heart to work past the trauma that's shaped him and instead use his power to fight for the innocent.
With whip and magic in hand, Richter is prepared to end the vampire menace in France and save the world from the apocalypse. Richter is voiced by Edward Bluemel, a British actor best known for his role as Marcus Whitmore in the TV fantasy romance A Discovery of Witches and as Hugo Turner in the spy thriller Killing Eve. Bluemel might also already be familiar to video game fans; the actor voiced and mo-capped Jeff Whitman in the fourth installment in The Devil in Me, the fourth installment in The Dark Pictures Anthology.
Maria Renard (Pixie Davies)
Fighting for France's freedom alongside Richter is Maria Renard, the young revolutionary and mage who grew up with Belmont. While Maria's video game counterpart in Rondo was cutesy and innocent, Castlevania: Nocturne's Maria is a competent fighter and natural leader. She's courageous and fiercely loyal to her friends and her country, stopping at nothing to rid France of the scourge of vampire elites.
Maria is a powerful mage who regularly summons animal familiars to assist in battle. Maria is voiced by British actress Pixie Davies. Davies made her film debut at age seven in the supernatural thriller Out of the Dark. Three years later, Davies played the superhumanly strong Bronwyn Brown in Tim Burton's adaptation of Miss Peregrines Home for Peculiar Children. Most, though, will likely recognize Davies for her role in Mary Poppins Returns as Annabel Banks.
Annette (Thuso Mbedu)
Differing quite heavily from her video game counterpart, Nocturne's Annette is a powerful force to be reckoned with. In Rondo of Blood, Annette is Richter's girlfriend, a damsel in distress whom he must save from Dracula's clutches. In Nocturne, Annette is an impressive sorceress who can stand up for herself in battle. Using her power and wit, Annette escaped enslavement in French vampire-occupied Haiti with the help of her best friend, Edouard. Unlike Maria's magic, Annette's manifests as a control over earth and metal; she's also quite fierce with her twin swords.
Voicing Annette in Nocturne is South African actress Thuso Mbedu. After starring in the South African teen drama Is'Thunzi, Mbedu made the jump to Hollywood. In 2021, the actress starred in Amazon Prime Video's The Underground Railroad as Cora Randall, making her the first South African actress to ever star in a U.S. TV show. Her first (and, as of writing, only) film credit came in 2022, when Mbedu costarred opposite Viola Davis in the historical epic, The Woman King.
Edouard (Sydney James Harcourt)
Fighting for France's freedom alongside Annette is her is the opera singer Edouard. After Annette freed herself from the plantation where she was enslaved, she took refuge with Edouard and a group of other escaped slaves known as the Maroons. Together, they take down the island's oppressors and free those enslaved before Edouard and Annette's journey to France to find Richter.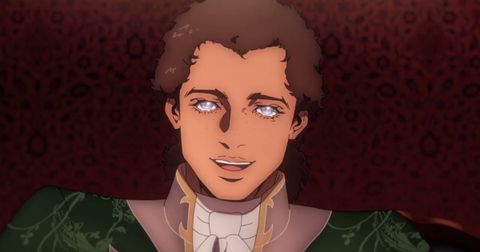 Stage and screen actor Sydney James Harcourt voices Edouard. On TV, Harcourt has appeared in shows such as Blue Bloods, NCIS: New Orleans, and Elementary. The actor, though, might be better known for his time on the stage. Harcourt was a part of the original ensemble of Lin Manuel Miranda's Hamilton; in it, he played both family patriarch Phillip Schuyler and the opportunistic blackmailer James Reynolds.
More News:
• DECODING THE SPECULATION: EXPLORING SIR PATRICK STEWART'S MARRIAGES AND ADDRESSING GAY RUMORS
• MISS RACHEL'S ASTONISHING NET WORTH, CAREER, AND PERSONAL LIFE REVEALED!
• HOLLY WILLOUGHBY'S WEDDING SECRETS REVEALED – UNCONVENTIONAL WEDDING DRESS AND SURPRISING BUNNY CORSET!"