We take a look at the lives of UFC ring girls and how much they earn as an annual salary
In an extravagant brand like UFC, every aspect of the sport is detailed to another level. This even includes ring girls who carry a sign with the number of the round that is about to take place. With mega fights happening throughout the year, the ring girls add spice to the fight with a pre-match gesture leading to a build-up.
UFC girls earn more money once they are selected for the main pay-per-view event. The pay varies depending on the intensity of the fight and are also given bonuses based on performance.
We take a look at the top-earning ring girls in the UFC with their annual salary:
5. Carly Baker salary – $30,000
The 32-year-old, from Wimbledon,entered the octagon in between rounds in London back in 2017. She has tried her hand in various industries like acting, singing before finally making a mark in the UFC. She was signed to BMG Records with the girl group SW1.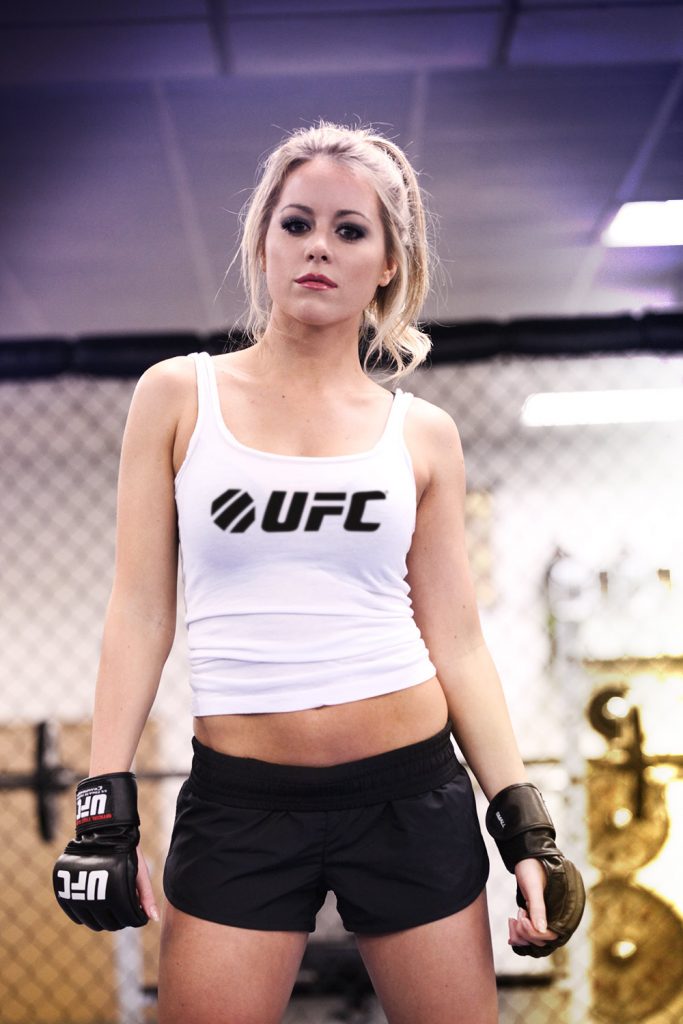 She has also represented Wimbledon in a Miss Britain competition in the past and is one of the top ring girls in UFC. Carly Baker's 2021 estimated net worth is $2,000,000 with an approximate of $6000 after a PPV.
4. Chrissy Blair salary – $30,000
Blair is among the top UFC ring girls in the business. She has made appearance on the main covers magazines of "GUESS, Sports Illustrated, and Maxim."Her net worth was reported around $2.5 million in 2019.
Her annual salary is estimated at $30,000 which makes her among the highest earners in the UFC ring girl list. Educationally, she holds a degree in graphic design and fine art and is experienced in branding and marketing.
3. Brittney Palmer salary – $30,000
Brittney Palmer (born June 24, 1987), is an American model. She has been in the ring since 2005 and is one of the longest serving ring girls in UFC. She was awarded the Ringcard Girl of the Year in 2012 and 2013 at the World MMA Awards. She also featured on the cover of Playboy magazine.
Her fame has risen considerably on Instagram with more than a million followers on the platform.
2. Camila Oliveira salary – $50,000
Hailing from Brazil, Camilla Oliveira is the second-highest paid UFC ring girl. She has made appearances in huge events like UFC 246 for the main card fight involving Conor McGregor. Oliveira made her debut in UFC in 2013 and has worked in various events in her 8-year career.
Despite her lesser following on social media, she has earned a huge profit from main-event features in the last 3 years. She began modelling at the young age of 16, and was picked up by UFC in a few years.
1. Arianny Celeste salary – $1,00,000
Celeste was chosen at a UFC casting call in 2006 at 21. She was studying fitness management and nutrition at the University of Nevada at Las Vegas. She also works other jobs as a model, TV host and brand ambassador. Her fan-following is the highest in ring girl with close to 2.9 million Instagram followers. Celeste also holds most sponsorships with 1st Phorm muscle supplements and Fit Tea.
In the next year, she plans to launch a music career, a T-shirt line and a fitness Web site. Celeste, also practices kickboxing and Muay Thai outside the octagon. Maxim voted her "The Hottest UFC Octagon Girl" in 2010.
Summarised list of salaries of top-ring girls in UFC
| Name | Fight Fees | PPV Event | Annual |
| --- | --- | --- | --- |
| Arianny Celeste | $1000 | $5000 | $1 Million |
| Camila Oliveira | $1000 | $5000 | $50,000 |
| Brittney Palmer | $1000 | $5000 | $30,000 |
| Chrissy Blair | $1000 | $5000 | $30,000 |
| Carly Baker | $1000 | $5000 | $30,000 |
| Vanessa Hanson | $1000 | $5000 | $20,000 |
| Rachelle Leah | $1000 | $5000 | $20,000 |
More UFC news
Follow our dedicated UFC page for instant UFC news and updates