Khabib Nurmagomedov thinks that this Zinedine Zidane moment was the craziest moment in the history of football
UFC lightweight legend, Khabib Nurmagomedov, has a soft spot for football. And he is not just a casual fan.
The Russian's knowledge of the game is impressive and you don't need to look further than this friendly confrontation with Manel Kape as proof of that.
And 'The Eagle' is a pretty big Real Madrid fan too. So it is no surprise that he was watching the 2006 FIFA World Cup between France and Italy.
That match contained some of the most iconic moments in the history of the World Cup. But none of them was bigger than that headbutt by Real Madrid legend, Zinedine Zidane.
'Zizou' had earlier scored during regulation time after his precise Panenka penalty clipped the bar to cross the line.
Khabib Nurmagomedov thinks Zinedine Zidane getting that red card is the craziest football moment ever
But tempers flared later on. Azzuri defender, Marco Materazzi, reportedly said something to Zidane that stuck on the midfielder's mind.
And what followed was one of the most infamous moments in football history. Zidane headbutted Materazzi and was sent off for it.
The FIFA World Cup Instagram account shared that 15-year-old moment, and Khabib shared it on his story.
His caption read, "Most crazy day in football history [football emoji]"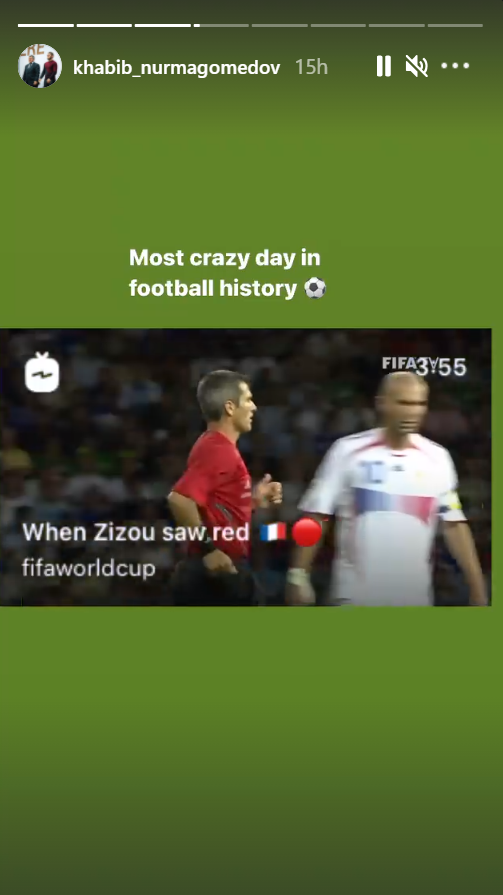 Zizou's actions arguably cost his team the World Cup final. The match went to extra-time, and then, the penalties.
Zidane was arguably their best penalty-taker and his absence was felt as Fabio Grosso's match-winning spot-kick marked a depressing day in French football history.
More UFC News:
Follow our dedicated UFC page for instant UFC news and updates