State Duma deputy Vitaly Milonov wants Khabib Nurmagomedov to kickstart his career in politics
The Dagestani people are known for their ultra-conservative views. State Duma deputy Milonov feels that there has been an astronomical increase in 'gayness' on television.
And as a result of this, he wants UFC legend Khabib Nurmagomedov to be the Minister of Culture in Dagestan. He feels so because the presence of Khabib will curb such "nastiness".
In an extensive 'homophobic' rant in an interview with Sport 24 Russia, Milonov said:
"I don't know what kind of Minister of Culture of Dagestan Khabib can turn out to be, but for example, he can be included in the Ministry of Culture's commissioned experts so that he does not allow any kind of gayness on the screens. Although there are no problems with culture in Dagestan—at least in the cinema they do not show nasty films with a man in the role of a fairy. Khabib will definitely not have to explain why he shouldn't show the transgender Cinderella." [via Bloody Elbow]
Although Khabib hasn't publicly voiced out his opinion against the LGBTQ community, he is known for his conservative views.
To each his own, but when it comes at the expense of other's peace of mind, it becomes toxic.
In 2018, Khabib called for a shutdown of all nightclubs in his hometown. He had voiced out his disapproval over an Egor Kreed rap concert, which resulted in the rapper cancelling his shows due to threats of rape.
Khabib Nurmagomedov hasn't opened up much about a career in politics
Khabib is now retired from the sport of MMA, but he keeps himself busy all the time. He is now a promoter, and owns the Eagle Fighting Championship, an MMA promotion company initially known as the Gorilla Fighting Championship.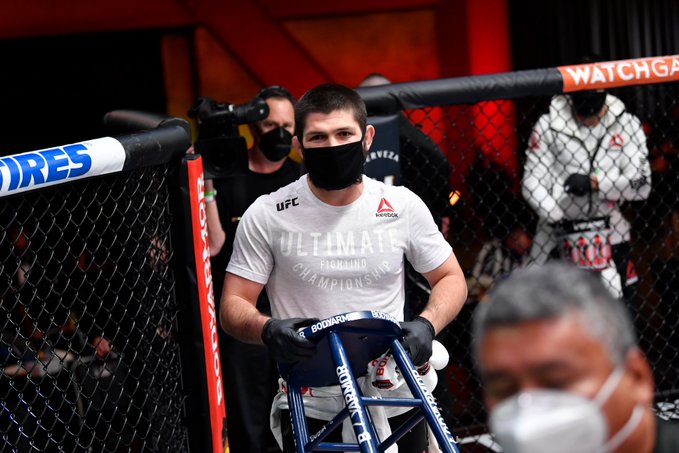 He has also begun coaching his fellow Dagestani brothers, accompanying them in various fights across different promotions.
However, 'The Eagle' hasn't shown that much of an interest in politics, as of now. Ahead of his fight in 2020 against Justin Gaethje, Khabib revealed that he was only 31 (then) and had no experience in politics.
More UFC news
Follow our dedicated UFC page for instant UFC news and updates