Light-heavyweight sensation Jiri Prochazka explained what his initials BJP meant
Prochazka is a blend of modern mixed martial artist and an ancient one. He looks like one, he fights like one. The man is completely unorthodox and unconventional.
Everything, right from his hairdo to his fighting style is unique. He debuted his new hair at UFC Vegas 25, inspired by the Mongkhon headgear worn by Muay Thai athletes performing the wai khru.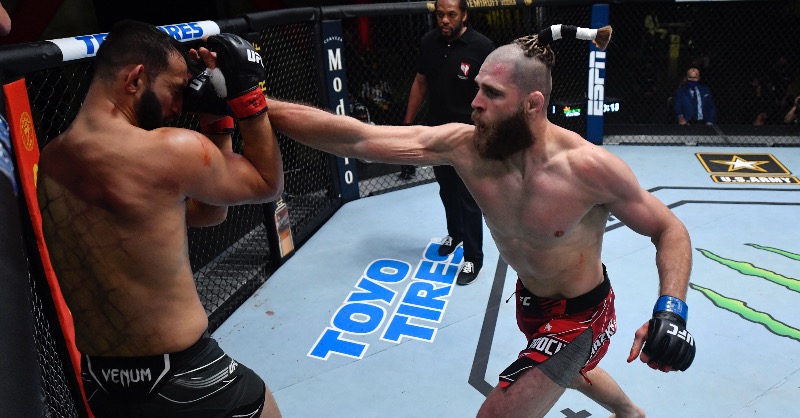 He came into the fight against Dominick Reyes like a warrior and left like one. And what's more? The win had him staring at an imminent title fight against the champion Jan Blachowicz.
Prochazka also made giant strides in the UFC rankings, as the win took him to number 2 in the division.
He is also known to use the initials BJP often, and hence an intrigued Ariel Helwani questioned the 28-year old asking him, what it meant.
Prochazka replied:
"That's me. Bomby jak píča in Czech language. That's my idea…when I started with martial arts I did some training for the special power of punches. That's Bomby jak píča training, and after many years, I keep the training every Sunday. That is my special BJP training…Every Sunday is my BJP training. To fight a target and destroy guys."
Funnily enough, Bomby jak píča translates to Bombs like c*** in English.
Jiri Prochazka reveals how he's going to spend his $100,000 bonus
Prochazka's spinning back elbow against Dominick Reyes earned him the Performance of the Night bonus, as well as the Fight of the Night bonus. A grand total of $100,000.
At the post-fight press conference he revealed how he would like to spend them 'Grands'.
He first jokingly revealed that he would buy an expensive car and crash it, before going on to divulge that he had to pay some money to his house.
The Czech then spoke about his plans of attaining mastery in MMA. He stated that he wanted to train every day, every minute until he attained perfection.
More UFC News:
Follow our dedicated UFC page for instant UFC news and updates