Top ranked UFC lightweight contender Charles Oliveira tears through Paulo Costa in a recent interview for past remarks
MMA fans are witnessing a new version of former Brazilian lightweight champion Charles Oliveira. Do Bronx 2.0 is an absolute savage inside the octagon and does not hunch his shoulders on anyone. He carries himself with a championship mentality, and the change is evident even by his demeanor outside the octagon.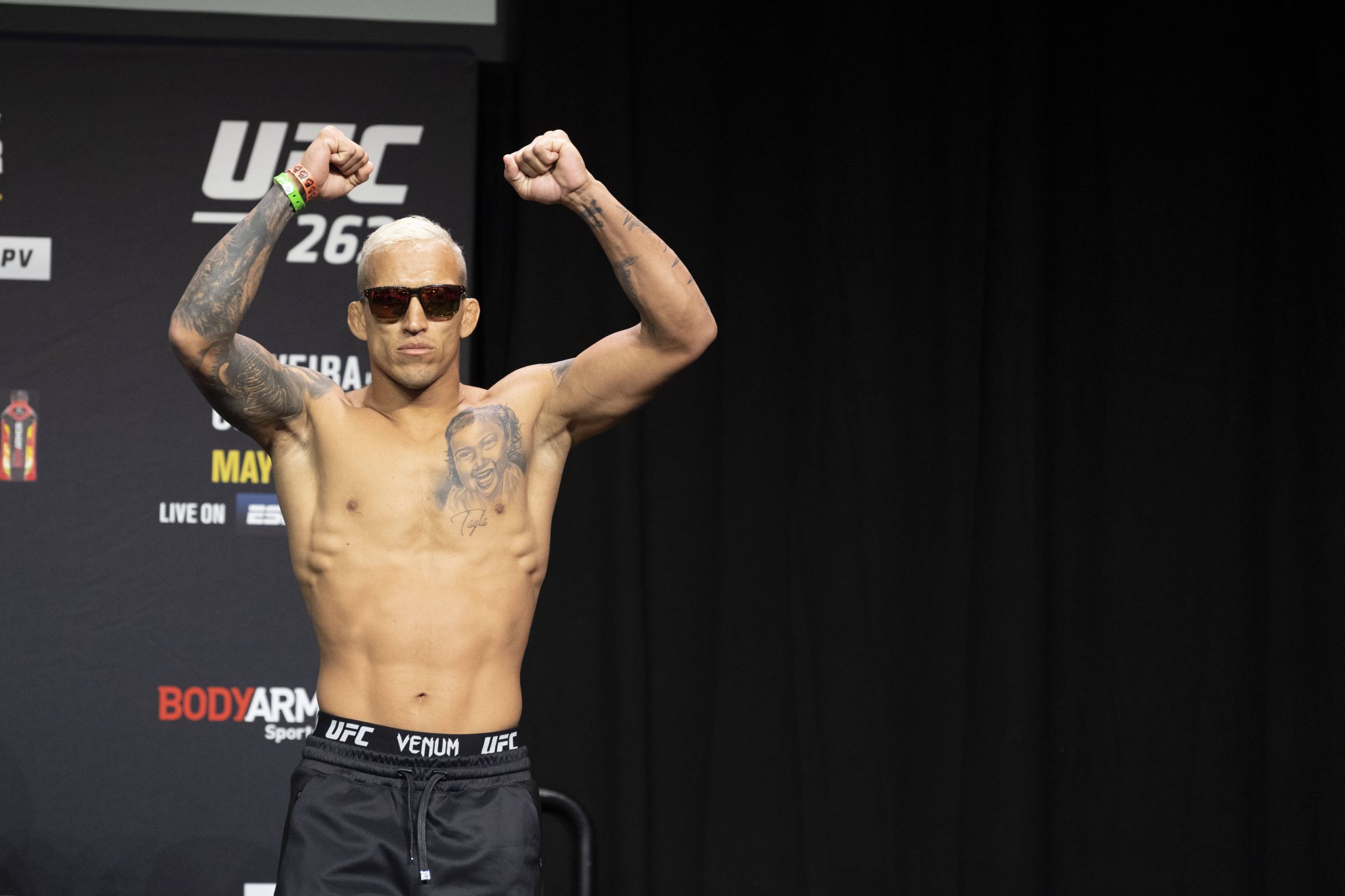 Charles demolished and dismantles Justin Gaethje at UFC 274, however, he was stripped off his belt owing to a controversial weight miss that had the MMA community divided. Oliveira missed weight by 0.5 lbs. and some suggest that obtruding and tampering with the weighing scale might have caused it. Regardless, his performance spoke volumes about the career peak he is at right now.
Middleweight fighter Paulo Costa has transformed into a Twitter sensation in recent times, and the fans have acclimated themselves with this new approach. The Brazilian is often seen taking funny digs at fighters, engaging with others from the roaster, and posting situational references to trending topics. He is often seen mocking fighters, and has been on a rampage against fellow Brazillian Charles Oliveira via social media ever since the lightweight missed the 155 mark at UFC 274.
On the night of the weigh-in for UFC 274, Costa tweeted out, "Good night overweighted people" and had even mocked Oliveira's English speaking skills in the past. Obviously, this did not sit well with Charles, who absolutely eviscerated Costa in a recent interview. He reminded his fellow Brazilian about the threat he used to possess as a fighter, but has since then been on a downfall. He even conjured up the memory of Costa losing to middleweight champion Israel Adesanya.
He said, 'Borrachinha is doing is thing, doing TikTok and being crazy. Doing a lot of bullshi.. and talking sh.. about others. A guy wo doesn't make weight by 6-7 kgs, wanting to shit on social media. And since he talked about me, I'm going to talk about him as well. He doesn't know anything. About my weight or about me. And keeps talking s..t on Twitter. I think we have to look at ourselves and then think about talking about others. But he keeps talking a lot of nonsense, and doesn't do anything. He arrived as a black belt 'Big Guy', but got finished by a white belt."
'I will pray for your soul'- Paulo Costa reacts to Sean Strickland's account getting suspended
Sean Strickland who is well known to speak from the shoulder has emerged as quite a 'Tweleb' in recent times. Apart from being entertaining inside the cage, Strickland is known for his obdurate and callous personality. However many have criticized his behavior and called him homophobic.
He often crosses the line when it comes to his hateful comments on the state of affairs, and matters of homosexuality.
In wake of the recent shooting at a school in Texas, he posted a tweet stating that it is cowardly to pull out a gun when confronted. He wrote, "'I have a gun on me, you wouldn't try to fight me,' let me stop you there, I don't try to fight anyone," Strickland said. "If you run your mouth I give you an option to be a man and step up….If your go to is 'grab my gun' you're a little bitch and the problem with the world. Pussy!!!"
He added, "I just gotta say countries that don't have gun ownership [as] a human right really are pathetic," Strickland said. "'Germany hasn't had a mass shooting', 'England doesn't have mass shooting', blah blah you also don't have fucking men either so enjoy it you nutless trannies. That is all goodbye."
The Twitter team had seen enough of these tirades and decided to act on it by suspending Sean Strickland's account.
Paulo Costa and Sean Strickland have gone back and forth on several occasions in the past through rhetorical comments, and insulting tweets. It was inevitable that Costa would jump on the opportunity to take a quick dig at his Twitter nemesis.
He posted a tweet reacting to the news by saying, 'I will pray for your soul'
More MMA news
Follow our dedicated MMA page for instant MMA news and updates