Here are the top 30 best UFC fighters of All Time
With the UFC producing some of the best mixed martial artists in the history of the sport, year in year out, here are 30 fighters who have stood out from the rest.
30) Nick Diaz (welterweight)
Nick Diaz is as tough as nails. He is the only one in this entire list to have never won any UFC title. The sheer gangster approach he brought to the fight game was unique.
Who would forget his rivalry against Georges St-Pierre, against whom he went fighting down at UFC 158, losing via. unanimous decision.
Diaz retired with a record of 26-9 in his MMA career.
29) Michael Bisping (middleweight)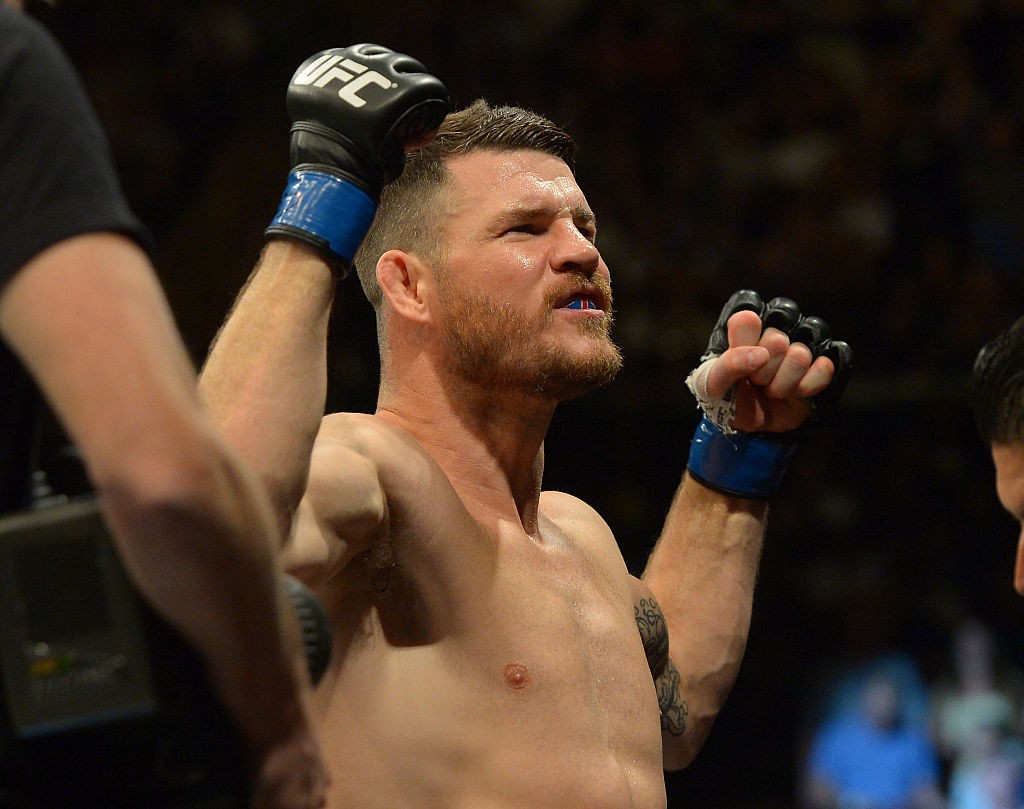 Michael 'The Count' Bisping, arguably the greatest fighter the United Kingdom has ever produced. Bisping is a one time middleweight champion and a UFC hall of famer.
He holds notable victories over Anderson Silva and Luke Rockhold. Bisping in fact beat Rockhold to win the middleweight title at UFC 199.
28) Robbie Lawler (welterweight)
One of the most feared welterweights during his prime. Robbie Lawler was an absolute machine. He won the welterweight title after beating Johnny Hendricks at UFC 181.
He went on to defend it twice, before losing it at the hands of a brutal and powerful Tyron Woodley.
27) Deiveson Figueiredo (Flyweight)
The Brazilian flyweight has been a tough nut to crack. He has a record of 9 wins in the UFC, with just one loss and one draw.
The one loss was against Jussier Formiga, via unanimous decision. He is now the reigning flyweight champion in the UFC.
With an overall record of 20 wins, 1 loss and 1 draw, the Brazilian somehow scrapes into the 30th position on this list.
26) Dustin Poirier (Lightweight)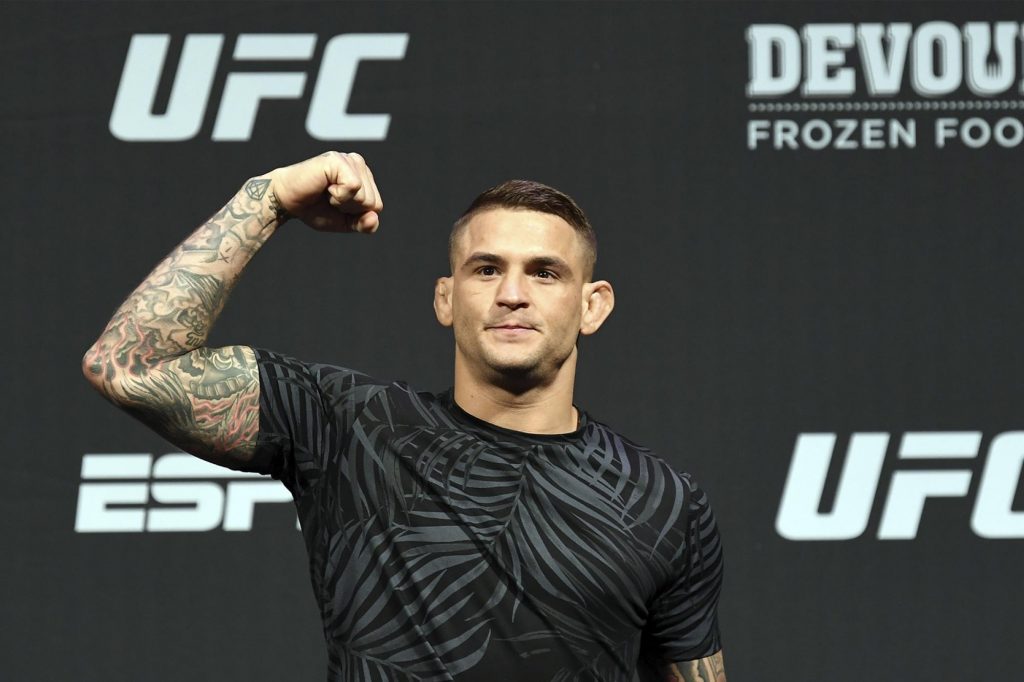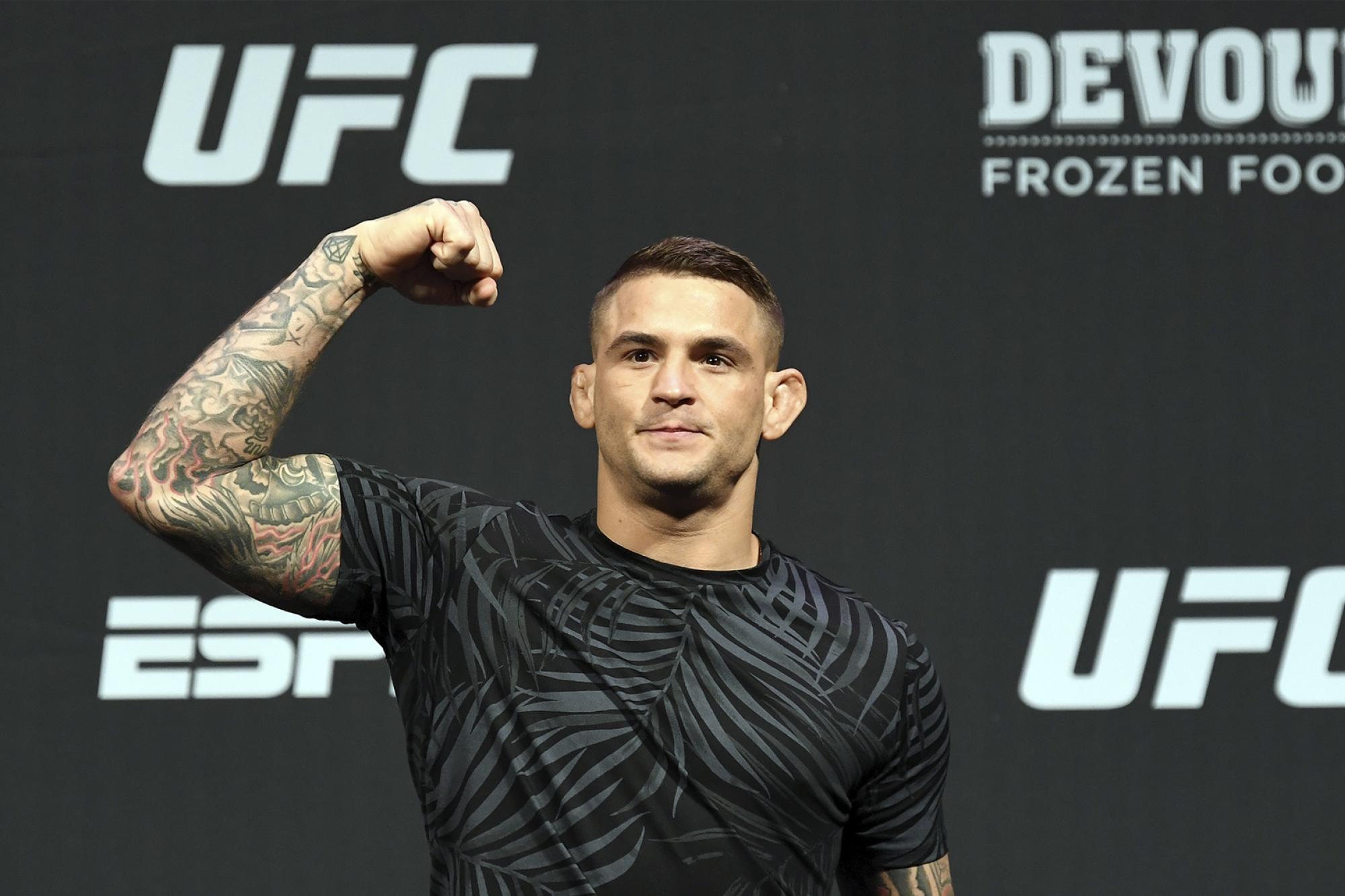 Given his impressive UFC resume, 'The Diamond' should probably be ranked higher up in this list. But he doesn't have a title to his name. The closest he has ever come to a title was, winning the interim lightweight belt against Max Holloway at UFC 236.
However, Poirier has a ton of experience in the UFC and has notable victories over great fighters like Conor McGregor, Justin Gaethje and Max Holloway.
His UFC record is an impressive 19 wins and just 5 losses.
25) Tony Ferguson (Lightweight)
Another great fighter who has not won a title, Tony 'El Cucuy' Ferguson. He was the interim lightweight champion after beating Kevin Lee at UFC 216. 'El Cucuy' held an insane record of 12 straight wins in the UFC, for a period of almost 8 years.
Ferguson fighting the Greatest lightweight of all time, Khabib Nurmagomedov was considered to be one of the greatest modern-day UFC matchups. Unfortunately it never came to fruition.
24) Chris Weidman (middleweight)
'The All American' famously stopped Anderson Silva at UFC 162 when the Brazilian was at the peak of his powers. Weidman is known for his impeccable ground game, combined with excellent striking.
He went on to defend his middleweight title three times, before losing it to Luke Rockhold at UFC 194.
23) Tyron Woodley (Welterweight)
Woodley was known for his extreme explosive power. He was one of the scariest fighters in the game during his peak. The American beat Robbie Lawler at UFC 201 to win the welterweight belt, before going on to defend it, an impressive 3 times.
Of late he began fading, falling into a four-fight skid. He is now a free agent, after being released by the UFC recently.
22) Quinton 'Rampage' Jackson (light-heavyweight)
Every fighter in the UFC feared Rampage Jackson. The goofy American was known for his one-punch knockout power.
He famously beat the legendary Chuck Liddell at UFC 71 to win the light-heavyweight championship. He would then go on to defend it once, before losing to Forrest Griffin.
Rampage challenged for the championship another time unsuccessfully, against the LHW GOAT himself – Jon Jones.
21) Alistair Overeem (heavyweight)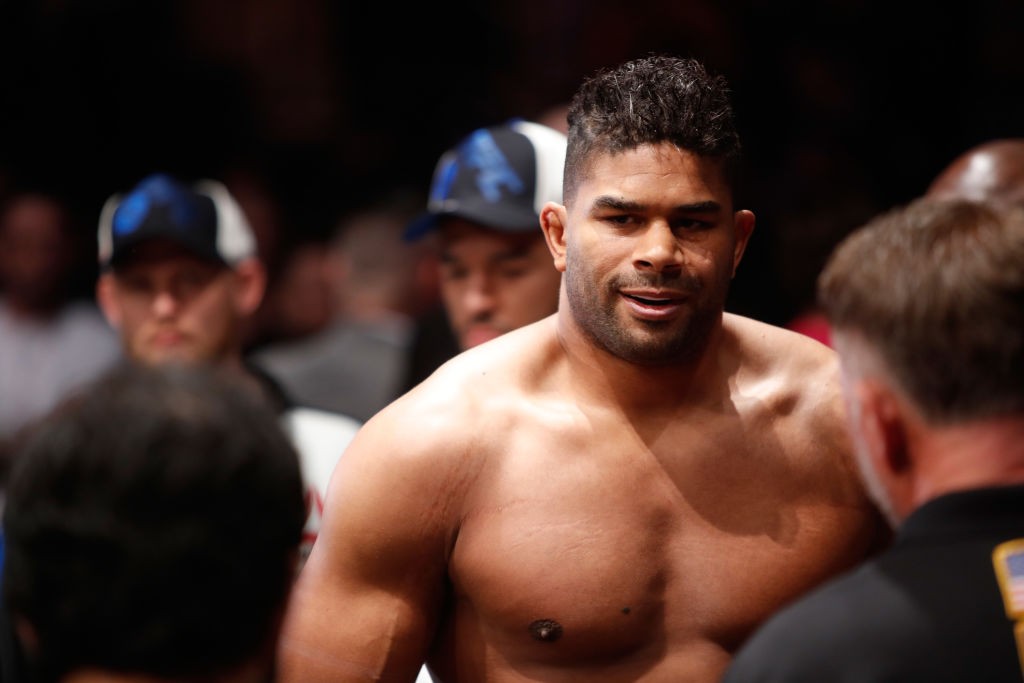 The Dutch mixed martial artist with a kickboxing background sent shivers down the spines of his opponents during his heydays. Though he has never won a title, the sheer volume of fights he has in his resume is enough to land him a place on this list.
Reem gained fame when he famously knocked out another scary monster – Brock Lesnar at UFC 141. The man has totally 67 fights in his resume.
20) Jose Aldo (featherweight)
The Brazilian is one of the OGs in the game. The former featherweight champion defended his title a whopping 7 times, before he was stopped by a high-flying Conor McGregor.
The striking accuracy and speed of Aldo during his prime was second to none. And after almost 11 years with the promotion he still lurks in the top 5 of the featherweight division, which speaks volumes of his consistency.
19) Dominick Cruz (bantamweight)
The American bantamweight is a two-time champion and has been a UFC mainstay. He has been a part of the promotion for almost 11 years.
He is a warrior. After fighting off multiple career threatening injuries he has managed to beat all adversities and comeback. A testimony to that was his victory against TJ Dillashaw in January 2016, via split decision. Many consider the fight to be one of the greatest comeback fights in UFC history.
18) B.J Penn (Lightweight & Welterweight)
Penn is someone who has plied almost his entire trade in the UFC. Having made his MMA debut at UFC 31, the American went on to win the welterweight championship and the lightweight championship to become the second of 7 fighters to win titles at 2 divisions.
After almost 16 years with the promotion, Penn retired with a record of 16 wins and 14 losses. The 14 losses are the reason why he is largely overlooked.
17) Max Holloway (featherweight)
One of the greatest strikers in the history of the sport. The largely elusive Hawaiian calls himself the greatest boxer in the UFC. He made his UFC debut when he was just 19 years old, and faced an already well-established Dustin Poirier. He lost the match via. submission.
However, he then went on to establish himself as one of the greatest featherweights in the game, with his phenomenal speed and accuracy. He is a one time featherweight champion, a belt which he got after beating Jose Aldo at UFC 212.
16) Francis Ngannou (heavyweight)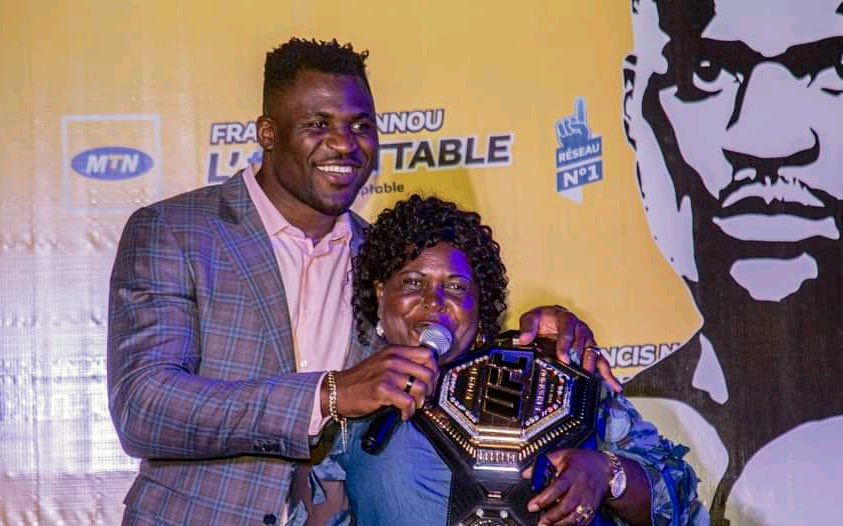 The Cameroonian would get into any list of great fighters just because of the fear he generates in opponents minds.
Having made his UFC debut in December 2015, 'The Predator' has steamrolled his opponents. All his wins in the UFC have been either via. knockout or submission. He is now the reigning heavyweight champion in the UFC.
He has a record of 11 wins and just 2 losses in the UFC. Both of which have been via. unanimous decision. Plus, he has never been finished in his entire MMA career.
15) Valentina Shevchenko (women's flyweight)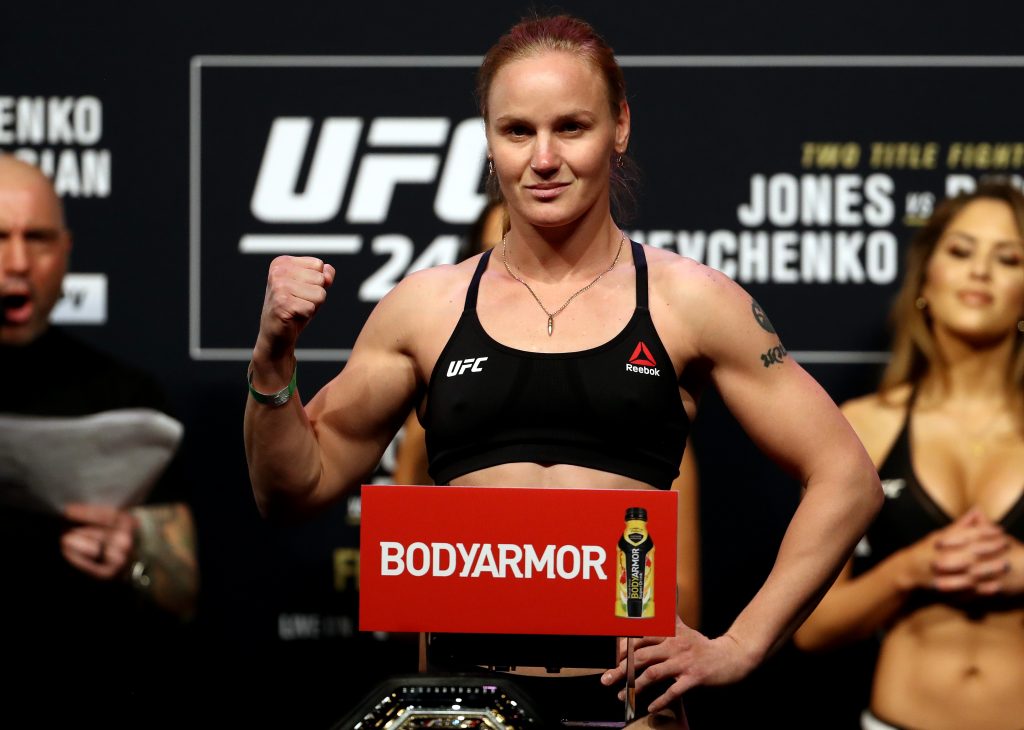 The Kyrgyzstani is the first female fighter to feature in the list. Barring 2 losses to Amanda Nunes, she has hardly been troubled by other opponents.
She is currently the reigning women's flyweight champion, with 5 consecutive title defenses to her name. Barring a doctor stoppage loss early in her career, Shevchenko has never been finished.
14) Ronda Rousey (women's bantamweight)
Rousey shaped the future of women's MMA. She was the Conor McGregor of the UFC, before McGregor made his foray into the promotion.
'Rowdy Ronda' was a puzzle none of the female fighters could decode, until Holly Holm came up with the solution.
Rousey defended her bantamweight belt a staggering 6 times before being beaten by Holm at UFC 193.
13) Daniel Cormier (light-heavyweight & heavyweight)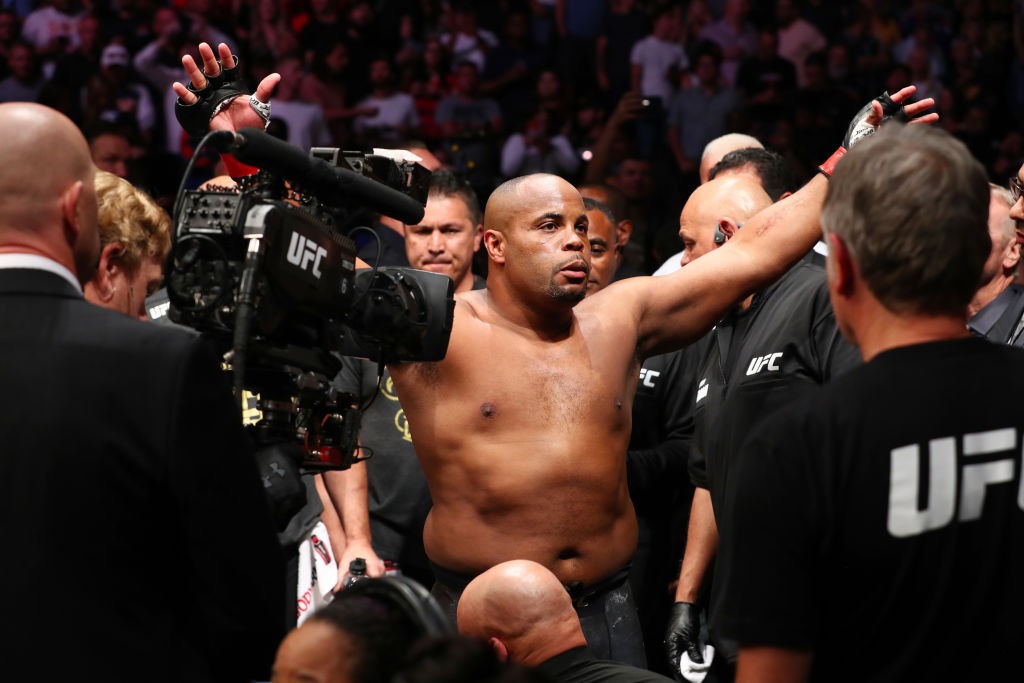 Daniel Cormier, the wrestler was largely unshaken in the UFC. Barring his nemesis Jon Jones and his heavyweight rival Stipe Miocic, DC hasn't had trouble beating others.
He is a one time light-heavyweight and heavyweight champion, having held both the titles simultaneously during his prime.
Cormier's slams, takedowns and grappling abilities are a treat to watch.
12) Israel Adesanya (middleweight)
The reigning king of the middleweight division comes in at number 15. The Nigerian made his UFC debut only in 2018, after plying his trade as a kickboxer for a long time. In just over a year he became the middleweight champion, and has already defended it twice.
He is known for his exquisite striking and precision. The Last Stylebender just has one loss in his MMA career, which was his most recent fight, against Jan Blachowicz, albeit in a different weight class.
11) Randy Couture (light-heavyweight & heavyweight)
Despite having a 'not-so-impressive' resume, Couture has the most championship wins in the history of the UFC's heavyweight division.
The Hall of Famer has won both light-heavyweight and heavyweight titles multiple times. He was one of the most feared fighters of his generation. He fought until the age of 48.
10) Chuck Liddell (light-heavyweight)
One of the greatest light-heavyweights of all time, Chuck Liddell defended the LHW belt a multiple times during his prime. His rivalry with Randy Couture is one of the greatest rivalries of all time.
Liddell was inducted into the Hall of Fame in 2009. Despite being 51 years old, the man still looks in phenomenal shape.
9) Stipe Miocic (heavyweight)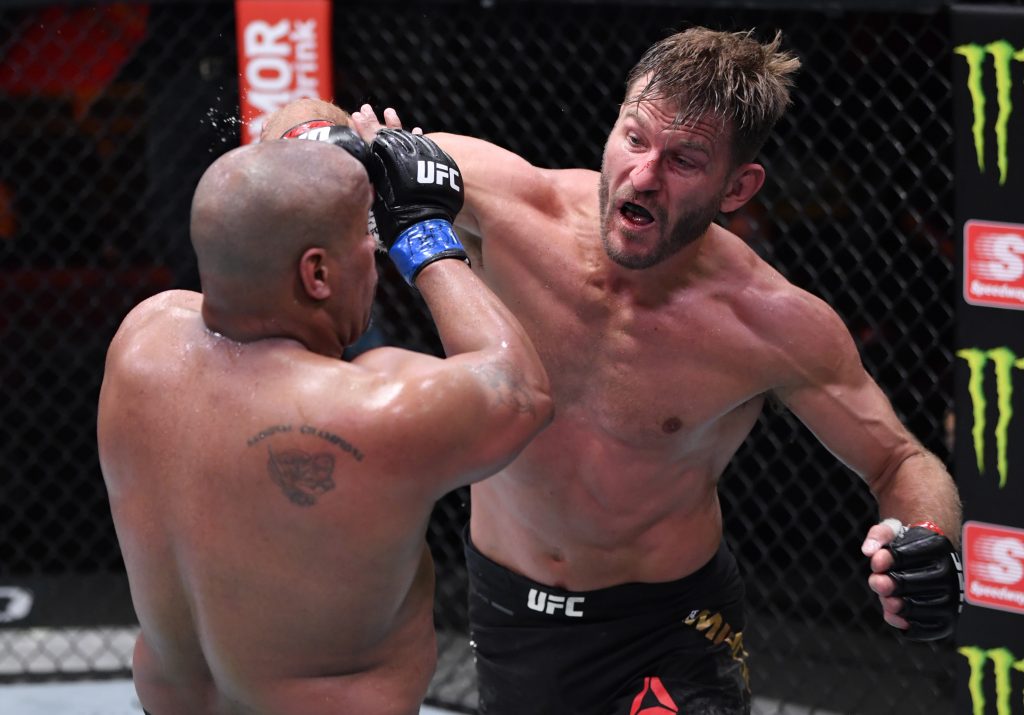 Considered by many as the greatest heavyweight of all time, Stipe Miocic has been a UFC mainstay. He joined the promotion, way back in October 2011 at UFC 136. He has a record of 14 wins and just 4 losses in his UFC career.
'The Cleveland's finest', as he is known, has also been a two-time heavyweight champion in the promotion. He still is the number 1 ranked heavyweight contender, despite being almost 39.
8) Conor McGregor (featherweight & lightweight)
The face of the fight game stands number 9 in the list. He is the reason why the UFC has become successful. In 2016 he became the first male fighter to hold two championship belts simultaneously.
His famous 13 second knockout of Jose Aldo in a title fight is one of the most memorable moments in the history of the promotion.
Having made his debut against Marcus Brimage, McGregor never tasted defeat until he faced Nate Diaz in a welterweight bout, after being a featherweight in his entire UFC career.
The Irishman has a record of 22-5 in his professional MMA career.
7) Kamaru Usman (welterweight)
The reigning welterweight champion has never tasted defeat in his UFC career. He has notched up 14 consecutive victories in the promotion, and already has four title defenses to his name.
No one in the current MMA world, would be able to match the ground-game the Nigerian Nightmare possesses.
6) Henry Cejudo (flyweight & bantamweight)
Triple C features in the top 10 because he was a two-division champion. He retired as a two-division champion as well.
He famously stopped Demetrious Johnson's 11 consecutive title-defenses at UFC 227, winning via. split decision.
At UFC 249 last year, he knocked out Dominick Cruz and bowed out of the sport as a champion.
5) Demetrious Johnson (flyweight)
Mighty Mouse, as he is called, is the first ever flyweight champion in the history of the UFC. Having won the belt against Joseph Benavidez, he went on to defend it an unbelievable 11 times, before falling to Henry Cejudo.
He is known for his extra fast hands, an attribute largely due to his short stature. It is worth noting that he is one of the shortest fighters in the history of the sport – 160 cm.
4) Anderson Silva (middleweight)
Silva would have made it to the top 3 had he not bowed out with a streak of winless fights. The Brazilian holds the record for the most consecutive wins in the history of the UFC, with 16.
Silva defended his middleweight belt a whopping 10 times, before falling to Chris Weidman at UFC 162. He is often referred to as the MMA GOAT.
3) Amanda Nunes (women's Bantamweight and Featherweight)
The Brazilian is considered to be the greatest women's fighter of all time. Nunes defends her title for fun. She is a two-division champion, currently holding both the bantamweight and featherweight titles.
Nunes has managed to see off each and every opponent she has been matched up against, as though they are piece of cake.
3) Georges St-Pierre (welterweight & middleweight)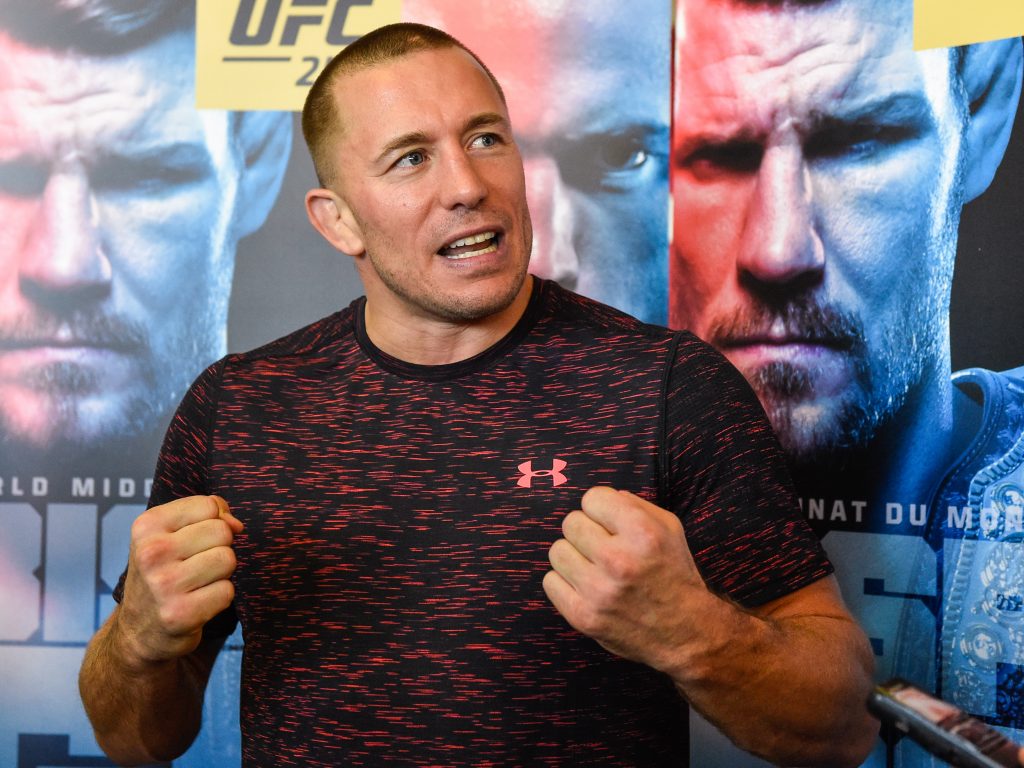 Georges 'Rush' St-Pierre is one of the greatest welterweights the world has ever seen. The Canadian has ten title defenses to his name. He once went on a 12 fight unbeaten streak in the UFC's welterweight division.
In 2017, GSP made a comeback after four years and just like that won the middleweight title. However, that was his last ever fight in the UFC. He is widely considered by many as the greatest, the UFC has ever produced.
2) Jon Jones (light-heavyweight)
Undoubtedly the greatest light-heavyweight of all time. Jones took the world by storm when he became the youngest UFC champion at the age of 23. Since then he has put on some staggering title-defense displays.
He has thirteen successful title defenses to his name. And, what's more? He just has one loss in the UFC, which came via. DQ. He somehow finds a way out to beat his opponent, due to his immensely superior fight IQ.
1) Khabib Nurmagomedov
'The Eagle of Dagestan' is undoubtedly the greatest lightweight in the history of the UFC. The Russian who recently announced his retirement never lost a fight in his entire MMA career (28-0). With a record of 13 wins and 0 losses in the UFC, Khabib was hardly troubled by any of his opponents.
Khabib, in fact, barely lost a single round. Of the 60 rounds he has been in the UFC, the Dagestani lost just 2. He also defended his lightweight title 3 times against some of the greatest modern lightweights – Conor McGregor, Dustin Poirier and Justin Gaethje.
More UFC news
Follow our dedicated UFC page for instant UFC news and updates