Here is how a fantasy matchup: Georges St-Pierre vs Israel Adesanya might possibly pan out
Israel Adesanya defended his middleweight throne for the fifth time in a rather lacklustre contest. He was subject to severe criticism by fans and MMA pundits alike for his performance. Although Adesanya claims that he's still better than the rest even during an 'Off Day', analysts are trying to figure out who can force the fight out of Adesanya, and pose a real challenge to his middleweight throne.
It would need much more than a skilled fighter to beat Izzy, a mixed martial artist in the truest sense perhaps. Someone who approaches the fight with a critical mindset, and scrutinizes every possible outcome like a scientist. Nobody does it better than MMA legend GSP in that regard, which sets up the idea of a fantasy fight between Georges St-Pierre and Israel Adesanya.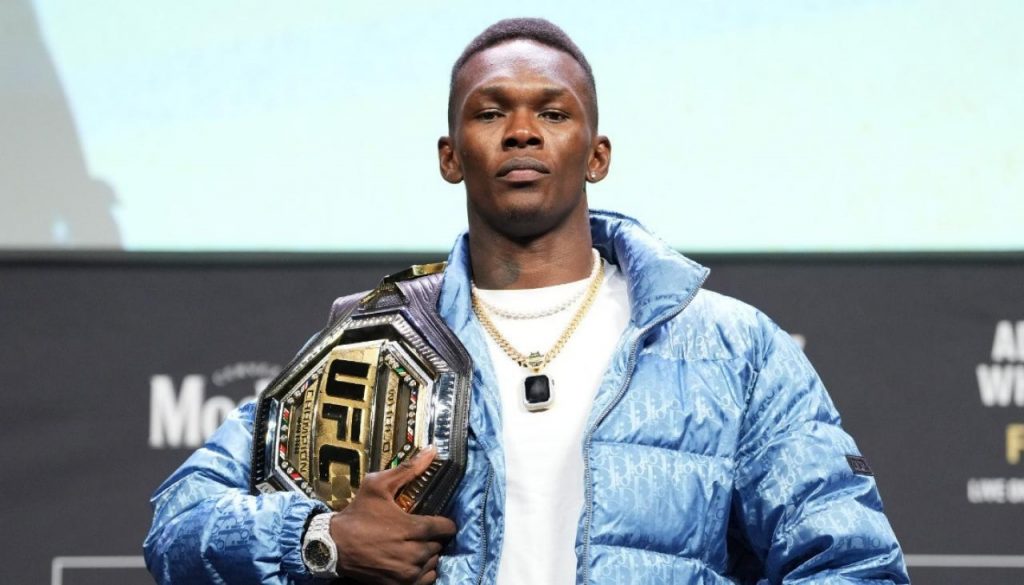 Ahead of UFC 276, Izzy had said that he's channelling his dark side, particularly for this fight. Although he kept the curtains draped on his entrance, he surprised everyone when he made one of the best octagon walkouts ever. Fans salivated and expressed their appreciation for Adesanya's star power and showmanship.
The UFC commentary booth went off for a few moments as they gasped in the historic entrance they were witnessing live. Adesanya scored a unanimous decision victory against Jared Cannonier. The fight was predominantly a striking contest in the champion's desired range. He stagnated Cannonier's movements with stiff jabs. To Jared's credit, he fought a smart fight too. Whenever Adesanya tried to launch phase 2 of his attacks after set-ups in phase 1, Cannonier would move out of trouble. In the end, Izzy's leg kicks, body kicks, jabs, and overall accuracy was enough for him to win on the judge's scorecards.
Izzy hasn't fought an elite grappler yet. Although he fought Yoel Romero, the Cuban is not particularly known to pursue relentless takedown attempts in his fights. To beat Izzy, he needs to be matched up against a fighter who can mix various aspects of the sport well, something that GSP does effortlessly.
What are the chances that GSP would have beat Israel Adesanya?
UFC middleweight champion Israel Adesanya holds an unwavering view that he's the best middleweight on the planet, and his record speaks for itself. He has been on a rampant run, wiping out almost the entire division. 
The stars are aligned for Adesanya to make his fifth title defense at UFC 276 with an opponent that prefers a stand-up battle. It is almost impossible for fighters to figure out the puzzle that is Izzy, who is revolutionizing the striking game inside the UFC, one fight at a time. In a sport that is evolving everyday, 'Izzy' has changed the way we perceive striking through his laser-sharp precision punches, exceptional footwork and seemingly unintelligible defense.
Izzy has successfully set in motion and established the feint game which was unique when MMA textbook striking is taken into consideration. He draws reactions out of his opponents through subtle movements and in doing so computes the data and launches his range of attacks. His path to victory would be to keep the fight in his desired range, stay outside of the pocket, and not get caught because Cannonier does possess some bombs in his hands.
GSP on the other hand thrives on his ability to prepare specifically for different fighters, and his attention to the finest details. It's actually impressive that a Shotokan karate fighter who started his career as a striker, figured out that he can put his strength to use by ameliorating his wrestling game, and remodelling his style around it. This made GSP invincible by becoming one of the most complete fighters the game has ever seen.
Take his fight against Nick Diaz for example. GSP figured that it would be foolhardy and reckless to fight one of the best boxers at that time in a boxing range. He kept the fight in a kickboxing range, only closing the distance to shoot power takedowns. In his fight against Bisping, he faced some initial adversity and realized that Bisping was doing some severe damage with his elbows from the guard. GSP set up a devious trap by losing his hold on Bisping a little bit, which gave the English man the confidence to sprawl back on his feet. But GSP immediately took his back and sunk in a tight choke to claim the middleweight throne.
So how would the fight between the two end up? Adesanya is the master of defense, and staying out of trouble. He is very good at fighting from his range, and it would be very difficult for GSP to fight a much bigger opponent. GSP had some trouble facing kickboxers in the past, take the Carlos Condit fight for example. This hands a significant advantage for an elite kickboxer like Izzy.
GSP on the other hand, has to lay down traps as he did in his fight against Michael Bisping. He needs to mix up his boxing, and hide his takedowns while moving in range. The only way GSP can probably beat Adesanya is by taking him to the ground and drowning him there.
More MMA news
Follow our dedicated MMA page for instant MMA news and updates