Let us know more about the players who have the largest NBA wingspan
It is not a big secret that NBA players are incredible athletes with almost freak abilities. In other words, they are an exceptional force of nature.
Like most human beings, NBA players have certain physical attributes which are far away from normal. For a normal person, the attributes are never achievable. You just have to be born with it.
One such attribute of NBA players is their 'wingspan.' So, what is a 'Wingspan'?
To put it simply, everybody has a wingspan. It is just that basketball players have the most extreme of wingspans. Wingspan is simply the length of your arms and hands. Mostly, the wingspan of a common person is roughly 2 inches more than that person's height.
For a regular person, there is no benefit from having an unusually large wingspan, but for basketball players, a long wingspan is an unsaid blessing.
It is not necessary to be a rocket scientist to understand the significance of wingspan in basketball. The longer your wingspan, the easier it is to dunk without bothering to gather first. It's also easier to dribble low to the ground in traffic, block shots, contest shots without ever leaving your feet, steal the ball, and guard someone taller than you.
So, let us know the top 10 NBA stars who have the largest wingspan in the game.
#1 Rudy Gobert
Height – 7′ 1"
Wingspan – 7′ 8.5"
Rudy Gobert has the sixth-largest wingspan in NBA history. This Utah Jazz player is currently one of the best defenders in the league and his superb shot-blocking ability definitely changes the result of any game.
29-year-old Gobert is seventh among active NBA players in career blocks (1207), behind Dwight Howard, Serge Ibaka, Brook Lopez, DeAndre Jordan, Anthony Davis, and Marc Gasol.
Gobert's career average of blocks per game is at 2.2 and the Frenchman has led the NBA in blocks per game once. This Jazz star is also a three-time NBA Defensive Player of the Year (2018, 2019, 2021).
#2 Hassan Whiteside
Height – 7' 0''
Wingspan – 7' 7"
Hassan Whiteside may not be a consistent player but his skills and abilities are quite commendable. Thanks to Whiteside's massive wingspan of 7' 7", he has been a two-time NBA blocks leader (2016, 2020).
Whiteside on his best days is a tremendous force to be reckoned with. His presence in the paint gives a massive boost to any team that he is playing for. So much so, Whiteside was named NBA rebounding leader (2017).
Whiteside was selected thirty-third overall in the 2010 NBA Draft and since then he has played for many teams. He has played in the NBA G-League, Lebanon, and China. In NBA he has played for the Sacramento Kings, Miami Heat, Portland Trail Blazers, and Utah Jazz. Currently, Whiteside plays for the Utah Jazz and along with Gobert, they are a defensive powerhouse.
#3 Mohamed Bamba
Height – 7' 0''
Wingspan – 7′ 10″
Mohamed Bamba aka. Mo Bamba was the sixth overall pick in the 2018 NBA Draft by the Orlando Magic. Relatively new to the league and young, Bamba is best known for his ability to protect the rim and play stifling defense.
Bamba's insane wingspan of 7′ 10″ allows him for court coverage the likes of which hasn't been seen before. His wingspan gives him a significant physical advantage over the average center in the NBA. He is two inches taller than the 6′ 11″ average and his wingspan is an outrageous seven inches longer than the average 7' 3".
#4 Boban Marjanovic
Height – 7′ 3″
Wingspan – 7′ 8″
Given Boban's height, it is quite predictable that his name will feature in this list. This Serbian giant has a height of seven foot three inches and he has an incredible wingspan of seven foot eight inches.
Boban Marjanovic is not a consistent player in the NBA but he has put up some memorable performances through time. He is also known for his on-court and off-court antics. Boban is a great teammate and his funny bone keeps the spirit of the team always high. Currently, Boban plays for the Dallas Mavericks.
#5 Joel Embiid
Height – 7′ 0″
Wingspan – 7′ 6″
Joel Embiid is a certified superstar in his own right. Hailing from Cameroon, Embiid is a star player for the Philadelphia 76ers.
27-year-old Embiid plays in the position of Center and Power forward and is a major key to Philadelphia's recent success.
Moreover, standing 7′ 2″, Embiid has a massive wingspan of 7′ 6″. His wingspan is an obvious advantage as every other night we see him balling and putting up phenomenal performances.
Embiid was selected third overall in the 2014 NBA Draft by the Philadelphia 76ers and since then he has been named three times to the NBA All-Defensive Second Team (2018, 2019, 2021).
#6 Kristaps Porzingis
Height – 7′ 3″
Wingspan – 7′ 6″
26-year-old Kristaps Porzingis was the fourth overall draft pick in the 2015 NBA Draft by the New York Knicks. Hailing from Latvia, Porzingis stands seven foot three inches tall and he has a wingspan of seven foot six inches.
This NBA All-Star plays in the position of Center and Power forward and Porzingis was also named to the NBA All-Rookie First Team (2016).
Currently playing for the Dallas Mavericks, Porzingis has a great future ahead of him. His wingspan will also definitely help him achieve some great milestones.
#7 Giannis Antetokounmpo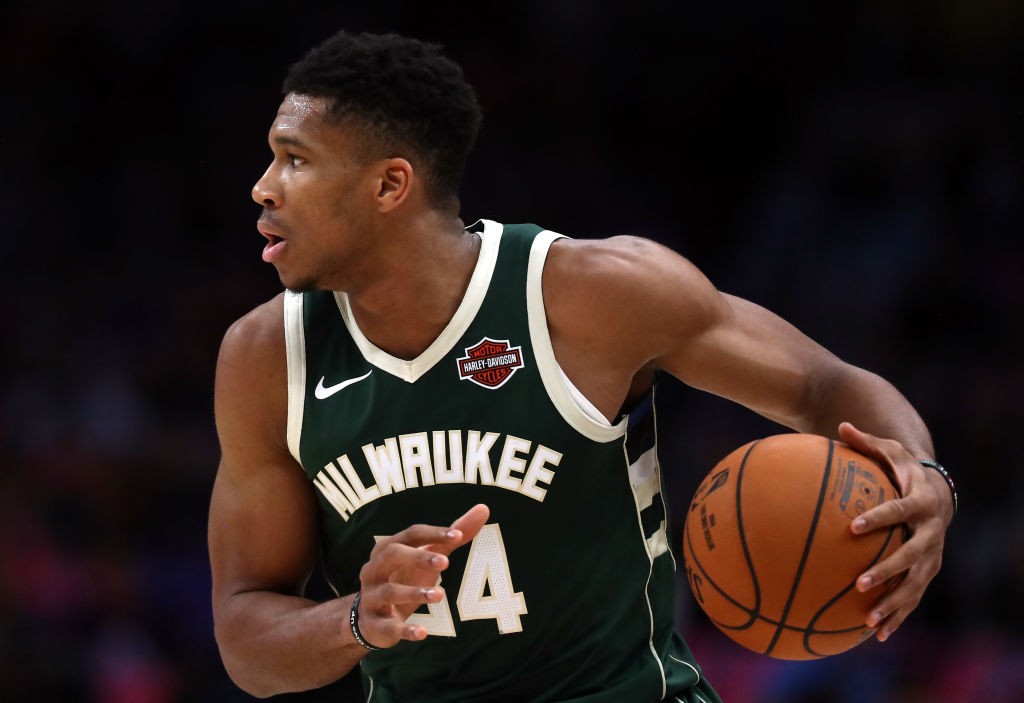 Height – 6′ 11″
Wingspan – 7′ 3″
Giannis Antetokounmpo needs no introduction. He is currently the face of the NBA. Nicknamed as the 'Greek Freak', Giannis recently became the NBA champion (2021). Alongside being a champion, he also became the NBA Finals MVP (2021).
Hailing from Greece, Giannis Antetokounmpo stands six feet eleven inches tall and he has a wingspan of seven foot three inches.
Needless to say, Giannis's wingspan is his major weapon as he is an offensive and defensive powerhouse. Presently playing for the Milwaukee Bucks, Giannis was also the NBA Defensive Player of the Year (2020).
#8 Anthony Davis
Height – 6′ 11″
Wingspan – 7' 6"
This Los Angeles Lakers superstar was recently named to the NBA 75th Anniversary Team. Anthony Davis is known for his extraordinary defensive abilities and every other night we see his skills on display in the court.
28-year-old Davis has a height of six feet eleven inches and he has a wingspan of seven feet six inches. Needless to say, his wingspan gives him a huge advantage to play effortless defense. Along with playing defense, Davis is also a prolific offensive player.
Davis was selected first overall in the 2012 NBA Draft by the New Orleans Pelicans. But now Davis plays for the LA Lakers. With the Lakers, Davis even won an NBA championship (2020).
#9 Tacko Fall
Height – 7' 7"
Wingspan – 8' 2.25"
Tacko Fall hails from Senegal and is the tallest player in today's NBA. He has a massive height of seven foot seven inches and his wingspan measures an amazing 8' 2.25". Notably, Fall's wingspan is the second-largest in NBA history. Needless to say, Fall plays in the position of Center.
Moreover, Fall is relatively new to the NBA. In 2019, he entered the NBA Draft but unfortunately went undrafted. Later, he joined the Boston Celtics and currently, Fall plays for the Cleveland Cavaliers. Alongside playing in the NBA, Fall also plays in the NBA G-League.
#10 Bol Bol
Height – 7' 2"
Wingspan – 7' 6.8"
Bol Manute Bol aka. Bol Bol is the son of the legendary NBA player, Manute Bol. Bol was the forty-fourth overall draft pick in the 2019 NBA Draft by the Miami Heat. However, Bol's draft rights were traded to the Denver Nuggets. Since then, Bol is playing for the Denver Nuggets.
22-year-old Bol is seven foot two inches tall and he has a wingspan of 7' 6.8". Due to his height and build, Bol plays in the position of Center and Power Forward.
Bol is quite young in the NBA and in the coming years he has a lot to prove. Additionally, he has the legacy of his father to carry on.
Honorable Mention
#Manute Bol
Height – 7' 7"
Wingspan – 8' 6"
Manute Bol is the father of Bol Bol and he is not featured in the above list because the above list features only the active NBA players. Manute had retired a long time back and his career was no less than legendary.
Measuring seven foot seven inches, Manute had the staggering wingspan of eight foot six inches. It is said that Manute's wingspan is unofficially the longest in the history of the NBA.
Moreover, Manute put his height and wingspan to good use. He was one of the top shot blockers in the league and he finished his career with an average of 3.3 blocks per game despite averaging only 18.7 minutes per game.
#Kevin Durant
Height – 6' 11"
Wingspan – 7' 5"
Kevin Durant is one of the most talented players currently playing in the NBA. This Brooklyn Nets star measures six foot eleven inches in height but has a long wingspan of seven-foot five inches.
Durant's wingspan provides him an unfair advantage over everyone else. He is an elite scorer and a top defender in the league.
This Small forward is already a two-time NBA champion and three-time Olympic gold medalist. Moreover, Durant has won two NBA Finals MVP (2017, 2018) and has also won the NBA Most Valuable Player (2014). Apart from these, Durant has won several more accolades and he is hungry for more to achieve.
More NBA Articles:
Follow our dedicated NBA page for more NBA articles and news updates