Know the most impactful quotes of the legendary NBA player Kobe Bryant
Kobe Bean Bryant aka. Kobe Bryant has left a never-ending legacy in the world of basketball. His contribution to the game and his achievements will never fall short. In other words, Bryant was in a class of his own. Throughout his career, Bryant was exceptional on the basketball court and along with that, he has shared some memorable quotes on basketball, life, and success over the years.
Whenever you mention NBA or the Los Angeles Lakers, Kobe Bryant's name is definitely going to pop up. A loyal warrior, Bryant spent his entire 20-year career with the Los Angeles Lakers. In this span of twenty years, Bryant has achieved unthinkable accolades. Due to his legendary status, Bryant was recently named to the NBA 75th Anniversary Team.
Notably, Bryant entered the NBA directly from high school. He was the thirteenth overall draft pick in the 1996 NBA Draft by the Charlotte Hornets. However, he was traded to the Los Angeles Lakers and the rest is history.
Nicknamed as the 'Black Mamba' for his determination and grit, Bryant is a five-time NBA champion (2000–2002, 2009, 2010) and a two-time NBA Finals MVP (2009, 2010). He is also the winner of the NBA Most Valuable Player (2008) award. Along with this, Bryant is an eighteen-time NBA All-Star and also the winner of two Olympic gold medals (2008, 2012). Furthermore, Bryant has many more achievements which will only make the list longer.
For all his achievements, Bryant is also inducted into the Naismith Basketball Hall of Fame as a player.
Unfortunately, this legendary icon died on January 26, 2020, at the age of 41. Kobe Bryant, and his 13-year-old daughter Gianna Bryant, along with six family friends, and the pilot, all died in a horrific helicopter crash in Calabasas. He left behind his wife, Vanessa Bryant, and his 3 other daughters.
Nevertheless, the impact of Kobe Bryant still lives on, and here are the top 10 greatest Kobe Bryant quotes.
#10 Everything negative – pressure, challenges – is all an opportunity for me to rise.
Ever since Kobe got into the NBA, he had faced a plethora of challenges. From his rookie years to the day of his retirement, Kobe had to prove his talent every day.
However, like a true champion, Kobe faced all the negatives fiercely and overcame them easily. For the proof of his success, his achievements and accolades speak for themself.
#9 The most important thing is to try and inspire people so that they can be great in whatever they want to do.
Needless to say, Kobe is an inspiration for millions of people. From the age of eight to eighty, there are several fans of Kobe Bryant. Kobe has fans not just because he was a great player but also because he was a great humanitarian. He is also famous for his charitable endeavors.
So, it can be said that Bryant is a definite role model. It is obvious that he has a huge responsibility to motivate others. Keeping that in mind, the above-mentioned Kobe Bryant quotes surely hold true.
#8 Winning takes precedence over all. There's no gray area. No almosts.
The mentioned quote gives an example of the famous 'Mamba Mentality' of Kobe Bryant. Kobe was best in his job, day in and day out. Every night, while playing, he played his heart out with just one thing in his mind – that is to win.
Bryant's tough mentality to win got him many accolades. Most famously, five NBA championships and two Olympic gold medals. So, in life, take risks, and go all in.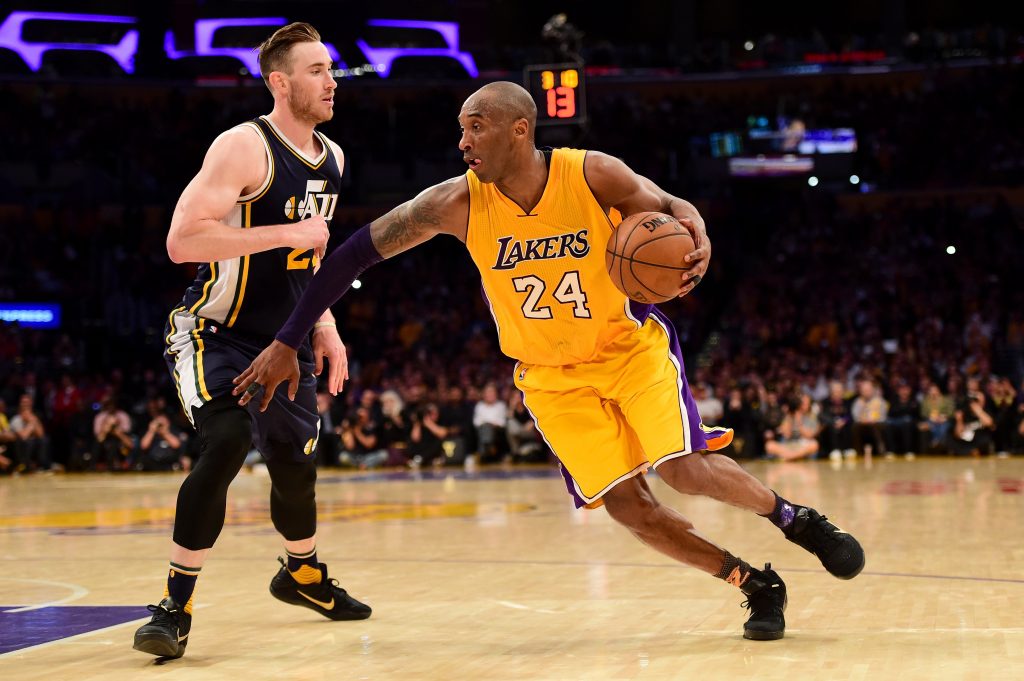 #7 My parents are my backbone. Still are. They're the only group that will support you if you score zero or you score 40.
Family is everything. Time and again, it is proven. For the great 'Black Mamba', it is not so different.
Whether you win or lose, fail or succeed, feel high or low, your family is always there to support you and motivate you. A family never judges and always wants to see you achieve your respective goals.
Just like Bryant, keep your family close, they are your evergreen support system.
#6 I can't relate to lazy people. We don't speak the same language. I don't understand you. I don't want to understand you.
Frankly, everybody has heard about Kobe Bryant's famous work ethic. His rigorous practice routine and toughness against adversity have become popular folklore. Sometimes, his teammates were also not spared from his infamous practice sessions. Bryant wanted to succeed at all costs and hence pushed his teammates to work hard to achieve results.
Laziness doesn't yield results. Work hard and never give up, and just like Bryant, success will follow.
#5 Haters are a good problem to have. Nobody hates the good ones. They hate the great ones.
When you are famous you naturally attract haters. It is a universal fact that not everybody will love you, there will always be some haters. For Kobe Bryant, the scene was no different. Throughout his glorious career, Bryant had many haters.
The haters never could bother Bryant. Actually, Kobe saw the haters as a source of motivation and played extra hard. At the end of every game night, Kobe successfully proved the haters wrong.
Similarly, in real life, don't bother about haters. Always work honestly and the results will always turn your haters into fans.
#4 If you're afraid to fail, then you're probably going to fail.
Fear is an absolute mind-killer. If you fear that you will fail, you will surely be going to fail. It's like an unwritten law. So, it's very important that you have a positive mindset before doing anything. You also should have a positive mindset while doing the task at hand.
The above-said quotes clearly worked for Kobe Bryant. And it will definitely work for you too.
#3 A lot of leaders fail because they don't have the bravery to touch that nerve or strike that chord.
Apart from being a great player, Kobe Bryant was an absolute leader. In fact, he was the leader of the highest category who led his team from the front. Bryant was never behind and always stood up to defend his teammates. He also superbly led the games and delivered a win most of the time.
Kobe could be a leader because he surely had the qualities which made his teammates listen and follow him. Of course, he was courageous too. Not everybody can be a good leader but Bryant was surely one of the great leaders.
#2 Pain doesn't tell you when you ought to stop. Pain is the little voice in your head that tries to hold you back because it knows if you continue you will change.
Bryant's NBA career was not a smooth sail. In his long twenty-year career, Kobe has suffered many serious injuries. Some injuries were even potentially career-ending.
But Kobe survived through them all and always managed to come back stronger than ever before. Seriously, that guy was made of steel. Nothing could literally faze him. Remember when he tore his Achilles tendon but still hit two free throws before walking off the court without any help?
#1 Sports are such a great teacher. I think of everything they've taught me: camaraderie, humility, how to resolve differences.
No matter how great you are, for every person, there is a humbling point. For Bryant, one of the humbling points was sports. Sports in general kept him grounded and headstrong.
As mentioned in the quote, it really is a great teacher. Many life lessons can be learned from various sporting experiences. At the end of the day, sports bring human beings closer and together.
These are the top 10 greatest quotes of the late Kobe Bryant, a basketball icon and legend.
More NBA Articles:
Follow our dedicated NBA page for more NBA articles and news updates