Monica Seles, a former World No.1 and 9-time Grand Slam winner retired from tennis in 2008
On 30th April 1993, Monica Seles was playing a quarter-final match against Bulgarian Magdalena Maleeva in Hamburg. During a drinks break in the second set, Seles leaned forward to have some water, when she felt a sudden pain in her back. She turned around and saw a man with a cap sneering at her. Günter Parche, an obsessed fan of Steffi Graf, jabbed a 9-inch long knife at Monica's back. It hurt a lot but she still didn't understand what was going on. He charged at her again. At the time, no one thought someone could attack a player on a tennis court. It was the beginning of the 1990s and fan encroachment wasn't common. No one saw matches as risky and in need of special security.
It took Seles two years to recover from the stab and get back to the court. After her comeback, she even won a Grand Slam again and played US Open finals against Steffi Graf. But she never wanted to play in Germany again. And never again did she feel indestructible.Seles never managed to regain her old success and fame. Although her wound healed, she still felt exposed. Her body wouldn't let her practice for hours like she used to. She felt she wasn't her old self anymore.
Monica Seles never reached her full potential due to this unfortunate incident
At only 16 and a half, Monica Seles became the youngest winner of the competition and number one on the WTA list! In a couple of seasons, this teenager won nine Grand Slams and 53 titles and earned $16 million. From January 1991 till February 1993, Monica reached 33 out of 34 finals. She won 22 of them. She had 159 wins and 12 defeats (92.9% of wins).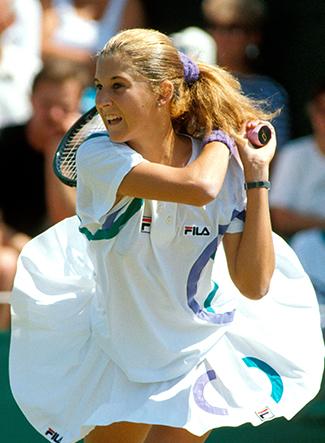 Seles played her last professional match at the 2003 French Open, but did not officially retire until February 2008. She is regarded by many in the sport as one of the greatest tennis players of all time, Seles was named one of the "30 Legends of Women's Tennis: Past, Present and Future" by Time. Several players and historians have stated that Seles had the potential to become the most accomplished female player of all time had she not been stabbed. She was inducted into the International Tennis Hall of Fame in 2009.
More Tennis news
Follow our dedicated Tennis page for instant Tennis news and updates