Tennis icon Rafael Nadal was in attendance at Santiago Bernabéu as Real Madrid beat Man City to qualify for the finals of UEFA Champions League.
A massive Real Madrid fan, Nadal was in attendance at Santiago Bernabeu Stadium to see his favorite football team earn a place in the final of the 2022 UEFA Champions League. Real Madrid could not have done it in any more dramatic fashion, too, as the home team scored three late goals to stun Manchester City 6-5 on aggregate.
Having lost the first leg on the road via a 4-3 decision, Los Blancos trailed 5-3 on aggregate after City scored in the 73rd minute. Still behind by two in the 90th minute, Madrid scored to make it 5-4 and added another goal one minute into stoppage time to force 30 minutes of extra time. Yet another goal via a penalty in the 95th minute proved to be the difference, as it gave the hosts a 3-1 victory in leg two that was good enough to advance.
Spaniards Carlos Alcaraz and Alejandro Davidovich Fokina were also at the Bernabeu along with world No. 1 Novak Djokovic. It is understood that Rafael Nadal being a honorary member of Real Madrid, invited his fellow colleagues over to the Bernabeu to watch the match together.
Rafael Nadal took the honorary kick-off in the match between Real Madrid and Espanyol at the Santiago Bernabéu last week
Rafael Nadal is an honorary member of the Real Madrid football club since 2011. Nadal took the honorary kick-off in the title-deciding match between Real Madrid and Espanyol at the Santiago Bernabéu. The Minorcan-born tennis player, who has been a Real Madrid honorary member since 2011, is the only tennis player to have secured 21 Grand Slam titles. Real Madrid has been crowned champions of Spain after winning the match 4-0.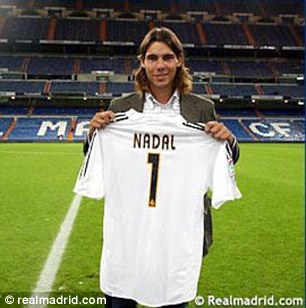 Rafael Nadal is a superfan of Real Madrid and has previously expressed his wish of becoming a President for the club.
"If you ask me if I would like it, of course I would, why not? But there is more to it… I think it will not be. We are very good as we are. We have a great president right now, and I don't think Real Madrid need me, but we never know what can happen in the future. It is not something I can raise today", Nadal had said earlier on his ambitions of becoming the President of the Spanish giants.
More Tennis news
Follow our dedicated Tennis page for instant Tennis news and updates