World No. 1 Iga Swiatek will never forget the year 2022 – she was honored with a stunning mural in her hometown.
Iga Swiatek's fans in her hometown of Raszyn, Poland unveiled a brilliant mural made by local artist Dominik Kowalczyk to honor the phenomenal achievements of the youngster. The mural was made on the wall of a Cyprian Godebski primary school building.
The laudable initiative was taken by KS Raszyn and the project Raszyn Association.
"We didn't know how to repay Iga for these successes, and as the club's board we came up with the idea to honor our star in this way," Marcin Cwyl, president of KS Raszyn, revealed  sports.se.pl.
Swiatek most recently played in the WTA Finals. She finished at the top of the group by winning all three matches. The 21-year-old was the favorite to win the tournament but her run was ended by Aryna Sabalenka in the semis.
Swiatek finished the season with 67 wins and 9 losses with a staggering win percentage of 88.2. She began the season ranked No. 9 and made it to the top of the rankings on 4 April 2022.
All titles won by Iga Swiatek in 2022
Iga Swiatek took her total trophy tally to 11 with 8 wins coming this season. Let's take a look at all the trophies she won this season.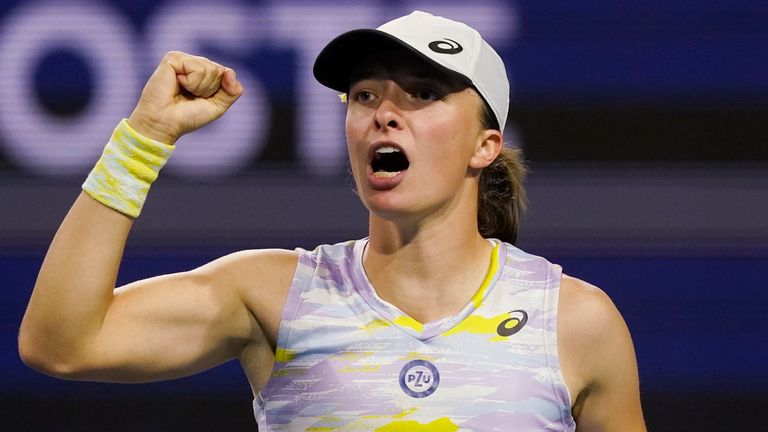 | | |
| --- | --- |
| Trophy Won | Category |
| Qatar Open | WTA 1000 |
| BNP Paribas Open | WTA 1000 |
| Miami Open | WTA 1000 |
| Stuttgart Open | WTA 500 |
| Italian Open | WTA 1000 |
| French Open | Grand Slam |
| US Open | Grand Slam |
| San Diego Open | WTA 500 |
More Tennis news
Follow our dedicated Tennis page for instant Tennis news and updates