Shawn Kemp is a former player in the National Basketball Association also nicknamed "Reign Man". He played 14 years in the NBA with six All-Star appearances and was named three times into the All-NBA Second Team.
Kemp is 53 years old and here is everything you need to know about his net worth, salary, career, personal life, and more.
Shawn Kemp Facts
| | |
| --- | --- |
| Birth Place | Elkhart, Indiana |
| Father's Name | – |
| Mother's Name | Barbara Kemp |
| Star Sign | Scorpio |
| High School | Concord |
| Net Worth (2023) | $5 million |
| Salary (2023) | NA |
| Age | 53 |
| Date of Birth | November 26, 1969 |
| Height (ft) | 6 ft 10 in (2.08 m) |
| Weight (kg) | 280 lb (127 kg) |
| Nationality | American |
| NBA Draft Year | 1989 |
| NBA Draft Pick | Round 1 / 17th Overall |
| Playing Career | 1989 – 2003 |
| Position | Power Forward |
| Teams | Supersonics, Cavaliers, Trailblazers, Magic (NBA) |
| Wife/Girlfriend | Marvena L. Thomas (m. 2001) |
| Children | 7 |
| Endorsements | NA |
| Social Media | Twitter |
Shawn Kemp Net Worth And Salary
Shawn Kemp is said to be worth around $5 million as of 2022. The former NBA big man was a star name in the league during his 14 years playing professionally. He made around $90 million from his contracts in the NBA alone and now has plenty of real estate. Of course, one of his biggest expenses is taking care of the seven kids he fathered with six different women from his college days.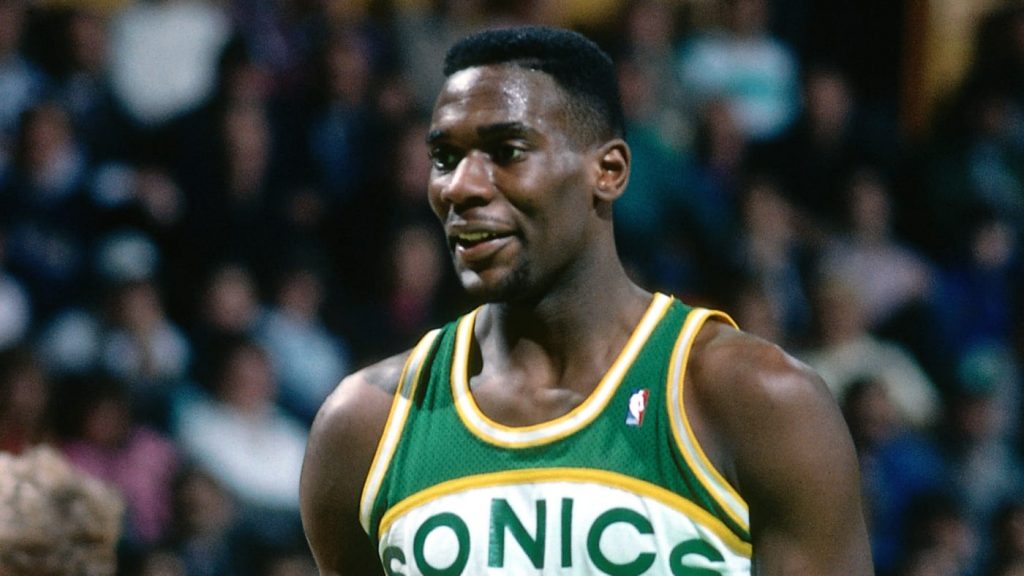 Kemp bought his first mansion for $2.4 million in 2003 in Maple Valley, Washington. It spread across 13,000 square feet on 4.7 acres of land and was listed for $3.7 million five years later. Kemp sold his 5,000-square-foot residence in Seattle for $2.18 million in 2021.
Kemp also owned a sports bar in Lower Queen Anne in Seattle known as Oskar's Kitchen but it closed in 2015. He opened Shawn's Canabis Dispensary in 2020 along with Ramsey Hamide and Matt Schoenlein. Kemp has not worked in a coaching position or made appearances on TV like many of his colleagues from back in the day. He chooses to remain behind closed doors raising his family.
Shawn Kemp Basketball Career
Shawn Kemp was meant to be a star right from his early days in high school. He set a single-game and single-season scoring record for Concord High School and also scored the most point in Elkin county's history. He joined the University of Kentucky in 1987 but could not play in his first year due to a low SAT score. He was then accused of pawning off a teammate's gold chain because of which he had to leave college. Soon after attending a Community College, he declared for the NBA Draft in 1989.
The Seattle Supersonics picked him 17th overall as he was the youngest player in the NBA at the time. He faced his difficulties early on but soon Kemp started to show his potential. He dunked on Alton Lister in the 1992 playoffs against the Golden State Warriors and helped his side to 64 wins in the 1995-96 season alongside Gary Payton. The Sonics faced off against Michael Jordan and the Bulls in the finals and ended up losing in six games. Kemp impressed with 23.3 points and 10 rebounds in the finals.
After a difficult period of contract negotiations, Kemp was traded to the Cleveland Cavaliers in 1997. He started to gain weight in Cleveland but still managed to record a career-high of 26 points and 13 rebounds per game to lead them to the playoffs. In 1999, he got traded to the Portland Trailblazers. The Orlando Magic signed him in free agency in 2002 with whom he completed his 1000th game in the NBA. After one season, he retired in 2003.
Shawn Kemp Personal Life
Shawn Kemp is known to have fathered seven kids and has had several run-ins with the law, one of which was marijuana possession. His oldest son, Shawn Kemp Jr. played for the University of Washington. His other son, Jamon played for Southern Louisana University.
One of Kemp's career highlights – a dunk over Hakeem Olajuwon appears on the cover of NBA Jam Extreme. In 2009, Kemp also appeared in the season premiere of Pros vs. Joes.
FAQs About Shawn Kemp
(Q) What is Shawn Kemp worth 2023?
Shawn Kemp is said to be worth $5m in 2023.
(Q) Why was Shawn Kemp traded to Cavs?
Shawn Kemp grew disgruntled in Seattle and wanted out. He got his wish in 1997.
(Q) How many kids did Shawn Kemp have?
Seven.
More NBA news:
Follow our dedicated NBA page for instant NBA news and updates.