This article explores the story of Russell Brand and his net worth as of 2023.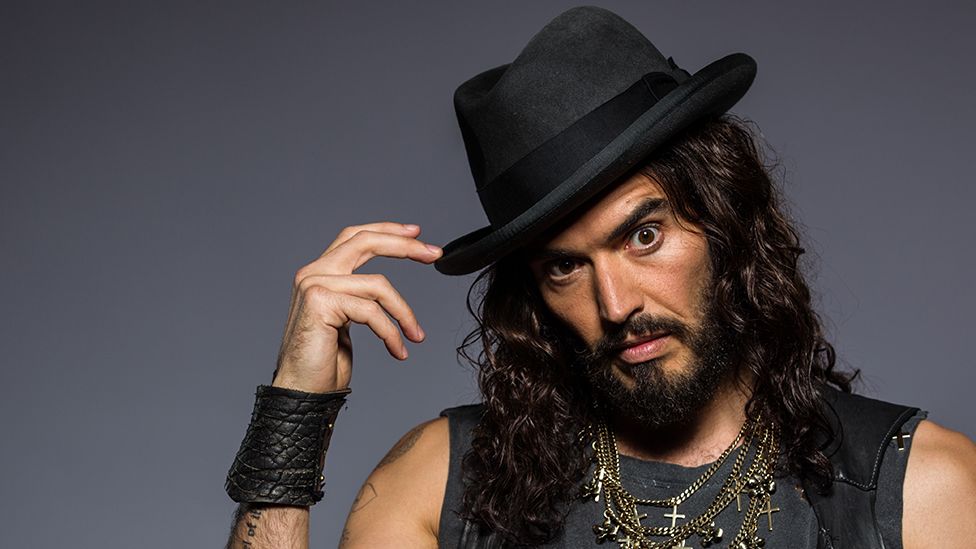 YouTube has made a decision to stop comedian Russell Brand from earning money from his videos for a while. They did this because there have been several claims of rape and sexual assault made against him. Now, many people are curious about how he became famous and what his early life was like.
Russell Brand Early Life
Russell Brand was born at Orsett Hospital in Grays, Essex, England. He's the only child of his parents, Barbara Elizabeth and Ronald Henry Brand, who worked as a photographer.
His childhood was tough as his parents split when he was just six months old, and he lived with his mom. When he was eight, his mom battled uterine and breast cancer, and he stayed with relatives while she got treatment.
At 14, he started struggling with food, developing an eating disorder called bulimia nervosa. At 16, he left home due to conflicts with his mom's partner. This was when he began experimenting with illegal drugs like cannabis, amphetamines, LSD, and ecstasy. His relationship with his dad was complicated, and during a trip to Thailand as a teenager, his dad exposed him to prostitution.
Despite his troubled upbringing, Russell had a knack for performing. He made his debut in a school play at 15 and worked as a movie extra. He attended Grays School and later Italia Conti Academy, with help from Essex County Council.
Unfortunately, he was expelled from Italia Conti Academy after a year due to drug use and poor attendance. Russell has also shared the painful experience of being sexually abused by a tutor during his life.
Russell Brand Career
Russell Brand's journey in comedy began in 2000, and at the same time, he started working as a video journalist for MTV. However, he didn't keep that job for long and got fired. He continued doing comedy and TV work, and in 2004, he presented his one-man show, "Better Now," at the Edinburgh Festival. This show was all about his battle with heroin addiction.
Russell became quite famous in British television, appearing on shows like Big Brother and hosting his own talk show and other series. In 2008, he gained worldwide fame for playing the character Aldous Snow in the hit comedy "Forgetting Sarah Marshall." He followed this up with roles in movies like "Bedtime Stories" and "Get Him to the Greek".
He also starred in the 2011 remake of "Arthur" and worked alongside Helen Mirren in "The Tempest" (2010). Russell even lent his voice to characters in animated films like "Hop" and "Despicable Me" in 2010. He wrote a successful memoir titled "My Booky Wook: A Memoir of Sex, Drugs, and Stand-Up," which became a bestseller in both the UK and the US.
Throughout his career, Russell Brand has often made headlines for his personal life, including his relationships, drug use, and provocative behaviour at award ceremonies. He's known for incorporating these controversies into his comedy. 
Russell Brand Personal Life
In 2009, Russell Brand crossed paths with Katy Perry while collaborating on the movie "Get Him to the Greek." However, their romantic journey didn't begin until later that same year when they met again at the MTV Video Music Awards.
Their relationship progressed swiftly, and on New Year's Eve in 2009, during a trip to India, Russell proposed to Katy. They celebrated their union with a beautiful Hindu wedding ceremony held in Rajasthan on October 23, 2010.
Both Russell and Katy decided to adopt a vegan lifestyle for a period, inspired by a documentary about the health benefits of plant-based diets. Regrettably, their love story didn't have a happy ending. Russell initiated divorce proceedings in December 2011, and their divorce was finalized in July 2012. The demands of their busy careers and differences in their desires regarding starting a family posed significant challenges.
Despite the breakup, Russell demonstrated his care for Katy by not seeking a significant portion of her earnings during the divorce proceedings.
Subsequently, Russell had a brief romantic involvement with Geri Halliwell in 2012 and a more extended relationship with Jemima Goldsmith from 2013 to 2014. He also received compensation for false reports that accused him of being unfaithful to Jemima.
Since 2015, Russell has been in a relationship with Laura Gallacher, with whom he shares two daughters. They exchanged vows in matrimony in August 2017. Russell has openly discussed his journey of personal growth and self-improvement in the context of his past relationships.

Russell Brand net worth
Russell Brand's wealth isn't easy to pin down, with reports giving different figures. As of 2023, it's estimated to be somewhere between £20 million and £50 million.
He owns a few valuable properties, including a five-bedroom house in Los Angeles and a big £3.3 million seven-bedroom house in Oxfordshire, where he lives with his wife, Laura Gallacher. 
He also owns a pub called The Crown in Oxfordshire, but it hasn't opened since he took it over in 2020.
Read More:
MISS RACHEL (MS RACHEL) – NET WORTH, SALARY, CAREER, AND PERSONAL LIFE
COREY HARRISON 2023 – NET WORTH, SALARY AND PERSONAL LIFE