Here is the complete schedule for the Philadelphia Phillies in the 2021 MLB season
The Philadelphia Phillies were established in the year 1883. They replaced the Worcester Worcesters in the National League.
Their home ground then was Recreation Park, and after changing several stadiums over the course of the years, they currently play at the Citizens Bank Park.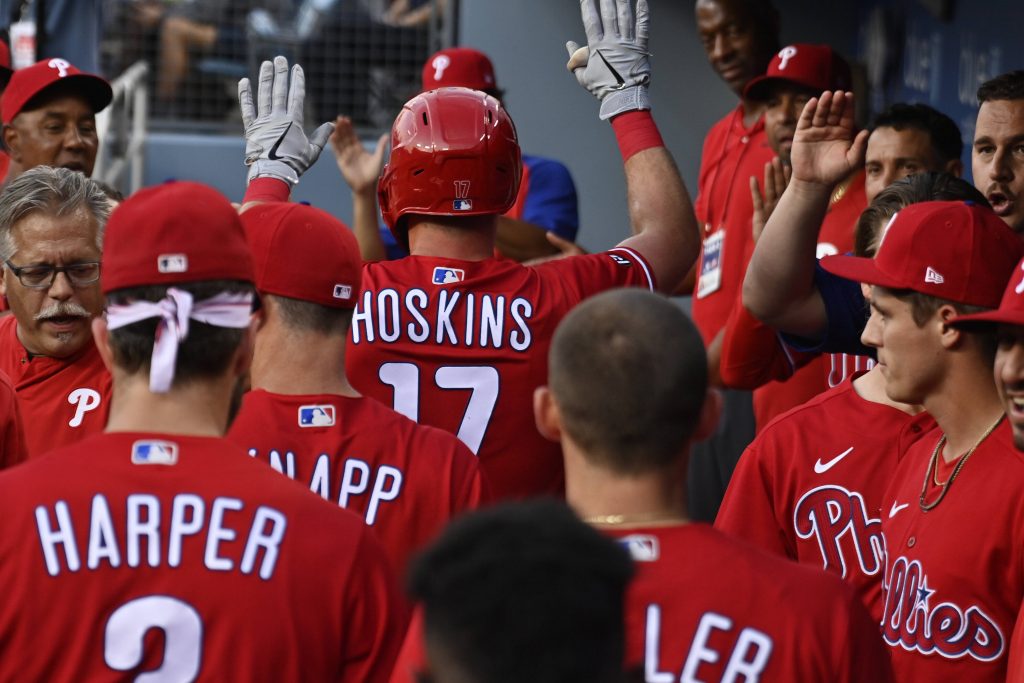 The Phillies have won the World Series Title twice. Their first win came in the year 1980, and their second which is the most recent one came in 2008.
Besides this, they have 11 East Division titles, with the most recent one in the year 2011.
They are 26th in the list of all time MLB win-loss record in the regular season.
The Phillies are owned by Phillies Limited Partnership, with John S. Middleton being the managing partner.
Joe Girardi manages the team.
Philadelphia Phillies 2021 Roster
Pitchers
Jose Alvarado, Chase Anderson, Archie Bradley, Connor Brogdon, Sam Coonrod, Enyel De Los Santos, Zach Eflin, Bailey Falter, Neftali Feliz, David Hale, JD Hammer, Spencer Howard, Brandon Kintzler, Mauricio Llovera, Matt Moore, Hector Neris, Aaron Nola, JoJo Romero, Ramon Rosso, Cristopher Sánchez, Ranger Suarez, Vincent Velasquez, Zack Wheeler
Catchers
Andrew Knapp, Rafael Marchan, J.T. Realmuto
Infielders
Alec Bohm, Didi Gregorius, Rhys Hoskins, Nick Maton, Brad Miller, Jean Segura, Ronald Torreyes, Luke Williams
Outfielders
Bryce Harper, Adam Haseley, Odubel Herrera, Travis Jankowski, Matt Joyce, Scott Kingery, Andrew McCutchen, Mickey Moniak, Roman Quinn, Matt Vierling
Philadelphia Phillies 2021 MLB Schedule
| | |
| --- | --- |
| vs Miami | Sat, 17 Jul |
| vs Miami | Sat, 17 Jul |
| vs Miami | Sun, 18 Jul |
| vs Miami | Sun, 18 Jul |
| @ New York Yankees | Wed, 21 Jul |
| @ New York Yankees | Thu, 22 Jul |
| vs Atlanta | Fri, 23 Jul |
| vs Atlanta | Sat, 24 Jul |
| vs Atlanta | Sun, 25 Jul |
| vs Atlanta | Sun, 25 Jul |
| vs Washington | Tue, 27 Jul |
| vs Washington | Wed, 28 Jul |
| vs Washington | Thu, 29 Jul |
| vs Washington | Thu, 29 Jul |
| @ Pittsburgh | Sat, 31 Jul |
| @ Pittsburgh | Sun, 1 Aug |
| @ Pittsburgh | Sun, 1 Aug |
| @ Washington | Tue, 3 Aug |
| @ Washington | Wed, 4 Aug |
| @ Washington | Thu, 5 Aug |
| @ Washington | Fri, 6 Aug |
| vs New York Mets | Sat, 7 Aug |
| vs New York Mets | Sun, 8 Aug |
| vs New York Mets | Sun, 8 Aug |
| vs Los Angeles | Wed, 11 Aug |
| vs Los Angeles | Thu, 12 Aug |
| vs Los Angeles | Thu, 12 Aug |
| vs Cincinnati | Sat, 14 Aug |
| vs Cincinnati | Sun, 15 Aug |
| vs Cincinnati | Sun, 15 Aug |
| @ Arizona | Wed, 18 Aug |
| @ Arizona | Thu, 19 Aug |
| @ Arizona | Fri, 20 Aug |
| @ San Diego | Sat, 21 Aug |
| @ San Diego | Sun, 22 Aug |
| @ San Diego | Mon, 23 Aug |
| vs Tampa Bay | Wed, 25 Aug |
| vs Tampa Bay | Thu, 26 Aug |
| vs Arizona | Fri, 27 Aug |
| vs Arizona | Sat, 28 Aug |
| vs Arizona | Sun, 29 Aug |
| vs Arizona | Sun, 29 Aug |
| @ Washington | Tue, 31 Sep |
| @ Washington | Wed, 1 Sep |
| @ Washington | Thu, 2 Sep |
| @ Miami | Sat, 4 Sep |
| @ Miami | Sun, 5 Sep |
| @ Miami | Sun, 5 Sep |
| @ Milwaukee | Mon, 6 Sep |
| @ Milwaukee | Wed, 8 Sep |
| @ Milwaukee | Thu, 9 Sep |
| vs Colorado | Fri, 10 Sep |
| vs Colorado | Sat, 11 Sep |
| vs Colorado | Sun, 12 Sep |
| vs Colorado | Sun, 12 Sep |
| vs Chicago | Wed, 15 Sep |
| vs Chicago | Thu, 16 Sep |
| vs Chicago | Fri, 17 Sep |
| @ New York Mets | Sat, 18 Sep |
| @ New York Mets | Sun, 19 Sep |
| @ New York Mets | Sun, 19 Sep |
| vs Baltimore | Tue, 21 Sep |
| vs Baltimore | Wed, 22 Sep |
| vs Baltimore | Thu, 23 Sep |
| vs Pittsburgh | Fri, 24 Sep |
| vs Pittsburgh | Sat, 25 Sep |
| vs Pittsburgh | Sun, 26 Sep |
| vs Pittsburgh | Sun, 26 Sep |
| @ Atlanta | Wed, 29 Sep |
| @ Atlanta | Thu, 30 Sep |
| @ Atlanta | Fri, 1 Oct |
| @ Miami | Sat, 2 Oct |
| @ Miami | Sun, 3 Oct |
| @ Miami | Sun, 3 Oct |