All you need to know about whether or not Justin Fields will be playing again this season for the Chicago Bears.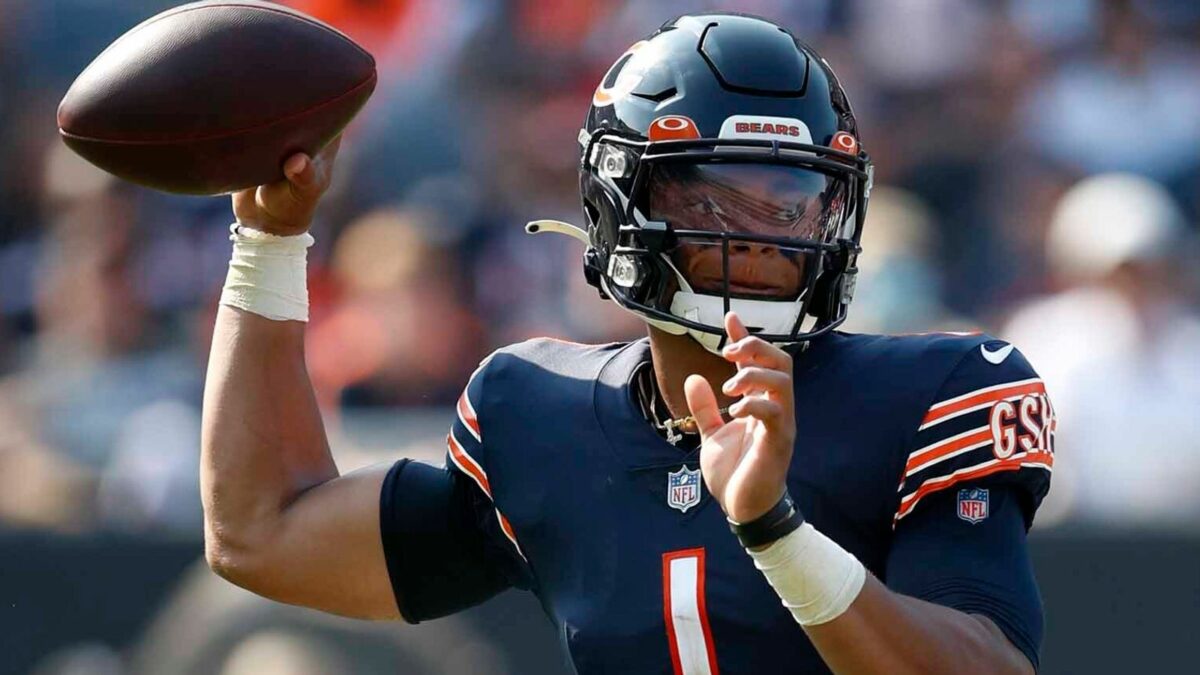 The head coach of the Chicago Bears, Matt Eberflus, strongly shot down rumors that the team will bench quarterback Justin Fields for the final two games of the season. When asked on Monday about the prospect of benching the rookie quarterback with two games still to play, the head coach reacted with an emphatic "absolutely not."
The Bears are now in the second spot for the draft, barely a half-game behind the Houston Texans for the overall first choice. If Chicago finishes the season with losses to Detroit and Minnesota, and Houston finishes against the Jaguars and the cratering Colts, then Chicago has a chance to leapfrog Houston and take over first place.
The Bears also need to be concerned about the possibility of suffering injuries throughout the game. Fields had previously battled through a separated shoulder and was forced to leave the blowout loss from the previous week after having his foot trodden on.
Fields is in good enough shape to play, but the most important thing is to make sure that nothing catastrophic happens in the last two weeks of the season that might impede his growth in 2023. Fields is healthy enough to play.
Eberflus emphasized that learning on the job is a greater value for the sake of growth and development than tanking or playing it safe, despite the fact that there were grounds to bench Fields.
Chicago Bears want to improve further with Justin Fields
Bears head coach Matt Eferblus has made it clear he wants to see more of his team with Justin Fields as the quarterback. The last two remaining games will give them a further indication of what they have to improve via the draft and free agency.
Speaking about it, Eferblus said, "We've got to get better, We want to improve. We want to see where we are. These last two games matter. They're division opponents to us, very important to our football team to see the competition, to see guys compete against our division."
He added, "I think it's important for each man, it's important for each unit and it's important for our whole football team." Justin Fields has played quite well this season and it is unlikely that the Bears will move on from him. So far this season, Fields has a passer rating of 88.3 with 2,167 yards, 16 touchdowns, and 10 interceptions in 14 games.
The Bears have now dropped eight games in a row, and as a result, it is easy to understand why Eberflus would like to avoid finishing his first season with a 10-week losing streak.
Because of Fields's explosive performance, the Bears have shown glimpses of their latent potential. But a defense that is falling apart as a result of trades and injuries, combined with an offense that is lacking in skill, has Chicago waiting until the summer to begin phase two of the rebuilding process.
In the last two weeks of the season, it will be extremely beneficial for Eberflus' youthful team to gain experience in knowing how to successfully finish off games. Because they have nothing else to play for, the Bears would be better-suited to benching Fields in order to protect his health and increase their chances of being selected in the first round of the draught.
However, NFL coaches approach it from a very different perspective, particularly at such an early stage in their careers. In football, unlike in other sports, coaches only get 17 chances during the season to establish their team's philosophy. Eberflus intends to make advantage of each and every one of them in order to further the careers of his team and his young quarterback.
Read More:
Follow our dedicated NFL page for instant NFL news and update