George Kittle is undoubtedly one of the most fierce, strong and wise tight ends in modern-day NFL. He has already made Pro-Bowl appearance thrice and is also a former MIP award winner. Safe to say, Kittle is one of the household names in the league today, and that is largely due to his on-field persona and off-field style.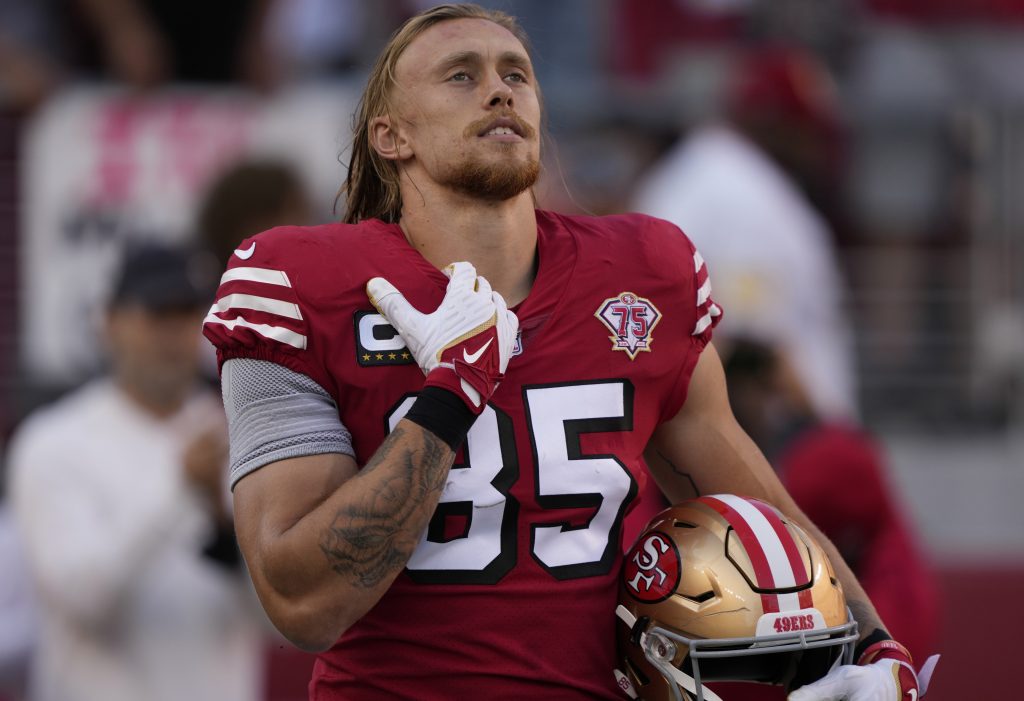 On person who has witnessed the growth of George Kittle, especially with the San Francisco 49ers is his loving wife, Claire Kittle. These two are have been together since their freshman year at University of Iowa. The spoken off pair tied the knot in the summer of 2019 and have been inseparable since then.
On the same note, let us know more in detail about George Kittle's wife and whether or not she is a sports fanatic like her husband.
All about George Kittle's wife – Claire
She was born in Dubuque, Iowa in 1994 and attended the Wahlert High School. Just like her husband, Claire was a dynamic sports enthusiast who played for her school's basketball and track team. Talking first about her contribution in the track team – Claire played a huge role in guiding them to a state championship. Whereas, she is the third all-time leading scorer in Wahlert's record books with over 1,000 points.
Being a sports fanatic, Claire was always into pursuing further studies which interests her from within. Perhaps that is just why she went on to earn a bachelor's degree in health and human physiology given her knack in fitness and sports. George Kittle's wife continued her basketball career in college by suiting up for Iowa's women's basketball team. Claire wore the Lady Hawkeyes uniform for four seasons. In four seasons, she averaged 1.5 points, 1.8 rebounds, and 0.3 assists per game.
George and Claire got engaged in August 2018. As per the NFL Tight End, he surprised her by convincing her to participate in a team's fake photoshoot where he popped the final question to her. Eventually the love bird decided to get married instead a year later in a family-only ceremony. 
Also Read: "That was the first game this year he's looked like the old Russ"- Chris Broussard was delighted with Russell Wilson's performance against the Chiefs
Also Read: "They're both c*cky front runners"- Skip Bayless has high expectations from the duo of Baker Mayfield and Sean McVay
Also Read: "I don't plan to trade you at all": Roquan Smith claims Chicago Bears blatantly lied to him