Who expected San Francisco 49ers to clinch the NFC West title when Jimmy Garoppolo was ruled out for the remaining 2022-23 season. No one except Mr. Irrelevant, Brock Purdy who has not only led his team to third consecutive victories but has also left many scratching their heads upon why he was the last pick in 2022 draft class.
In Niners' latest game against the Seattle Seahawks, Brock Purdy completed 17-of his 26 pass attempts for 217 yards. Moreover, the 22-year-old threw Two TouchDowns and no interceptions in a thrilling 21-13 win over divisional rivals. 49ers became the first team to clinch their divisional title, improving to 10-4.
After the game not only coach Kyle Shanahan but the entire NFL Twitter-army were backing the young and dynamic Quarterback to lead the San Francisco 49ers all the way up to the Super Bowl showdown. "He's definitely the most poised rookie I've ever had. He's been like that since he's gotten here," Shanahan said, per the NFL. "He was poised all week, even with him being unsure of whether he'd be able to go or not."
NFL Fans react to Brock Purdy's heroics
After both Trey Lance and Jimmy Garoppolo were sidelined due to respective injuries, not many believed in the skill set of Purdy. However, the latter did not only go onto lead his team past Dolphins, Tampa Bay and Seahawks but also showcased his clutch ability by not making 'silly' errors.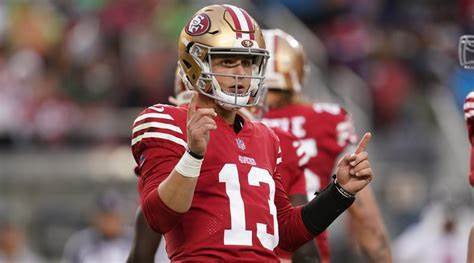 Perhaps that is just what made NFL Fans on Twitter go berserk.
If the divisional crown not enough, know this individual stat about Purdy. The 22-year-old QB joined vaulted company with the stellar performance against Seahawks, becoming the only other quarterback, along with four-time NFL MVP (Green Bay Packers) Aaron Rodgers, since 1950 to have a passer rating of 115-plus in each of their first two starts. Could this be Purdy's dream we are all living in? Remains to be seen as the Niners move to the playoffs in style.
Also Read: "That was the first game this year he's looked like the old Russ"- Chris Broussard was delighted with Russell Wilson's performance against the Chiefs
Also Read: "They're both c*cky front runners"- Skip Bayless has high expectations from the duo of Baker Mayfield and Sean McVay
Also Read: "I don't plan to trade you at all": Roquan Smith claims Chicago Bears blatantly lied to him