The New York Mets are one of the most popular MLB teams and here is their MLB schedule for the 2021 season.
The New York Mets was established in 1962 and are an MLB team based in the New York City borough of Queens. Owned by billionaire hedge fund manager Steve Cohen, the Mets have recently set Citi Field as their ballpark in Flushing Meadows in New York City.
The Metsies have won two World Series titles and nine national league pennants. Their last appearance in a World Series was in 2015, which they eventually lost to Kansas City Royals.
The Mets belong the National League's East Division and have won the Major League title last in 1986. Since then, they have appeared in two World Series contest, one in 2000 and the other in 2015, but have failed to emerge victorious.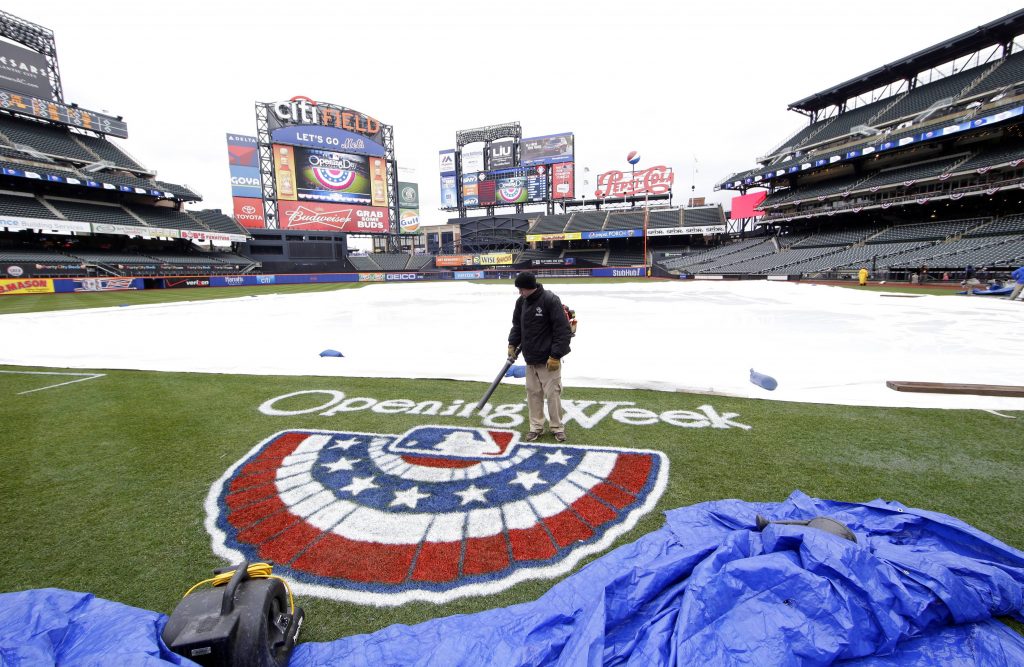 Besides this, The Mets have six East Division titles, the most recent one being in 2015. They are currently ranked twentieth in the list of Best win-loss record in the history of the league.
They are managed by Luis Rojas.
New York Mets 2021 roster
Pitchers
Jacob Barnes, Dellin Betances, Miguel Castro, Jacob deGrom, Edwin Diaz, Yennsy Diaz, Jerad Eickhoff, Jeurys Familia, Robert Gsellman, Trevor Hildenberger, Tommy Hunter, Aaron Loup, Joey Lucchesi, Seth Lugo, Trevor May, Tylor Megill, Corey Oswalt, Jose Peraza, David Peterson, Sean Reid-Foley, Drew Smith, Robert Stock, Marcus Stroman, Thomas Szapucki, Stephen Tarpley, Nick Tropeano, Taijuan Walker, Jordan Yamamoto
Catchers
James McCann, Tomás Nido, Patrick Mazeika, Chance Sisco
Infielders
Pete Alonso, Travis Blankenhorn, J.D. Davis, Brandon Drury, Luis Guillorme, Jake Hager, Francisco Lindor, Jeff McNeil, José Peraza, Wilfredo Tovar, Jonathan Villar
Outfielders
Albert Almora Jr., Michael Conforto, Johneshwy Fargas, Khalil Lee, Cameron Maybin,
Billy McKinney, Brandon Nimmo, Kevin Pillar, Dominic Smith, Mason Williams
New York Mets 2021 MLB Schedule
| | |
| --- | --- |
| Apr 1, 2021 | @ Washington |
| Apr 3, 2021 | @ Washington |
| Apr 4, 2021 | @ Washington |
| Apr 5, 2021 | @ Philadelphia |
| Apr 6, 2021 | @ Philadelphia |
| Apr 7, 2021 | @ Philadelphia |
| Apr 8, 2021 | Vs Miami |
| Apr 10, 2021 | Vs Miami |
| Apr 11, 2021 | Vs Miami |
| Apr 12, 2021 | Vs Philadelphia |
| Apr 13, 2021 | Vs Philadelphia |
| Apr 13, 2021 | Vs Philadelphia |
| Apr 14, 2021 | Vs Philadelphia |
| Apr 15, 2021 | Vs Philadelphia |
| Apr 16, 2021 | @ Colorado |
| Apr 17, 2021 | @ Colorado |
| Apr 17, 2021 | @ Colorado |
| Apr 18, 2021 | @ Colorado |
| Apr 20, 2021 | @ Chi. Cubs |
| Apr 21, 2021 | @ Chi. Cubs |
| Apr 22, 2021 | @ Chi. Cubs |
| Apr 23, 2021 | Vs Washington |
| Apr 24, 2021 | Vs Washington |
| Apr 25, 2021 | Vs Washington |
| Apr 27, 2021 | Vs Boston |
| Apr 28, 2021 | Vs Boston |
| Apr 30, 2021 | @ Philadelphia |
| May 1, 2021 | @ Philadelphia |
| May 2, 2021 | @ Philadelphia |
| May 3, 2021 | @ St. Louis |
| May 4, 2021 | @ St. Louis |
| May 5, 2021 | @ St. Louis |
| May 5, 2021 | @ St. Louis |
| May 6, 2021 | @ St. Louis |
| May 7, 2021 | Vs Arizona |
| May 8, 2021 | Vs Arizona |
| May 9, 2021 | Vs Arizona |
| May 11, 2021 | Vs Baltimore |
| May 12, 2021 | Vs Baltimore |
| May 14, 2021 | @ Tampa Bay |
| May 15, 2021 | @ Tampa Bay |
| May 16, 2021 | @ Tampa Bay |
| May 17, 2021 | @ Atlanta |
| May 18, 2021 | @ Atlanta |
| May 19, 2021 | @ Atlanta |
| May 21, 2021 | @ Miami |
| May 22, 2021 | @ Miami |
| May 23, 2021 | @ Miami |
| May 24, 2021 | Vs Colorado |
| May 25, 2021 | Vs Colorado |
| May 26, 2021 | Vs Colorado |
| May 27, 2021 | Vs Colorado |
| May 27, 2021 | Vs Colorado |
| May 28, 2021 | Vs Atlanta |
| May 29, 2021 | Vs Atlanta |
| May 30, 2021 | Vs Atlanta |
| May 31, 2021 | @ Arizona |
| Jun 1, 2021 | @ Arizona |
| Jun 2, 2021 | @ Arizona |
| Jun 3, 2021 | @ San Diego |
| Jun 4, 2021 | @ San Diego |
| Jun 5, 2021 | @ San Diego |
| Jun 6, 2021 | @ San Diego |
| Jun 8, 2021 | @ Baltimore |
| Jun 9, 2021 | @ Baltimore |
| Jun 11, 2021 | Vs San Diego |
| Jun 12, 2021 | Vs San Diego |
| Jun 13, 2021 | Vs San Diego |
| Jun 14, 2021 | Vs Chi. Cubs |
| Jun 15, 2021 | Vs Chi. Cubs |
| Jun 16, 2021 | Vs Chi. Cubs |
| Jun 17, 2021 | Vs Chi. Cubs |
| Jun 18, 2021 | @ Washington |
| Jun 19, 2021 | @ Washington |
| Jun 19, 2021 | @ Washington |
| Jun 20, 2021 | @ Washington |
| Jun 21, 2021 | Vs Atlanta |
| Jun 21, 2021 | Vs Atlanta |
| Jun 22, 2021 | Vs Atlanta |
| Jun 23, 2021 | Vs Atlanta |
| Jun 25, 2021 | Vs Philadelphia |
| Jun 25, 2021 | Vs Philadelphia |
| Jun 26, 2021 | Vs Philadelphia |
| Jun 27, 2021 | Vs Philadelphia |
| Jun 28, 2021 | @ Washington |
| Jun 29, 2021 | @ Atlanta |
| Jun 30, 2021 | @ Atlanta |
| Jul 1, 2021 | @ Atlanta |
| Jul 2, 2021 | @ N.Y. Yankees |
| Jul 3, 2021 | @ N.Y. Yankees |
| Jul 4, 2021 | @ N.Y. Yankees |
| Jul 4, 2021 | @ N.Y. Yankees |
| Jul 5, 2021 | Vs Milwaukee |
| Jul 6, 2021 | Vs Milwaukee |
| Jul 7, 2021 | Vs Milwaukee |
| Jul 7, 2021 | Vs Milwaukee |
| Jul 8, 2021 | Vs Pittsburgh |
| Jul 9, 2021 | Vs Pittsburgh |
| Jul 10, 2021 | Vs Pittsburgh |
| Jul 10, 2021 | Vs Pittsburgh |
| Jul 11, 2021 | Vs Pittsburgh |
| Jul 16, 2021 | @ Pittsburgh |
| Jul 17, 2021 | @ Pittsburgh |
| Jul 18, 2021 | @ Pittsburgh |
| Jul 19, 2021 | @ Cincinnati |
| Jul 20, 2021 | @ Cincinnati |
| Jul 21, 2021 | @ Cincinnati |
| Jul 23, 2021 | Vs Toronto |
| Jul 24, 2021 | Vs Toronto |
| Jul 25, 2021 | Vs Toronto |
| Jul 26, 2021 | Vs Atlanta |
| Jul 26, 2021 | Vs Atlanta |
| Jul 27, 2021 | Vs Atlanta |
| Jul 28, 2021 | Vs Atlanta |
| Jul 29, 2021 | Vs Atlanta |
| Jul 30, 2021 | Vs Cincinnati |
| Jul 31, 2021 | Vs Cincinnati |
| Aug 1, 2021 | Vs Cincinnati |
| Aug 2, 2021 | @ Miami |
| Aug 3, 2021 | @ Miami |
| Aug 4, 2021 | @ Miami |
| Aug 5, 2021 | @ Miami |
| Aug 6, 2021 | @ Philadelphia |
| Aug 7, 2021 | @ Philadelphia |
| Aug 8, 2021 | @ Philadelphia |
| Aug 10, 2021 | Vs Washington |
| Aug 11, 2021 | Vs Washington |
| Aug 12, 2021 | Vs Washington |
| Aug 13, 2021 | Vs L.A. Dodgers |
| Aug 14, 2021 | Vs L.A. Dodgers |
| Aug 15, 2021 | Vs L.A. Dodgers |
| Aug 16, 2021 | @ San Francisco |
| Aug 17, 2021 | @ San Francisco |
| Aug 18, 2021 | @ San Francisco |
| Aug 19, 2021 | @ L.A. Dodgers |
| Aug 20, 2021 | @ L.A. Dodgers |
| Aug 21, 2021 | @ L.A. Dodgers |
| Aug 22, 2021 | @ L.A. Dodgers |
| Aug 24, 2021 | Vs San Francisco |
| Aug 25, 2021 | Vs San Francisco |
| Aug 26, 2021 | Vs San Francisco |
| Aug 27, 2021 | Vs Washington |
| Aug 28, 2021 | Vs Washington |
| Aug 29, 2021 | Vs Washington |
| Aug 31, 2021 | Vs Miami |
| Sep 1, 2021 | Vs Miami |
| Sep 2, 2021 | Vs Miami |
| Sep 3, 2021 | @ Washington |
| Sep 4, 2021 | @ Washington |
| Sep 4, 2021 | @ Washington |
| Sep 5, 2021 | @ Washington |
| Sep 6, 2021 | @ Washington |
| Sep 7, 2021 | @ Miami |
| Sep 8, 2021 | @ Miami |
| Sep 9, 2021 | @ Miami |
| Sep 10, 2021 | Vs N.Y. Yankees |
| Sep 11, 2021 | Vs N.Y. Yankees |
| Sep 12, 2021 | Vs N.Y. Yankees |
| Sep 13, 2021 | Vs St. Louis |
| Sep 14, 2021 | Vs St. Louis |
| Sep 15, 2021 | Vs St. Louis |
| Sep 17, 2021 | Vs Philadelphia |
| Sep 18, 2021 | Vs Philadelphia |
| Sep 19, 2021 | Vs Philadelphia |
| Sep 21, 2021 | @ Boston |
| Sep 22, 2021 | @ Boston |
| Sep 24, 2021 | @ Milwaukee |
| Sep 25, 2021 | @ Milwaukee |
| Sep 26, 2021 | @ Milwaukee |
| Sep 28, 2021 | Vs Miami |
| Sep 29, 2021 | Vs Miami |
| Sep 30, 2021 | Vs Miami |
| Oct 1, 2021 | @ Atlanta |
| Oct 2, 2021 | @ Atlanta |
| Oct 3, 2021 | @ Atlanta |