Who is George Karl from the NBA? What did he have to say after a recent photo of his was posted? Learn all you need to know.
George Karl is an American former professional basketball coach and player. After spending five years as a player for the San Antonio Spurs, Karl became an assistant with the team before getting the chance to become a head coach in 1981 with the Continental Basketball Association. Three years later, he became one of the youngest NBA head coaches in history when he was named coach of the Cleveland Cavaliers at age 33.
By the time his coaching career came to an end in 2016, Karl coached nine different teams in three different leagues (CBA, NBA, Liga ACB), which included being named Coach of the Year three combined times (twice in the CBA and once in the NBA). He is one of nine coaches in NBA history to have won 1,000 NBA games (which included twelve seasons with fifty or more wins) and was named NBA Coach of the Year for the 2012-13 season.
While he never won an NBA championship, Karl made the postseason 22 times with five different teams, which included a trip to the 1996 NBA Finals with the Seattle SuperSonics. However, Karl suddenly finds himself in the news once again as he was pictured during the Denver Nuggets' Western Conference Finals Game 2 clash against the Los Angeles Lakers.
What did George Karl have to say about his photo?
The former Nuggets coach was spotted in the crowd looking on as Jamal Murray scored 37 point to sink the Lakers.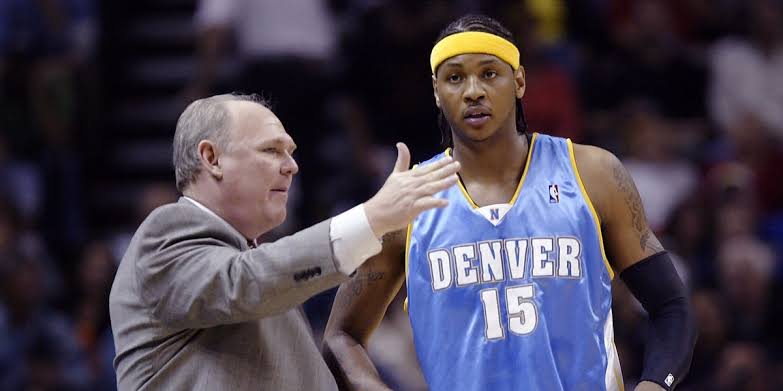 Not having coached a basketball team since Sacramento Kings in 2016, not many people recognised Karl in the stands – except for hardcore NBA enthusiasts. Karl was very happy to find his picture trending on the internet, as he pledged his support for the Nuggets.
"Thanks to everyone who shared this pic w me!! Special night for me being back in the old Pepsi Center. I've loved Joker for a while and have come to love this Nuggets team. Nothing would make me happier than seeing them win the whole damn thing!! Call me a homer!" said the former Nuggets head coach.
More News:
• Rich Kleiman – Net Worth, Salary, Career, and Personal Life
• Who has the number one pick in the 2023 NBA Draft Lottery?