Learn all there is to know about what a 13-year-old Austin Reaves once said about his current teammate LeBron James.
Austin Reaves has been one of the Los Angeles Lakers' best players of late. The young guard is having his breakthrough season with the Lakers, which reached a peak on Sunday when he scored a career-high 35 points in a win over the Orlando Magic. While LeBron James showered praise on him after the game, fans found out Reaves was not always friendly to the NBA legend.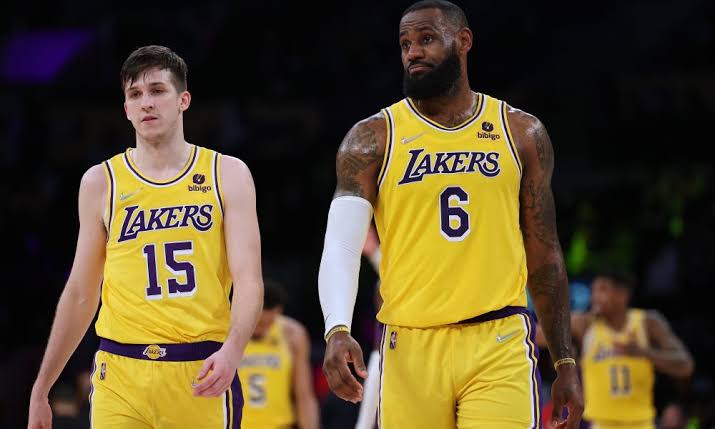 Fans found an old Facebook post from a 13-year-old Reaves mocking LeBron for having no rings while using a Kobe Bryant meme. Reaves also once retweeted a tweet that was bashing LeBron for creating superteams and comparing him to Michael Jordan and Kobe. Reaves addressed these posts and said he appreciates LeBron for accepting him regardless.
"For SportsCenter for airing me out for a post I made in 2012 about LeBron [James], I appreciate that. For him to accept me the way that he accepted me from day one. Obviously, I felt like there was good chemistry IQ-wise from Day One… Stuff like that means a lot to me. When I am retired and playing golf one day, I can tell my kids, my grandkids that arguably the greatest player ever (tweeted about me)."

Austin Reaves
How have Austin Reaves and LeBron James got along in their time together?
Reaves and James have got along well in their time together at the Lakers so far.
Ever since Austin Reaves joined the Lakers last season, many in the NBA community commented on the relationship he has quietly been building with LeBron. There's an iconic clip of Reaves looking confused while LeBron explained a play to him last season.
Reaves and James' chemistry has been great to watch since last season and the Lakers will hope it continues. Reaves is a free agent in the summer and will reportedly re-sign with the Lakers if they offer him a fair contract. For the Lakers' sake, they should do everything to keep a high-performing player like Reaves on the team to complement their talismanic veteran.
More News:
• Ashley Moyer-Gleich and Luka Doncic: What happened between the NBA star and the female referee?
• How much of the Charlotte Hornets does Michael Jordan own?
• How many NBA players has Kim Kardashian dated? Which NBA stars have the Kardashians hooked up with?