Know which NBA team has scored the most points in an NBA half.
The Phoenix Suns' record-breaking 107-point performance against the Denver Nuggets on November 10, 1990, was the most points ever scored by a team in an NBA half. The Suns scored 173 points in total, compared to the Nuggets' 143 points, to win the game.
With Cedric Ceballos scoring 32 points off the bench, the Suns had 5 players with 20 or more points.
The fact that Cedric's off the bench 32, as previously mentioned, was the top score attained by a player in Phoenix makes this accomplishment all the more amazing.
Denver Nuggets suffered a 30-point defeat despite Orlando Woolridge's 40 points.
Interestingly, during the 90's era, the 3-point attempt made by NBA teams were very low.
So, the Suns just attempted two 3-pointers but couldn't bank any of them. They drained 67 shots from within the arc on 104 attempts to reach their 173 score mark.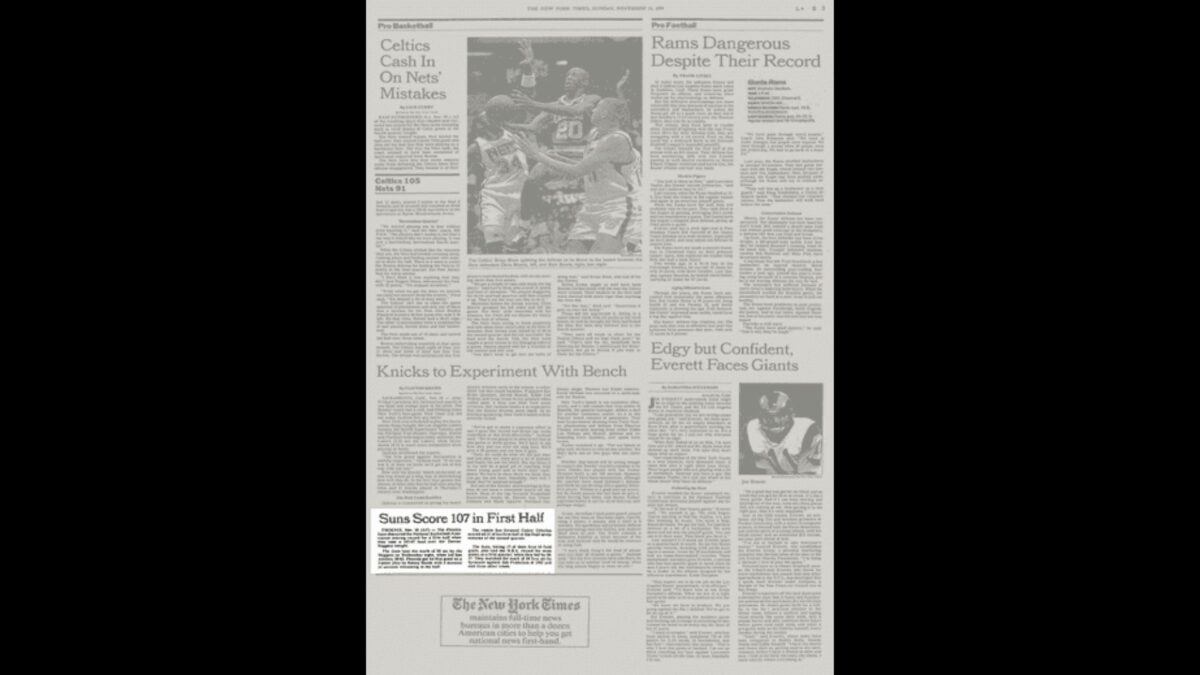 Brooklyn Nets put on a massive halftime score of 91 points against the Golden State Warriors
On Wednesday night, the Brooklyn Nets recently outscored the Golden State Warriors by a whopping 91 points in the first half of their game.
Of course, the Dubs were without Klay Thompson, JaMychal Green, and Stephen Curry. Notably, Curry is sidelined with a left shoulder injury. On the other, Kyrie Irving was also absent from his duty for for the Brooklyn Nets.
The Brooklyn Nets finally ended the game with 143 points, while the Golden State Warriors could only manage 113. So, without Curry and Klay, GSW just suffered a 30-point humiliating defeat.
As usual, Kevin Durant came up big for the Brooklyn Nets, finishing the night with 23 points, 7 rebounds, and 5 assists in just 29 minutes.
Nets' other players, Royce O'Neale scored 14 points, Nic Claxton scored 10 points and Ben Simmons scored 10 points, grabbed 4 assists, and dished 8 assists in 19 minutes. Edmond Sumner was a surprise, scoring 16 points.
Meanwhile, Golden State Warriors James Wiseman finished the game with 30 points, 6 rebounds, and 2 assists. Jordan Poole scored 13 points and Moses Moody scored 17 points.
More NBA news
Follow our dedicated NBA page for instant NBA news and updates