What exactly happened between Draymond Green and Domantas Sabonis and why was the former ejected from the game?
Tensions boiled over between Draymond Green and Domantas Sabonis on Monday night as the Sacramento Kings went up against the Golden State Warriors. The Kings, however, still found a way to light the beam and take a huge 2-0 series lead over the Golden State Warriors.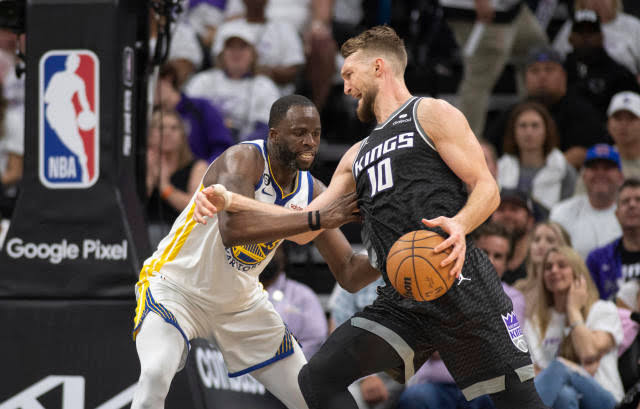 The Kings held on to take a 114-106 win in a contentious Game 2 of their opening-round Play-off series with the Warriors at the Golden 1 Center. The Warriors haven't trailed 0-2 in a Play-off series since 2007, two years before they even drafted superstar Stephen Curry out of Davidson. However, almost all headlines were captured by a controversial Draymond Green moment.
What did Draymond Green do to be ejected from the game?
The fiery Golden State Warriors guard lost his temper as he stomped on Sabonis' chest and was ejected from the game.
Green and Sabonis had been going at each other throughout the series, though it was nothing more than just extra physical play until Monday night. Just before the midway point of the fourth quarter with the Kings up by 4 points, Green and Sabonis got tangled up underneath the hoop while fighting for a rebound.
Sabonis looked like he was hit in the face as he fell to the floor before he wrapped his arms around Green's leg. As Green started to go the other way, he stepped directly onto Sabonis' chest — which left the Kings star writhing in pain in the lane.
Sabonis underwent X-rays on his ribs and lungs after the game, too, per ESPN's Adrian Wojnarowski. His status moving forward isn't clear, but he finished out the game normally. Green said after the incident that Sabonis grabbed his leg, and that it was the second time in two games that his leg was grabbed. While Sabonis finished the game with 24 points, 9 rebounds and 4 assists, Green ended the night prematurely with 8 points, 4 rebounds and 5 assists.
More News:
• What happened to Ja Morant? When is he going to be back from his injury?
• Can Golden State Make the Repeat and Conquest the NBA 2023 Title?
• The NBA Teams With The Best Shot At Winning The Title In 2023