A stat has surfaced which has proved how Stephen Curry struggled in the Golden State Warriors' surprise defeat to the Minnesota Timberwolves.
The Golden State Warriors went up against the Minnesota Timberwolves in their recent meeting at the Target Center in Minneapolis on Wednesday night. It was a low-scoring encounter that was edged by the home team who won 119-114 in overtime, courtesy of 29-point and 27-point displays from D'Angelo Russell and Anthony Edwards while Steph Curry scored 29 as well.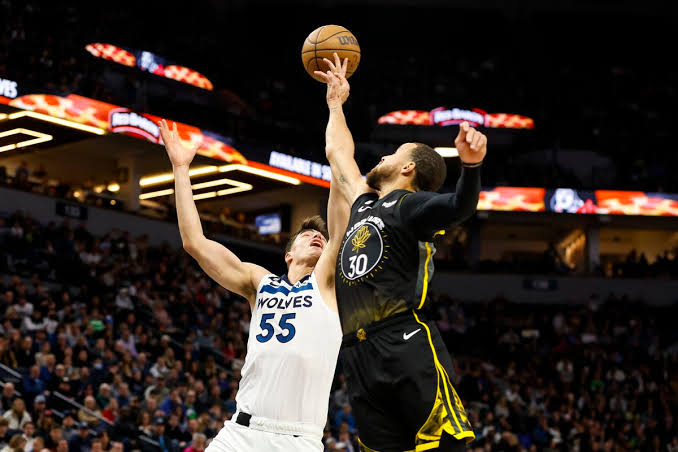 While D'Angelo Russell, Anthony Edwards and Naz Reid scored 29, 27 and 24 points respectively, Steph Curry was the only standout performer for the Warriors. However, judging by the incredible standards that Curry has set for himself both over his extraordinary career as well as this season, Curry had a struggling outing that he will hope to forget in next to no time.
Curry racked up 29 points, 10 rebounds and 3 assists at the Target Center for the Warriors. It was a very uncharacteristic performance from Curry as even his shooting game was out of form – Curry made only eight of 21 total attempted field goals at a success rate of 38%, and only could convert five of his total 12 three-pointers.
While the final buzzer delivered the defeat, a stat highlighted Curry's struggles and put them into context.
What was the stat that surfaced and highlighted Steph Curry's struggles in loss against Timberwolves?
Following the defeat, a stat surfaced that highlighted the tale of two halves that Steph Curry had in the game against the Minnesota Timberwolves.
In the stat that surfaced, it was seen that Curry has quite a decent first half as he scored 21 points and also converted five of his eight field goals, five of his seven three-pointers and all six of his free throws. In the first two quarters of the game, Curry amounted to a +13 point difference in his 18 minutes on the court.
However, the story seemed to turn on its head in the second half as well as overtime as Curry could score only eight points in 25 minutes in the next two quarters. A struggling Curry made only three of his 13 attempted field goals including none of his five attempted three pointers, and made two of his three free throws – amounting to a -18 point difference.
More News:
• Stephen Curry surpasses legendary Wilt Chamberlain as bets ever Warriors after leading team past OKC Thunder
• Lakers sell most merchandise but Stephen Curry beats LeBron James in jersey sales
• How much was Stephen Curry fined after mouthguard throwing incident against Grizzlies?