The Sixers' support shouted out an obscene message to former player Ben Simmons as the Brooklyn Nets travelled to Philadelphia for their latest NBA outing.
The Philadelphia 76ers went up against the Brooklyn Nets in their latest outing at the Wells Fargo Center in Philadelphia on Wednesday night. It was the home side that came out on top in a 137-133 win courtesy of strong performances from Tyrese Maxey and Joel Embiid – while heroics from Seth Curry and Kyrie Irving were not enough to help the Nets to an away win.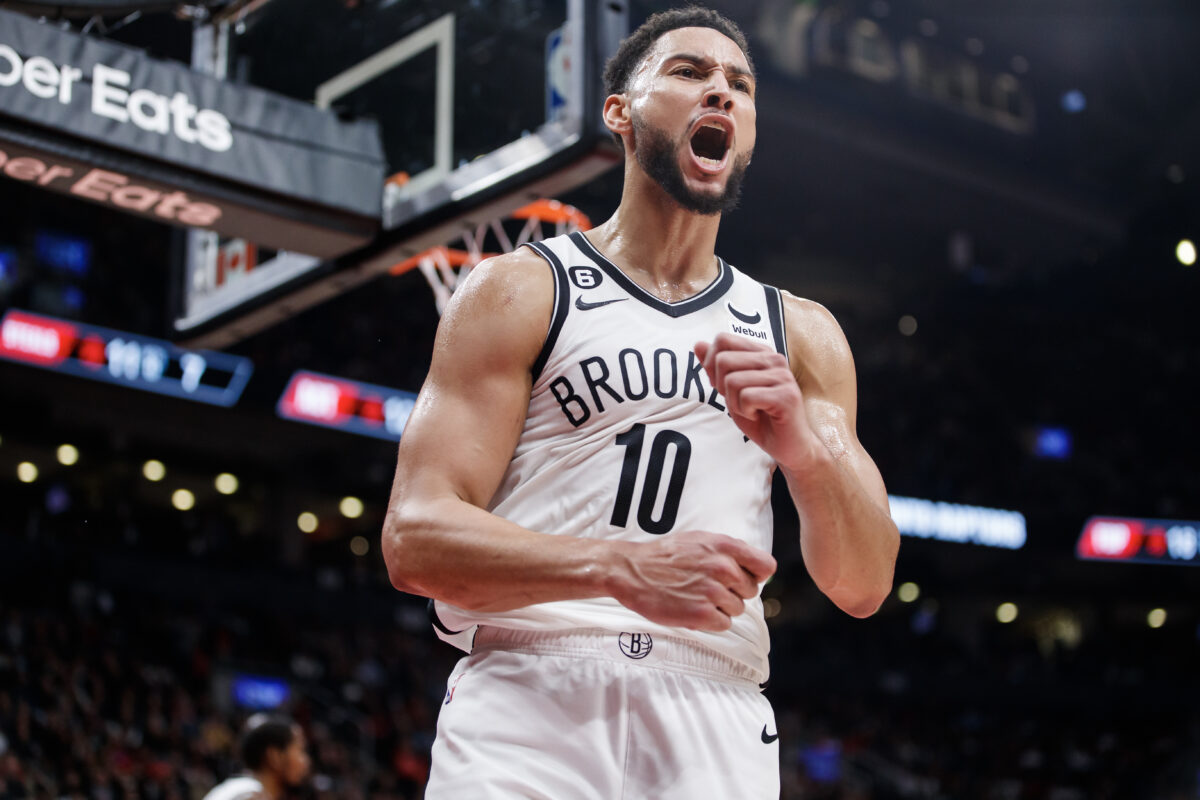 While Tyrese Maxey and Joel Embiid racked up 27 points, 3 rebounds and 5 assists and 26 points, 10 rebounds and 3 assists respectively for the Philadelphia 76ers, Seth Curry and Kyrie Irving starred for the Brooklyn Nets as they racked up 32 points and 4 assists, and 30 points, 2 rebounds and 10 assists respectively for the Nets – despite ending up on the losing side.
While the aforementioned players starred for their respective sides, it was a particularly special occasion for Ben Simmons – who returned to Philadelphia to face his former side who he left for a move to the Nets. It is needless to say that he was certainly expecting an adverse reaction from the crowd at his return, but the Philly crowd took it one step further – to pile on Simmons' misery.
How did the Philadelphia crowd welcome Ben Simmons back?
It is fair to say that Simmons' return back to Philadelphia was met with a very adverse reaction from the home crowd.
Right from when Simmons walked out onto the court at the Wells Fargo Center, he was met with a series of very obscene chants by the home crowd. The home crowd greeted Simmons with a rousing rendition of "F**k Ben Simmons", and continued for the entire game as Simmons racked up 12 points, 5 rebounds and 5 assists for the Nets.
The night marked an unsuccessful return to his former side for Simmons as he ended on the losing side.
More News:
• Reports: Maya Jama has agreed to return her $1 Million engagement ring to Ben Simmons
• Ben Simmons demands ex-fiancée Maya Jama to return $1million engagement ring back
• Ben Simmons gives an update about his injury as the Nets lose against OKC Thunder on Sunday