Shannon Sharpe was regarded as one of the best ever tight end at the time when he hung his boots in the NFL after representing Denver Broncos. Being able to elaborate upon his popularity chart, the Undisputed host stamped his authority on talk shows as perhaps reached an all-time high. His popularity has reached an extent where fans eagerly want to known about all the information about his personal life, even his wife- Katy Kellner.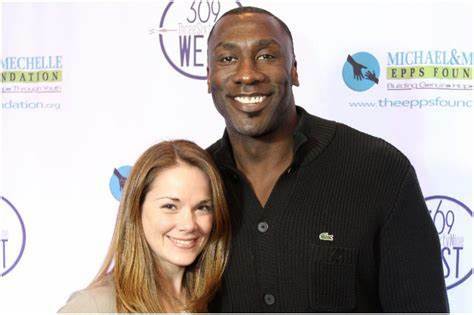 Born in Chicago, the 54-year-old NFL Hall of Famer was married to American fitness enthusiast Katy Kellner. For those who are unaware, born in 1981, Katy is an American citizen who started her career as a Fulton County public school teacher. Teaching in the same school for more than eight years, Kellner decided to try her hand into a completely different profession.
Katy Kellner joined primary fitness training and co-founded Thousands Oak Gym in USA (California) in corporation with Marlon Byrd. This is just when Shannon Sharpe is rumored to have parted ways with Katy, after which the latter is currently in a relationship with Luis Castillo. Moreover, Sharpe's ex-wife is working as a fitness instructor and regional director at Flywheel Sports and Cycle bar.
Sharpe Sharpe parted with wife Katy Kellner
Sharpe, who is known to have a ripped physique even after crossing the age of 50, met Katy for the first time in the gym itself. The couple got engaged in 2016 after being spotted at different parties and events. While many were hoping were for this to be the ideal fairytale Shannon deserved, but things were only going to haywire.
Shannon Sharpe was left devastated as Katy cheated on him and appeared with a baby boy Jaden Charles Byrd, from another man, Marlon Byrd. Eventually the spoken off parted ways.
Also Read: Shannon Sharpe, Tee Morant, and Steven Adams get involved in a wild flare up at Lakers-Grizzlies game
Also Read: "That's my guy": LeBron James sides with Shannon Sharpe after getting into a heated altercation with Grizzlies players
Also Read: "NFL doesn't have a manual on how to proceed" – Shannon Sharpe posts on Twitter after scary incident involving Damar Hamlin