Freshman Michigan guard Jett Howard has announced that he intends to declare for the 2023 NBA draft. Learn all there is to know about the future NBA prospect.
Jett Howard, currently recovering from injuries to both his ankles for the next month, is projected as the No. 15 prospect in Givony's latest mock draft. Since the day he stepped foot in a Michigan practice, Jett Howard has impressed coaches and teammates as possibly the most athletic player on the team.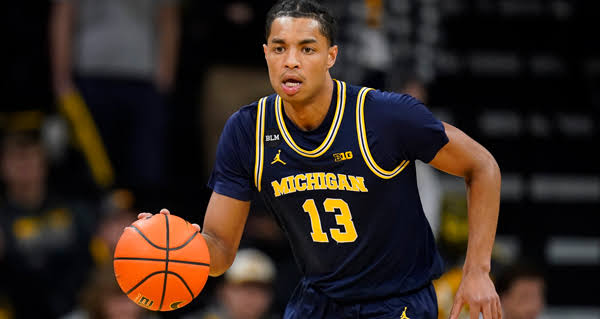 The 6'8″ swingman was named to the All-Big Ten Third Team and All-Freshman Team. Givony adds that, before his ankle ailments, Howard had been considered a possible top-10 selection in this year's draft.
Howard, the youngest son of Michigan coach Juwan Howard, averaged 14.2 points and 2.8 rebounds per game as a freshman this season, and was named to the Big Ten All-Freshman team. He also led Michigan with 78 3-pointers this season and the former top-50 recruit is a projected first-round NBA Draft pick when the draft commences in May.
What did Jett Howard have to say about his announcement for the NBA Draft?
The Michigan freshman spoke about how the past year was for him, as well as his announcement for the NBA Draft.
"This was a great learning year for me," Howard said. "It's what I needed. It taught me how to play within a pro-style offense and be effective, to get out of my comfort zone, and play with other good players." "I've had both ankles nagging for a while, so my dad and the coaching staff agreed with the specialist that it's better for me to get to 100%," Howard added.
"I was only 50-60% [healthy] for most of the Big Ten. My dad being the coach, he is was looking out for me and wanted the best for my health. He understands that ankles are tricky. I met with a specialist after the Big Ten tournament and they wanted me to rehab for four to five weeks."
More News:
• Who is Taylor Hendricks? UCF freshman declares for the upcoming NBA draft
• Is Ja Morant back in action for the Memphis Grizzlies?
• Paul George injury update: What injury did George pick up and when will he return?