Know if Jayda Curry and Stephen Curry are related to each other in any way
Jayda Curry is the hot new name in the world of basketball. Jayda is quickly grabbing the attention of women's basketball. Interestingly, her name is making everyone curious.
Her surname resembles that of NBA star Stephen Curry and this makes everyone want to know: Is Jayda Curry related to Stephen Curry?
Let us know more about Jayda Curry and whether is she related to Stephen Curry.
Who is Jayda Curry?
There is not much information available about Jayda Curry. However, Jayda is a sophomore-year basketball player for the California Golden Bears. The California Golden Bears represent the University of California, Berkeley. Jayda is 5 foot 6 inches and plays the position of Guard.
In the 2021-22 season, Jayda started 23 games and averaged an impressive 18.6 points per game with an impressive PCT of 80.4. She also averaged between 2 to 6 three-pointers per game.
According to sources, Jayda was born in Corona, California on May 2. She was raised there and attended Centennial High School.
There is no information present about Jayda's family and relatives. However, Jayda has a sister named Layla. Notably, Layla is also a basketball player.
Also, the relationship status of Jayda is also not known. However, it is highly possible that Jayda is single.
Jayda Curry Achievements
Jayda might be a sophomore-year player but she is a bag full of talent. And her honors and awards showcase how much talented she is. Here is a list:
– Pac-12 Freshman of the Year – Media (2022)
– Pac-12 All-Conference – Media (2022)
– Pac-12 All-Freshman Team – Media (2022)
– All-Pac-12 Honorable Mention – Coaches (2022)
– Pac-12 All-Freshman Team – Coaches (2022)
– 5x Pac-12 Freshman of the Week
Are Jayda Curry and Stephen Curry related?
Sadly, Jayda and Stephen are not related. The only thing common between them is their surnames and jersey number.
Jayda and Steph both wear jersey number 30 and they both share the same surname 'Curry.'
The reason why Jayda wears jersey number 30 is because she is inspired by NBA champion Stephen Curry.
Did Jayda Curry and Stephen Curry ever meet with each other?
Interestingly, a few months back, Jayda had the opportunity to meet with Stephen Curry. For Jayda, the meeting was a dream come true.
Jayda shared her encounter with Steph Curry on a series of Instagram photos and captioned it sweetly, saying, "dreams 2 reality…."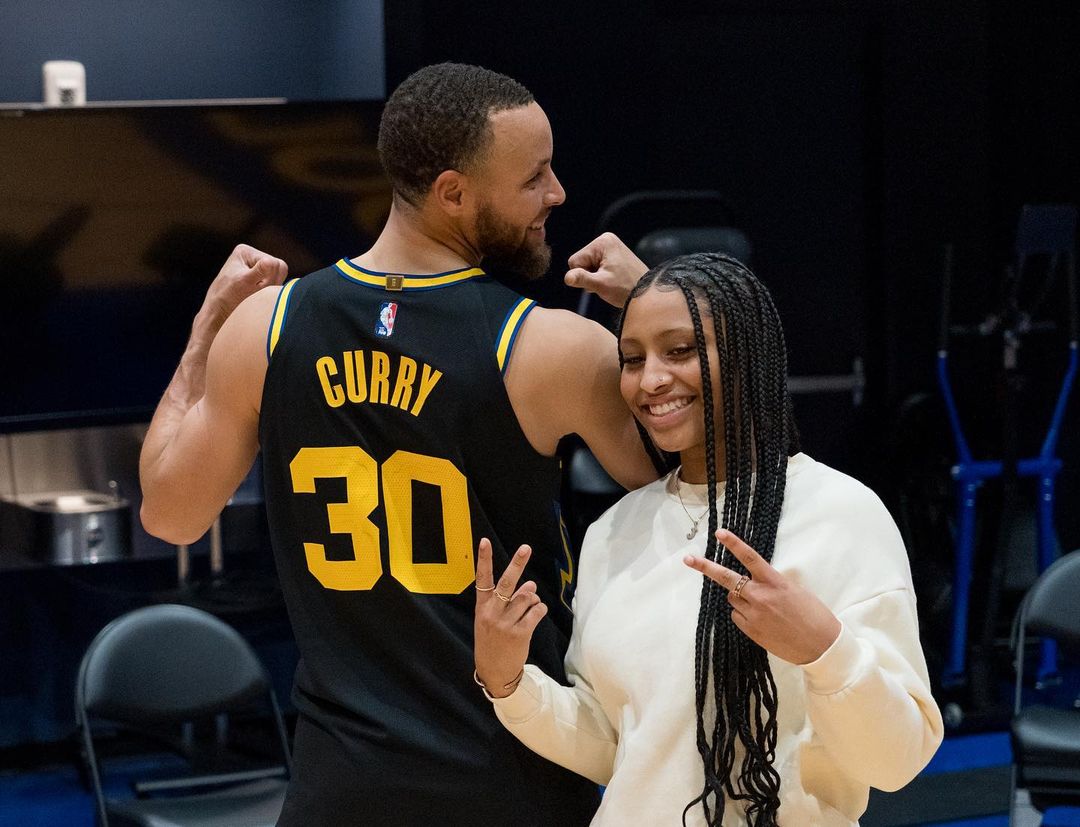 This encounter made people question more about the relationship between Steph and Jayda. But no, they are not related in any way. The only thing that unites them is basketball.
More NBA Articles:
Follow our dedicated NBA page for more NBA articles and news updates