British actress Millie Bobby Brown engaged at 19. Eleven in Netflix's Stranger Things (2016–present) earned her two Primetime Emmy nominations. Godzilla: King of the Monsters (2019) and Godzilla vs. Kong (2020) star Brown. (2021). She starred in and produced Netflix mystery films Enola Holmes (2020) and its 2022 sequel.
Her professional and personal life has always been in limelight, and it didn't come as a surprise when she announced the wonderful news of her life on Instagram.
In June 2021, she was linked to Jake Bon Jovi, son of Jon Bon Jovi. According to Daily Mail photographs, the pair was seen strolling around New York City holding hands and have been together ever since.
Recently, she posted a diamond-ringed photo. She's been with Jake Bongiovi for two-and-a-half years. In this photo, she hinted that Jake Bongiovi is her fiancé. The actor uploaded a black-and-white beach shot of the pair with a diamond ring.
Millie Bobby Brown engaged at 19, Learn about Jake Bon Jovi
Jake tweeted a snapshot of the pair together with the words "forever," while she posted an image to the lyrics of Taylor Swift's song Lover. Mille, who is 19, and Jake, who is 20, have been seeing each other for the last two and a half years. Mille is in their junior year of high school.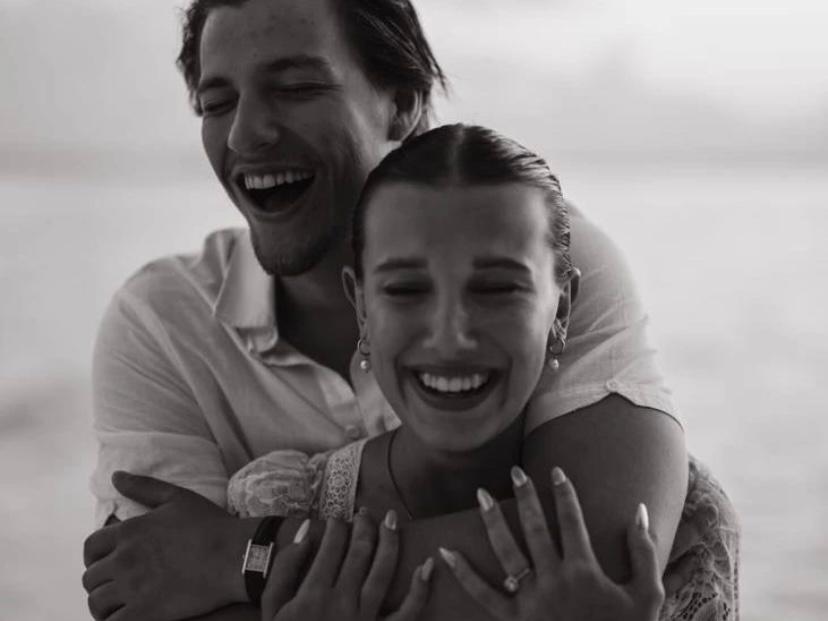 Millie Bobby Brown posted a photo of the pair, who were both wearing white at the time, laughing and smiling together on Instagram. She wrote, "I've loved you three summers now, honey, I want 'em all (white heart emoji)," which is a line taken from the song "Lover" by Taylor Swift.
Fans seemed shocked and ecstatic upon hearing the news of her getting engaged. Some were very happy and congratulated her, and some even wrote comments like, "When teenagers are getting engaged and I'm just running a meme page."
But the important thing is, we can see her happiness through the picture which is a great thing. We should all be together in her happiness right now.
More Entertainment News: