Michael Jordan is one of the biggest names in basketball and here is his net worth, salary, final records and more
Michael Jordan Facts
| | |
| --- | --- |
| Birth Place | Brooklyn, New York |
| Father's Name | James R. Jordan Sr. |
| Mother's Name | Deloris |
| Star Sign | Aquarius |
| College | North Carolina |
| Net Worth (2023) | $2 Billion |
| Salary (2023) | $130 Million |
| Age | 60 |
| Date of Birth | February 17, 1963 |
| Height (cm) | 198 |
| Weight (kg) | 98 |
| Nationality | American |
| NBA Draft Year | 1984 |
| NBA Draft Pick | 3rd overall |
| Playing Career | 1984-1993, 1995-1998, 2001-2003 |
| Position | Shooting Guard |
| Teams | Chicago Bulls, Washington Wizards |
| Achievements | 6-time NBA Champion, 6-time NBA Finals MVP, 5-time NBA MVP. 2-time Olympic Gold Medalist with USA |
| Wife/Girlfriend | Yvette Prieto (married in 2013) |
| Children | Jeffrey, Marcus, Jasmine, Victoria, Ysabel |
| Social Media | NA |
| Endorsements | Nike, Hanes, Gatorade, Upper Deck |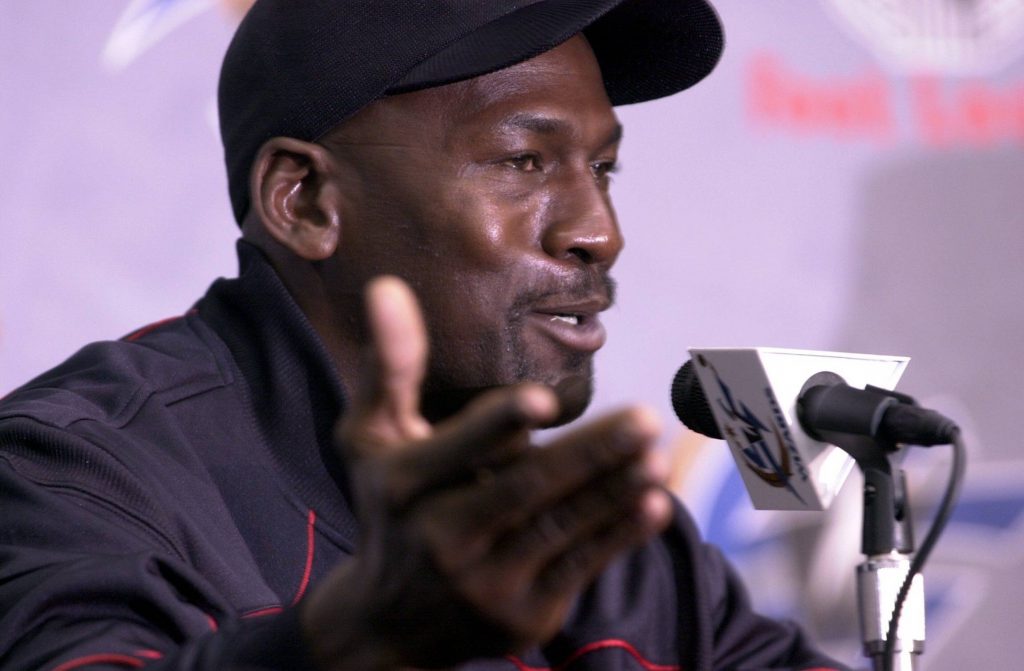 One of the greatest, if not the greatest ever basketball players, Michael Jordan is a global icon who enjoyed a gloried career in the NBA.
Having been picked by the Chicago Bulls in 1984, Jordan went on to have his 15-year career, during which he was a six-time NBA Champion and a six-time Finals MVP – a record that stands even today.
Jordan was nicknamed "Air Jordan" and "His Airness" because of his ability to leap high and perform slam dunks with utmost ease. The superstar called time on his career in 2003, after a short stint with the Washington Wizards.
Jordan is currently the owner of the NBA team Charlotte Hornets (formerly Charlotte Bobcats) and 23XI Racing in the NASCAR Cup Series.
Michael Jordan Stats
Final Appearances: 6
Championship Rings: 6
Season MVP: 5
Finals MVP: 6
All-Stars MVP: 3
Points: 32,292 (30.1 ppg)
The aforementioned statistics and figures are more than enough to explain why Jordan is regarded as the best to play the game of basketball. Having started out with Chicago Bulls in 1984, and won the NBA Rookie of the Year in 1985.
While he continued to put on starring displays, Jordan had to wait till 1991 for his first NBA Finals appearance which he and the Bulls went on to win. Jordan led the Bulls to two more Championship wins in 1992 and 1993 completing a three-peat.
After an abrupt retirement ahead of the 1993/94 season, Jordan would return in 1995 to lead the Bulls to another three-peat in 1995/96, 1996/97 and 1997/98 seasons, making it six wins in six finals, along with being named the MVP in each of those finals – nobody has managed more Finals MVP award till date.
While Jordan would return after another retirement, this time with the Washington Wizards, he never won the Championship with them before completely retiring from the game. He has a total of five Season MVP awards – a record only bettered by Karim Abdul-Jabbar (6).
Jordan's total of 5,987 points in the playoffs is the second-highest in NBA history. He retired with 32,292 points in regular season, placing him fifth on the NBA's all-time scoring list behind Kareem Abdul-Jabbar, Karl Malone, Kobe Bryant, and LeBron James. He also ended with an NBA record of 10 scoring titles during his career.
Michael Jordan Net Worth and Salary 2023
As of 2023, Michael Jordan's net worth stands at an incredible $2 billion. He has made most of her money through his NBA career.
Despite his status as one of the best, Jordan made a rather underwhelming $ 93 million in his 15-year career in NBA, which is quite a less sum when compared to the contracts that current players are on.
However, the 58-year-old has more than made up for it since retirement with stunning endorsement deals and smart investments. Jordan is said to make around $ 100 million from royalties from Nike alone from his Jordan Brand which falls under their umbrella.
In 2006, Jordan bought a minority stake in Charlotte Bobcats (now Charlotte Hornets) and took majority control of the team in 2010 during a deal valued at $ 175 million. The value of the team has since risen to around $ 1.5 billion. Jordan did sell some of his shares last year but that remains a major source of income.
Michael Jordan Family and Personal Life
Michael Jordan was born in Brooklyn, New York to Deloris and James R. Jordan Sr. He is the fourth of five children and has two elder brothers, Larry and James R. Jordan Jr. and an older sister Deloris. His youngster sister's name is Roslyn.
Jordan's father was robbed and murdered in 1993. His elder brother, James, served in the U.S. Army before retiring in 2006. His nephew, Justin – son of elder brother Larry, played basketball in the NCAA Division I and is currently a scout for the Charlotte Hornets.
Michael Jordan Wife
Jordan is currently married to Yvette Prieto, having tied the knot with her in 2013. The 58-year-old dated the Cuban-American model for several years before proposing to her in 2011.
Before his marriage to Prieto, Jordan was married to Juanita Vanoy. The pair tied the knot in 1989 and got divorced in 2006, with Juanita reported to have got $ 168 million as part of the settlement.
Michael Jordan Children
Jordan also has two children with Yvette Prieto – Victoria and Ysabel, who are identical twins.
From his marriage with Juanita Vanoy, the 58-year-old had three children together – Jeffrey, Marcus and Jasmine. Jordan became a grandfather in 2019, when his daughter, Jasmine, gave birth to a son.
Michael Jordan Endorsements
Jordan has been associated with Nike since his breakthrough season, having launched the Air Jordan brand of sneakers which remain popular even today. As mentioned previously, Nike have a separate "Jordan Brand" line from which he has earned more than $ 1.3 billion to date.
Apart from Nike, Jordan has also been associated with Coca-Cola, Chevrolet, Gatorade, McDonald's, Wheaties, Hanes, Upper Deck, MCL and various other brands.
Michael Jordan Jersey
Jordan for the majority of his basketball career, wore the jersey No. 23. Following his first retirement in 1993, the Chicago Bulls retired the #23 jersey in a ceremony held in November 1994.
When Jordan returned to NBA in 1995 following a stint in Minor League Baseball, he wore #45 jersey but decided to ditch it and return to #23. When he called time on his career for the final time in 2003, the Bulls again retired the #23 kit,. Along with the Bulls, Miami Heat, a team that Jordan never played for, also retired the #23 jersey as a tribute to the legend.
Michael Jordan Yacht
Jordan is also the owner of a luxury yacht that he bought in 2019, which set him back about $ 80 million.
His Airness super-yacht is a massive 230 feet long and comes equipped with plenty of amazing features. It has 8 spacious bedrooms, a full bar, and a huge dining room along with a fully equipped gym and a basketball court.
Apart from that, Jordan also owns a fishing boat, "Catch 23".
More NBA Articles:
Follow our dedicated NBA page for more NBA articles and news updates