Manchester City look untouchable at the moment. They are on top of the Premier League and look like they will cruise to the title, with the most points, wins, and 2nd-highest goals scored after 26 games. On top of that, they have the least number of losses and have conceded the least in the English top-flight this season.
They are cruising in Europe too. They have won 6 out of their 7 UEFA Champions League games so far, drawing just one and conceding just 1 goal. So how does one beat this monstrous side? As tough as it would be to find a weakness in this Manchester City side, they are not without holes.
Overlapping full-backs
There is no point looking too long and hard at games where City cruised to victory. A few hiccups in a 3-0 win, for example, would not matter much because they still would have won by a big margin and with a clean sheet. Hence, let's take a look at games where Guardiola's men have struggled to score this season, or had their defence exposed.
There aren't many, but a handful is just what we need. Firstly, let's look at the first of the only two games they have lost so far this campaign. A harrowing 5-2 loss to Leicester City in September 2020. Manchester City took the lead in this match but were then hit for 4 goals in a row and never looked like making a comeback. So what did Brendan Rodgers do right?
Firstly, they set up with a flat back-5. And a midfield 4 in front of them. This allowed them to stifle a lot of Manchester City attacks and did not let the Cityzens play behind their defensive line.
Looking at the second goal they scored, Leicester overloaded Man City's wings. Look at Leicester's runner (marked in white), finding space between Nathan Ake and Benjamin Mendy (L-R marked in blue). This is because Timothy Castagne (marked in red) overlapped and occupied City's left-back.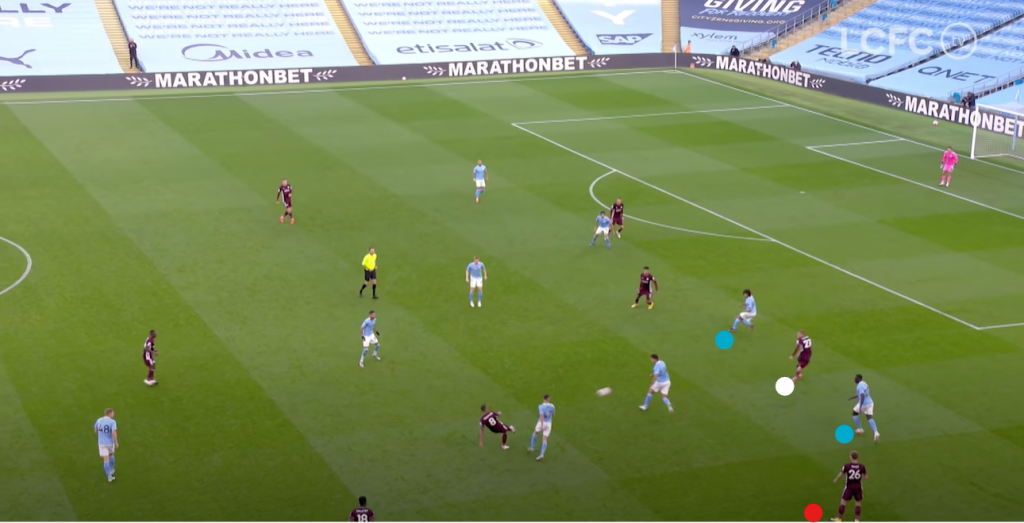 This overlapping effect of Castagne (marked in red) can be seen again a little later in the same game. When City are faced with teams brave enough to send their full-backs on the overlap, they can get outnumbered, as shown below. Leicester City playing a back-5 allowed them to use this tactic to better effect as they were better protected in case the full-backs are caught up the field.
This tactic was also deployed by FC Porto when they kept a clean sheet against Manchester City in the UEFA Champions League group stage by playing 5 defenders at the back and a flat-4 midfield when defending.
Susceptibility from the spot
Manchester City have another unlikely weakness. 33% of their goals conceded in the league this season has come from the penalty spot (refer to the image below). This proves that if you attack them and get inside their box, their players might make a mistake and hand you a spot-kick. Ask the Leicester players, for example. They scored thrice from the penalty spot in that 5-2 game.
Vulnerable on counters
City may not have conceded so many goals on counter-attacks, but they have been heavily troubled by it in some instances. City have the most possession per game out of any team in the league and their 'action zones' stat shows that 80% of their game, on average, takes place outside of their own third.


While this shows unbelievable dominance in possession, it obviously underlines how vulnerable at the back they can be if they lose possession. And that has happened a lot of times this season. Their insatiable desire to attack becomes their biggest enemy when they give away the ball.
Take their game against Tottenham Hotspur for example, where they lost 2-0. And for bigger sample size, let's take their most recent game, a win against Borussia Monchengladbach, and notice how high up the pitch they play. This obviously leaves space behind for the opposition to counter.
This was best exploited by Jose Mourinho when his side beat City 2-0 in the Premier League earlier this season. In the image below, look at the space Spurs players (in white jerseys) have on the counter-attack when they win possession and attack City. The ball was passed to Lo Celso (furthest up the pitch on the left flank for Spurs), who went to score easily.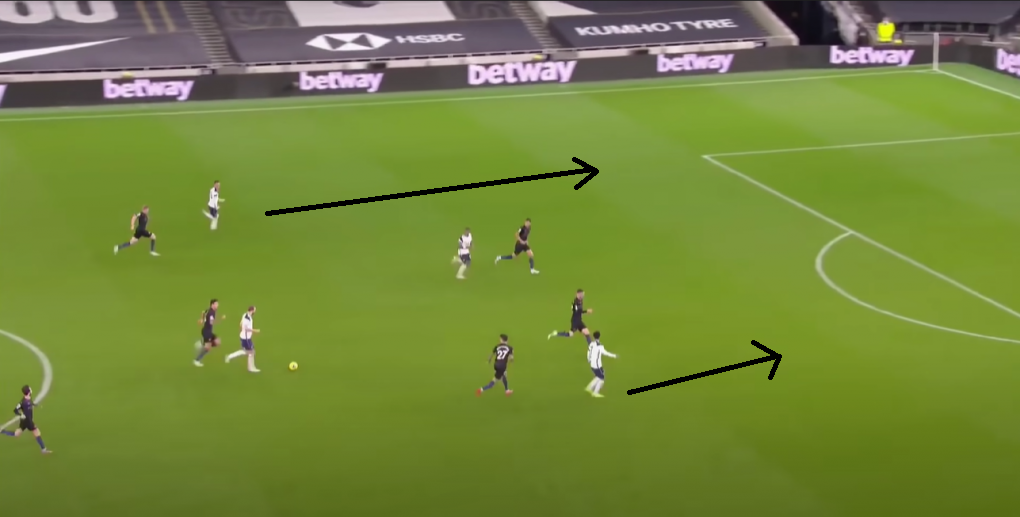 That was not all from that game. In the image below, notice how Son Heung-min (marked with the black arrow) opened the scoring in that very match when City's high line was caught out by a ball played over their defence (shown by the red arrow).
Lack of strikers – a potential weakness
This is something that the opposition cannot control about City though. The clubs are highly devoid of strikers. And their two out-and-out strikers on paper, Gabriel Jesus and Sergio Aguero, have a laughable 4 goals between them in the Premier League this season. That is just 12.5% of the team's total goals scored after 25 league games.
Moreover, they are confused as to who they want up front. In the image below, just look at the players who have started for them as a centre-forward this season. It is tough to point fingers and say this is a weakness, but it can potentially cause troubles in the future if they fail to settle down on a No.9.
Aguero, who has no league goals to his name this season, has scored 16 or more league goals in his last 7 full Premier League seasons. This sudden drop in contribution from a player can certainly affect a team. While City have found a way to deal with it by getting goals from midfield (Gundogan and Foden have double figures for goals this season), it remains to be seen if they can keep doing it at this level.
Verdict
City look unbeatable. They attack well, they don't concede a lot, but no team in football is without its weakness. While some of their weaknesses may come naturally with the attacking system that they deploy, the onus is on the opposition to figure it out and exploit it. While it is difficult because City keep switching formations so often, it is not impossible to figure out their patterns of attacking and defending.
In the 8 games that they have not won this season, 3 of the teams have fielded a formation with 5 defenders. And in all 8 of those games, City have dominated possession.
This includes the game against Liverpool, where the Reds, who have the 2nd most possession on average in the league this season (refer to Image A above), resorted to keeping less of the ball.
It thus shows that by compulsion or by choice, teams are better off defending against City with men behind the ball and waiting to counter them with overlapping full-backs. Having three men at the back in case the wing-backs overlap offers added protection. While this is not a fool-proof trick to beat them, it seems to be working at the moment!