A retired American basketball player who played in the NBA. Magic Johnson is also the former President of basketball operations of the Los Angeles Lakers, and here is all about his net worth, salary, records, and endorsements.
Earvin 'Magic' Johnson is considered one of the greatest NBA players of all time, and ever since his retirement, he has become one of the richest athletes alive. Let's know more about his net worth.
Magic Johnson Facts
| | |
| --- | --- |
| Birth Place | Lansing, Michigan |
| Father's Name | Earvin Johnson Sr. |
| Mother's Name | Christine Johnson |
| Star Sign | Leo |
| College | Michigan State University |
| Net Worth (2023) | $620 Million |
| Salary (2023) | $22 Million |
| Age | 63 |
| Date of Birth | August 14, 1959 |
| Height (ft) | 6 ft 9 in (2.06 m) |
| Weight (kg) | 100 (220 lb) |
| Nationality | American |
| NBA Draft Year | 1979 |
| NBA Draft Pick | Round 1/ Pick: 1st overall |
| Playing Career | 1979-2000 |
| Position | Point guard |
| Teams | Los Angeles Lakers (1979-1991 & 1996), Magic M7 Boras (1999-2000), Magic Great Danes (2000) |
| Achievements | 5x NBA champion (1980, 1982, 1985,1987, 1988), 3x NBA Finals MVP (1980, 1982, 1987), 3x NBA Most Valuable Player (1987, 1989, 1990), 12x NBA All-Star (1980, 1982-1992), 2x NBA All-Star Game MVP (1990, 1991), Gold Medal Olympics (1992), Mr. Basketball of Michigan (1977), Basketball Hall of Fame |
| Wife/Girlfriend | Cookie Johnson |
| Children | EJ Johnson, Elisa Johnson, and Andre Johnson |
| Endorsements | Converse |
Magic Johnson was the 1979 Round 1, 1st overall draft pick by the Los Angeles Lakers. He is often regarded as the best point guard in the history of basketball and was aptly honored as one of the 50 Greatest Players in NBA History in 1996.
He used to play college basketball for Michigan State University and was later inducted twice into the Basketball Hall of Fame as a player. He played a dominating 13 seasons for the Lakers but had to abruptly end his career after he tested positive for HIV.
He is a renowned advocate of HIV/AIDS prevention and safe sex. After retirement, Johnson established himself as a successful entrepreneur, an inspiring philanthropist, and a broadcaster.
Magic Johnson stats
Points: 17,707 (19.5 ppg)
Rebounds: 6,559 (7.2 rpg)
Assists: 10,141 (11.2 apg)
Championship Rings: 5 (1980, 1982, 1985, 1987, 1988)
Season MVP: 3 (1987, 1989, 1990)
Finals MVP: 3 (1980, 1982, 1987)
All-Stars MVP: 2 (1990, 1992)
Olympic Gold medals: 1 (1992)
Magic Johnson was the first overall pick of the 1979 NBA draft chosen by the Los Angeles Lakers. Interestingly, in his rookie season, Magic and his teammate Kareem Abdul-Jabbar steered the Lakers to the NBA championship where Magic was named the Most Valuable Player (MVP) of the NBA Finals.
Johnson went on to win five NBA championships with the Lakers in the years 1980, 1982, 1985, 1987, and 1988. He was the three-time NBA Finals MVP in 1980, 1982, and 1987. He was the three-time NBA Most Valuable Player in 1987, 1989, and 1990. He was a 12-time All-Star and won MVP of the All-Star game two times.
Magic announced his abrupt retirement from NBA in 1991 due to his contraction of the HIV virus. During the 1995-96 season, then 36-year-old Magic Johnson attempted a comeback as a player and re-joined the Lakers for that season. The Lakers had a record of 22–10 in the games Johnson played, and he considered his final comeback "a success." After losing to the Rockets in the first round of the playoffs, Johnson retired permanently.
However, in 1992 Johnson decided to participate in the Barcelona 1992 Summer Olympics. He was a part of the 'Dream Team' which won the gold medal with an 8-0 record. They defeated their opponents by an average of 43.8 points per game.
Magic Johnson Net Worth and Salary
The 63-year-old Magic Johnson is estimated to have a net worth of over $620 million in 2023. Johnson had a tremendous basketball career, but he also had a number of successful pursuits off the court.
Due to his brilliant business instincts, the ex-NBA player has a sizable cash account. Magic is considered to be a successful billionaire, based on the wealth his firm generates.
Johnson has made a lot of money via his endorsement agreements and salaries over his 13-year NBA career. However, his salary was very less compared to what he earns now as a businessman.
In his prior years, the highest yearly pay from NBA was $2.5 million, when he was with the Los Angeles Lakers in 1991-1992. From NBA, the icon has made just about $40 million over the course of his career. Johnson has also earned money as an acting coach for the Los Angeles Lakers.
Today, he also earns from his business firms as well as media ventures. Currently, it is estimated that his salary is up to 22 million dollars. With such a mammoth earning, Magic ranks fifth in the Forbes List of the Highest-Paid Athletes.
Magic Johnson Personal Life
Born in Lansing, Michigan, Johnson is the son of Earvin Johnson Sr. and Christine Johnson. His father was a General Motors assembly worker while his mother was a school janitor. Magic has six siblings and three half-siblings by his father's previous marriage.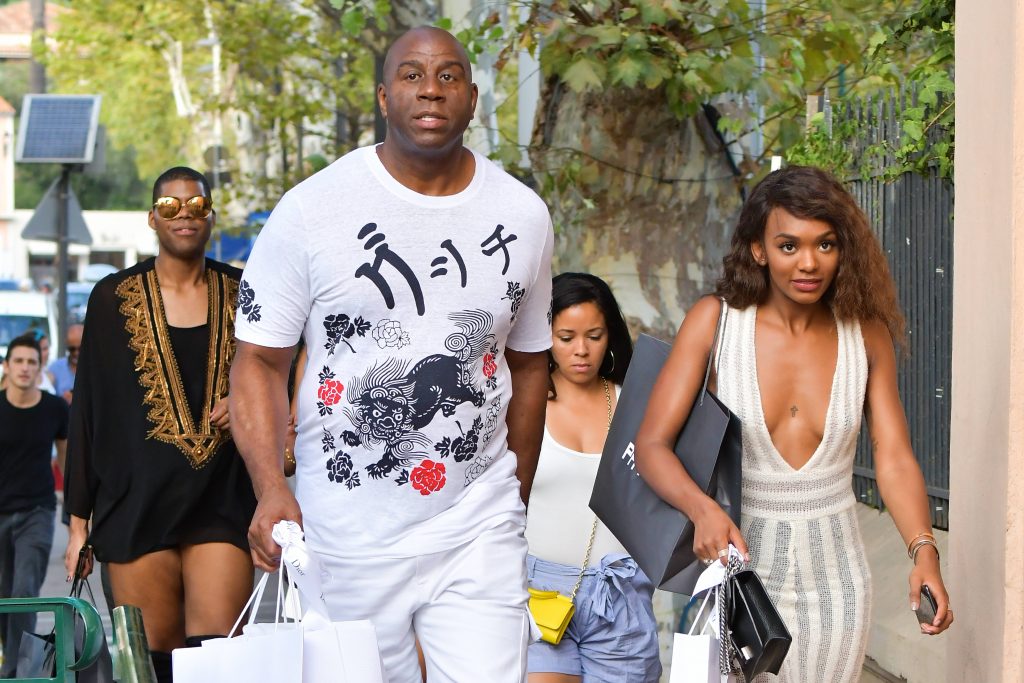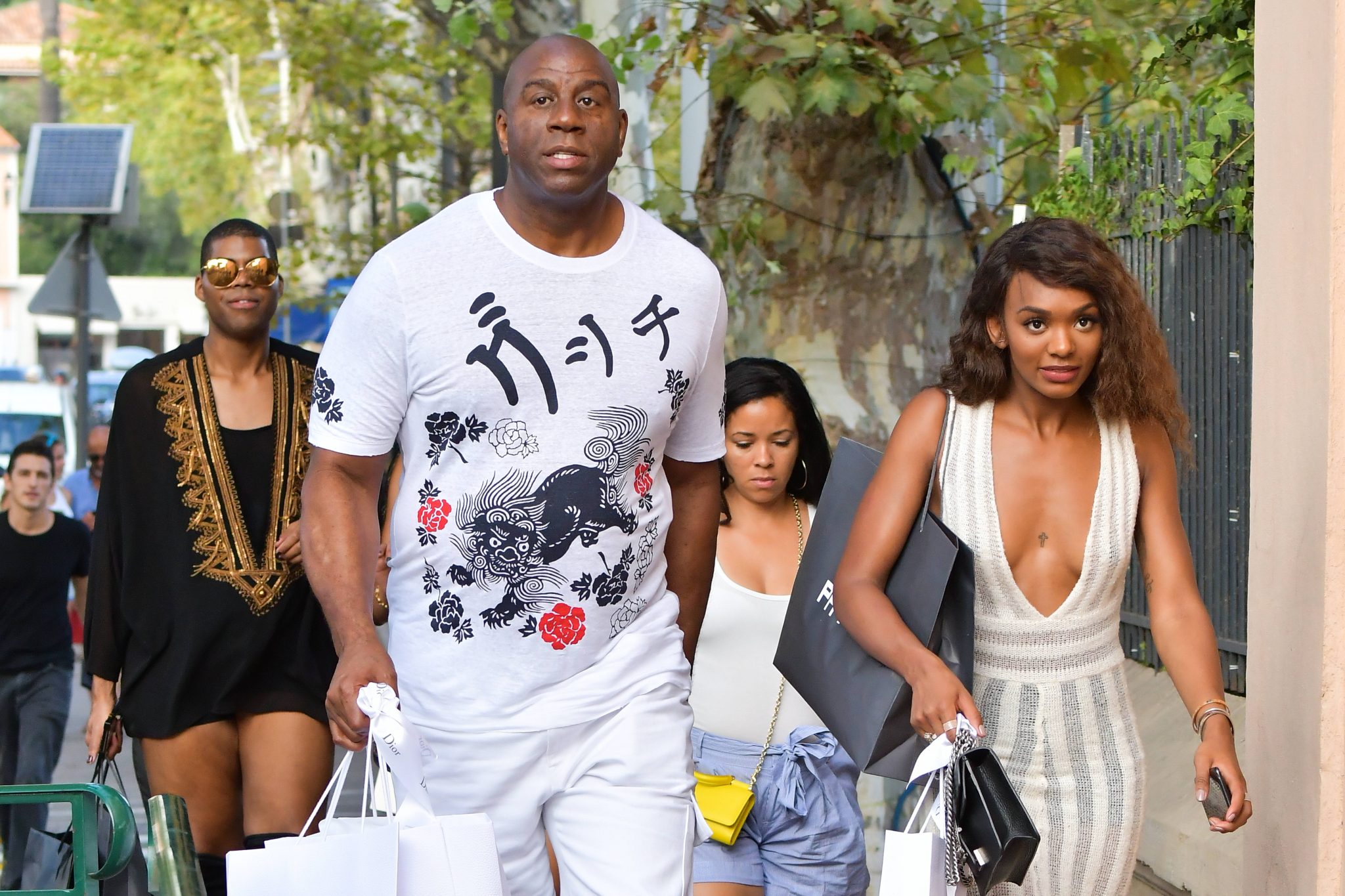 Johnson is married to Earlitha "Cookie" Kelly Johnson and they have a son named EJ Johnson. The couple adopted a daughter named Elisa in 1995. Magic also has another son named Andre Johnson who was born to Melissa Mitchell.
Magic Johnson Endorsements, Entrepreneurship and Property.
Well, there isn't much information about Magic's endorsement deals. The most lucrative agreement he inked during his heyday is generally recognized. The NBA icon was showered with shoe agreements from every major manufacturer throughout the 1980s.
Magic opted to negotiate a deal with Converse, a popular global shoe company, which appears to have paid him well. However, most people are unaware that Nike also offered Johnson a deal, which he turned down.
He is a major investor in the MLB franchise Los Angeles Dodgers and the WNBA franchise Los Angeles Sparks. He was also a part-owner of the Lakers for several years before he sold his shares. Magic Johnson Enterprises owns Magic Johnson Theatres, a movie studio, and a promotional marketing company. In 2010 Johnson also sold his chain of Starbucks for $75 million.
Johnson reportedly owns a home in Beverly Hills in the gated section known as Beverly Park. He also owns a Tuscan-style beach house in Dana Point in Orange County, California.
FAQs about Magic Johnson
What is the age of Magic Johnson?
Magic Johnson is 63 years old and was born on August 14, 1959.
What is the net worth of Magic Johnson?
Magic Johnson is said to be worth over $620 million.
Where was Magic Johnson born?
Magic Johnson was born in Lansing, Michigan.
What is the height of Magic Johnson?
Magic Johnson's height is 6 ft 9 in (2.06 m)
What is the weight of Magic Johnson?
Magic Johnson's weight is 100 kg (220 lb)
Who is the wife of Magic Johnson?
Magic Johnson's wife is Cookie Johnson.
Who is the son of Magic Johnson?
Magic Johnson's son's name is EJ Johnson.
In which year was Magic Johnson drafted?
Magic Johnson was drafted in the year 1979/ Round 1/ Pick: 1st overall
In what position did Magic Johnson play?
Magic Johnson played in the position of Point Guard.
For what teams did Magic Johnson play for?
Magic Johnson played for Los Angeles Lakers, Magic M7 Boras, and Magic Great Danes
How many NBA Championship did Magic Johnson win?
Magic Johnson has won five NBA Championship (1980, 1982, 1985, 1987, 1988).
More NBA news
Follow our dedicated NBA page for instant NBA news and updates