The Los Angeles Dodgers are the 2020 World Series Champions and here is their 2021 MLB Schedule
Founded in 1883, the Los Angeles Dodgers joined the National League in the year 1890 as the Brooklyn Bridegrooms. Since then they underwent a boatload of name changes before settling down with the name Los Angeles Dodgers.
They have been a very successful team in West Division of the National League. The Dodgers have 7 World Series titles to their name. Their first title win came in the year 1955, with the most recent one last year – 2020.
Three years after their first World Series win, they shifted their base to Los Angeles from Brooklyn.
They also have a fierce cross-town rivalry with the New York Yankees. The two teams have met in the World Series, a whopping seven times. The Dodgers are the defending champions.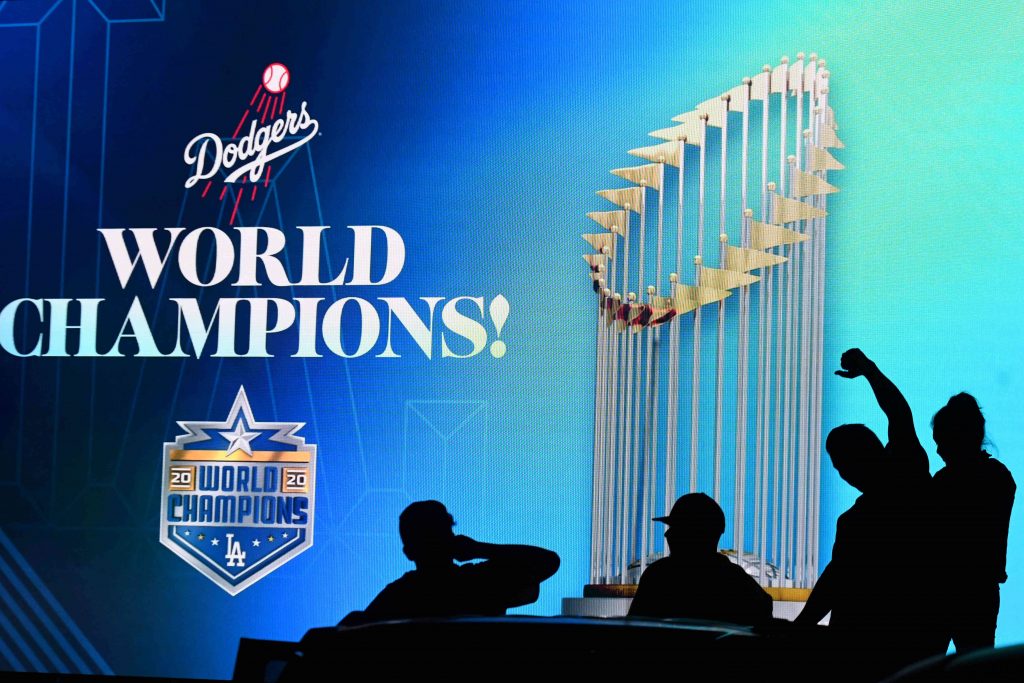 With 19 West Division titles, the Dodgers have the second best win-loss record in the history of the league. In the overall standings for the best win-loss record, the Dodgers stand at number 3.
The Dodgers ply their trade in the Dodger Stadium, and are owned by Guggenheim Baseball Management.
Their current manager is Dave Roberts.
Los Angeles Dodgers 2021 roster
Players
Scott Alexander, Trevor Bauer, Phil Bickford, Walker Buehler, Garrett Cleavinger, Tony Gonsolin, Victor Gonzalez, Brusdar Graterol, Kenley Jansen, Nate Jones, Joe Kelly, Clayton Kershaw, Mike Kickham, Corey Knebel, Dustin May, Jimmy Nelson, Darien Nunez, David Price, Jake Reed, Keibert Ruiz, Dennis Santana, Jimmie Sherfy, Blake Treinen, Edwin Uceta, Julio Urias, Alex Vesia, Mitch White
Catchers
Austin Barnes, Will Smith
Infielders
Matt Beaty, Andy Burns, Gavin Lux, Zach McKinstry, Max Muncy, Sheldon Neuse, Albert Pujols, Edwin Rios, Corey Seager, Justin Turner
Outfielders
Cody Bellinger, Mookie Betts, DJ Peters, A.J. Pollock, Luke Raley, Zach Reks, Steven Souza Jr., Chris Taylor, Yoshi Tsutsugo
Los Angeles Dodgers 2021 MLB Schedule
| | |
| --- | --- |
| Team | Date |
| @ Colorado | Sat, 17 Jul |
| @ Colorado | Sun, 18 Jul |
| @ Colorado | Mon, 19 Jul |
| vs San Francisco | Tue, 20 Jul |
| vs San Francisco | Wed, 21 Jul |
| vs San Francisco | Thu, 22 Jul |
| vs San Francisco | Fri, 23 Jul |
| vs Colorado | Sat, 24 Jul |
| vs Colorado | Sun, 25 Jul |
| vs Colorado | Mon, 26 Jul |
| @ San Francisco | Wed, 28 Jul |
| @ San Francisco | Thu, 29 Jul |
| @ San Francisco | Fri, 30 Jul |
| @ Arizona | Sat, 31 Jul |
| @ Arizona | Sun, 1 Aug |
| @ Arizona | Mon, 2 Aug |
| vs Houston | Wed, 4 Aug |
| vs Houston | Thu, 5 Aug |
| vs Los Angeles Angels | Sat, 7 Aug |
| vs Los Angeles Angels | Sun, 8 Aug |
| vs Los Angeles Angels | Mon, 9 Aug |
| @ Philadelphia | Wed, 11 Aug |
| @ Philadelphia | Thu, 12 Aug |
| @ Philadelphia | Thu, 12 Aug |
| @ New York Mets | Sat, 14 Aug |
| @ New York Mets | Sun, 15 Aug |
| @ New York Mets | Sun, 15 Aug |
| vs Pittsburgh | Tue, 17 Aug |
| vs Pittsburgh | Wed, 18 Aug |
| vs Pittsburgh | Thu, 19 Aug |
| vs New York Mets | Fri, 20 Aug |
| vs New York Mets | Sat, 21 Aug |
| vs New York Mets | Sun, 22 Aug |
| vs New York Mets | Mon, 23 Aug |
| @ San Diego | Wed, 25 Aug |
| @ San Diego | Thu, 26 Aug |
| @ San Diego | Fri, 27 Aug |
| vs Colorado | Sat, 28 Aug |
| vs Colorado | Sun, 29 Aug |
| vs Colorado | Mon, 30 Aug |
| vs Atlanta | Tue, 31 Aug |
| vs Atlanta | Wed, 1 Sep |
| vs Atlanta | Thu, 2 Sep |
| @ San Francisco | Sat, 4 Sep |
| @ San Francisco | Sun, 5 Sep |
| @ San Francisco | Mon, 6 Sep |
| @ St. Louis | Tue, 7 Sep |
| @ St. Louis | Wed, 8 Sep |
| @ St. Louis | Thu, 9 Sep |
| @ St. Louis | Thu, 9 Sep |
| vs San Diego | Sat, 11 Sep |
| vs San Diego | Sun, 12 Sep |
| vs San Diego | Mon, 13 Sep |
| vs Arizona | Tue, 14 Sep |
| vs Arizona | Wed, 15 Sep |
| vs Arizona | Thu, 16 Sep |
| @ Cincinnati | Sat, 18 Sep |
| @ Cincinnati | Sun, 19 Sep |
| @ Cincinnati | Sun, 19 Sep |
| @ Colorado | Wed, 22 Sep |
| @ Colorado | Thu, 23 Sep |
| @ Colorado | Fri, 24 Sep |
| @ Arizona | Sat, 25 Sep |
| @ Arizona | Sun, 26 Sep |
| @ Arizona | Mon, 27 Sep |
| vs San Diego | Wed, 29 Sep |
| vs San Diego | Thu, 30 Sep |
| vs San Diego | Fri, 1 Oct |
| vs Milwaukee | Sat, 2 Oct |
| vs Milwaukee | Sun, 3 Oct |
| vs Milwaukee | Mon, 4 Oct |