The Brooklyn Nets are in injury trouble once again as Ben Simmons is out of the team with a knee injury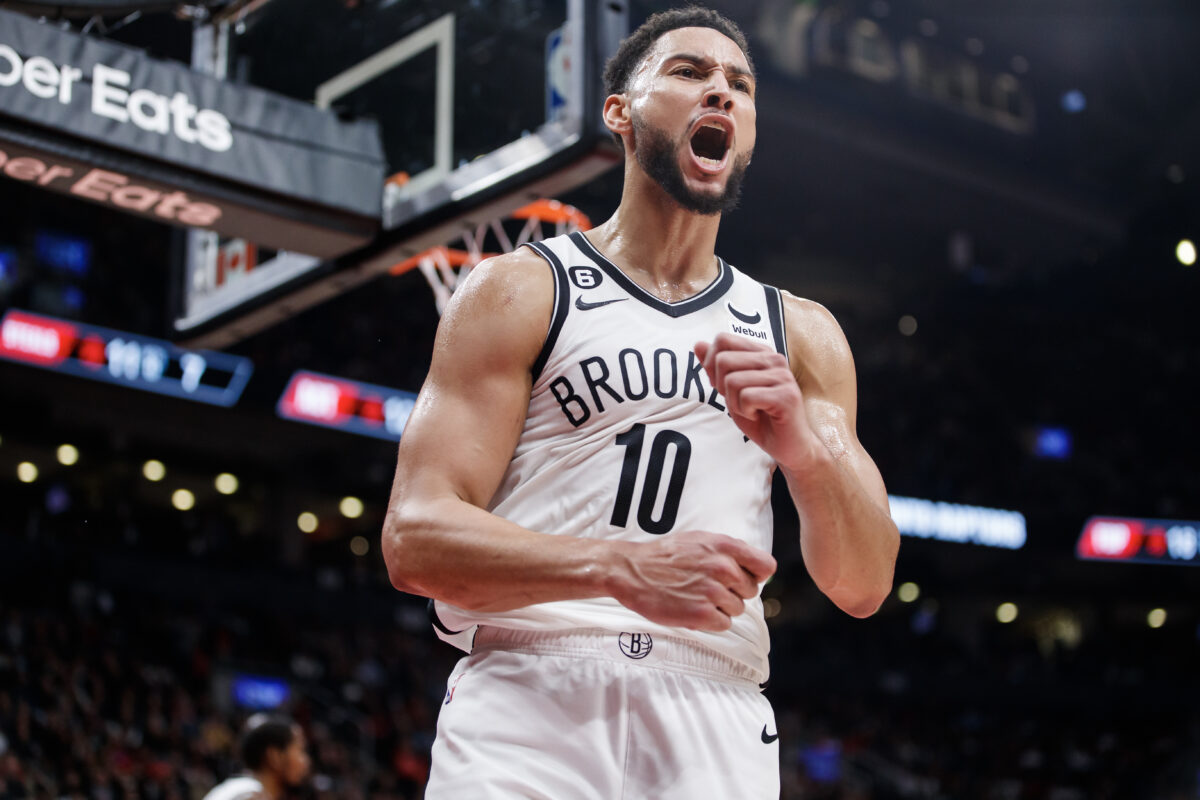 The Brooklyn Nets star, Ben Simmons is set to miss a few games because of an injury. The Nets have revealed that Simmons has been diagnosed with a lateral left upper calf strain and will miss at least three games. He will again be re-examined after three games are done.
During the Monday matchup between the Orlando Magic and the Brooklyn Nets, Simmons was pulled out early in the second quarter. During the early minutes of the second quarter, Ben showed the team's coaching staff to pull him out. After that, he remained out for the rest of the game with left knee soreness.
Simmons played 30+ minutes in six of the seven games after his injury battle with a left knee soreness – the same leg the lateral upper calf strain is for. Notably, Simmons has already missed six games this season because of left knee soreness.
Speaking on Monday night about Simmons' injury, Nets' coach, Vaughn said he believed the accumulation of minutes and his overall load across Brooklyn's heavy stretch of games served as the catalyst.
"I think more than anything, the accumulation of games," said Vaughn. "He hasn't had this amount of accumulation of games over a period in a long time. I talked to the performance team about that. We were warned about it a little bit as these games add up. His cumulative load begins to add up. It's really stretching him sometimes. The amount of games we had with the minutes that he's played was pretty high going into tonight's game." (h/t: SI)
Vaugh also said that he spoke to Simmons before Wednesday's gam. It remains unclear what Simmons' minutes' plan will be whenever he does return to the lineup.
When will Yuta Watanabe return to the team?
Brooklyn's big man, Yuta Watanabe is also missing games because of a right hamstring strain. The Nets have now announced that Watanabe will miss at least another week because of ongoing hamstring issues.
Yuta has played no game since November 20. Initially, Watanabe's injury was not that serious. But a later checkup revealed his results are still the same as the first test. Hence, Yuta needs more time to heal.
In the coming next week, both Simmons and Watanabe are supposed to be reassessed.
Also Read:
Victor Wembanyama: Who is 18-year-old French star expected to be the No.1 2023 draft pick?
"I Love That Dude" – Stephen Curry Wants GSW To Trade For "Misunderstood" Kevin Durant
"It's all about the process" – Lebron James has some great words of advice for his 6 feet and 3 inches son Bronny James