Here's everything you need to know about the personal life, net worth, career of Czech professional Tennis player Jiri Vesely
Jiri Vesely Facts
| | |
| --- | --- |
| Birth Place | Breznice, Czech Republic |
| Father's Name | Jiri Vesely Sr. |
| Mother's Name | Irena Vesely |
| Star Sign | Cancer |
| College | NA |
| Net Worth (2023) | $5 million |
| Prize Money till date | $5,557,616 |
| Age | 29 |
| Date of Birth | 10th July, 1993 |
| Height | 6 ft 6 in |
| Weight | 94 Kgs |
| Nationality | Czech |
| Achievements | 4 ATP titles |
| Wife/Girlfriend | Denisa Somrova |
| Children | Two |
| Endorsements | Bicz, Wilson, Lotto |
Jiri Vesely Career
Jiri Vesely is an active tennis player with a professional career spanning more than a decade. He is a specialist singles player but did play doubles during the initial phase of his career. He has won four ATP titles in his professional career till date – two in singles and two in doubles. Vesely is notably a Davis Cup Champion with the Czech Republic. The 29-year-old has a career-best ranking of No.35 in ATP men's singles but his performances have gradually dropped over the last few years and he is currently ranked World No.452.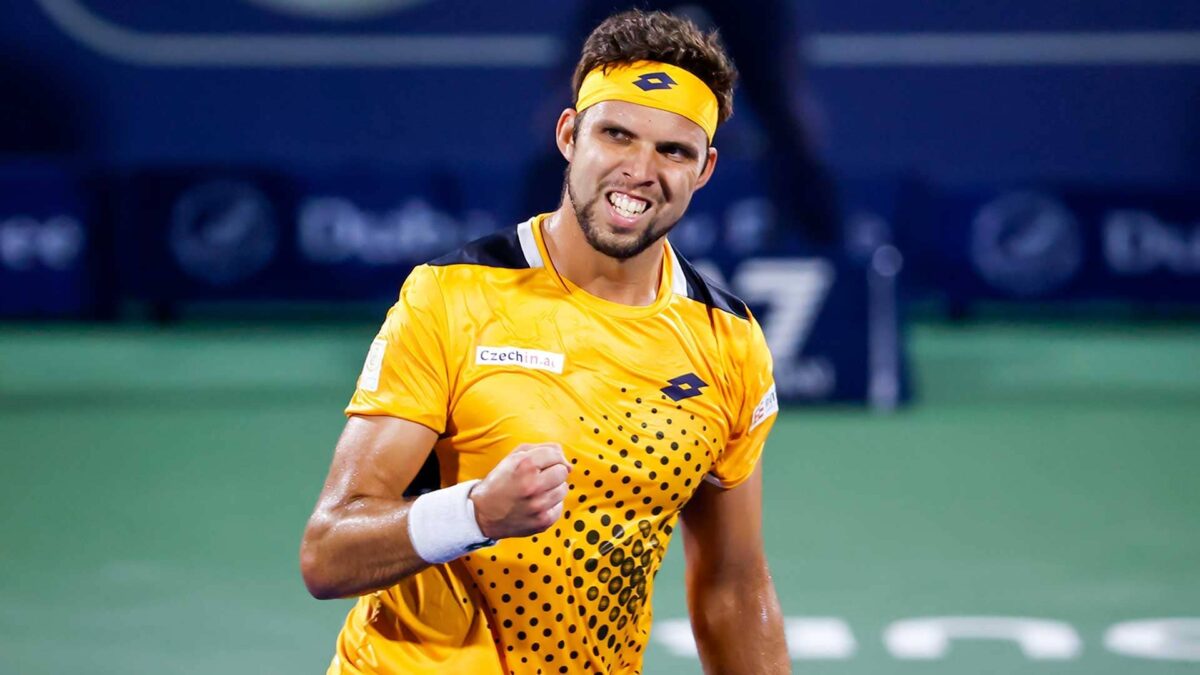 Vesely made his professional debut in 2012. In 2013, he became the youngest player (at that time) in the world's top 100 at 20 years and 3 months old.
However, it was not until 2016 that he got a major breakthrough at the professional level. He notably defeated the then World No.1 Novak Djokovic in the fourth round of Wimbledon 2016.
The victory launched Vesely's career in the right direction and he became a well-known name in the Tennis World. However, consistency has always been an issue throughout Vesely's career and it was no different. He won two ATP titles in the next four years but he only did well in patches and couldn't really establish himself at the senior level.
Vesely took a nine-month long break in 2023 which has seen his ranking drop drastically to No.452. However, he is set to be back in action at the French Open and he got a direct entry using 'protected ranking'. Vesely still has a good amount of years left in his professional career if he manages to avoid recurring injuries and keep himself fit for the top level.
Jiri Vesely Net Worth and Salary
Jiri Vesely has an estimated net worth of US$5 million as of 2023. He has earned a total prize money of US$5,557,616 till date. As a professional player on the ATP tour, Vesely's salary is variable from season to season depending on the amount earned from sponsorships and endorsement deals. His net worth is expected to rise with each passing year based on his performances on the court.
Jiri Vesely Personal Life
Jiri Vesely was born on 10th July, 1993 in Pribram, Czech Republic to Jiri Vesely Sr. and Irena Vesely. He has two sisters – Aneta and Natalie. Vesely's father is a tennis coach while his mother is the manager of a shoe company. When it comes to love life, Vesely is married to Denisa Somrova.
The couple dated for a number of years after their first meeting in a restaurant in the Czech Republic and got married in 2017.
The couple have two children – Sofie Vesely (daughter) and Patrik Vesely (son). Jiri currently resides with his family in Breznice, Czech Republic.
Jiri Vesely Endorsements
As a successful professional tennis player, Vesely has several endorsement and sponsorship deals in his pocket. He has an exclusive deal with real-estate company 'Bicz'.
He has a racquet sponsorship deal with 'Wilson' and uses the Wilson Blade 98 racquet. He also has an apparel and footwear deal with Italian clothing brand 'Lotto'. He has deals with other brands as well but information regarding the same is not available on the public domain as of now.
Jiri Vesely FAQs
What is the age and date of birth of Jiri Vesely?
Jiri Vesely is 29 years old and was born on July 10, 1993.
What is the net worth of Jiri Vesely?
Jiri Vesely has an estimated net worth of $5 million.  
What brands endorse Jiri Vesely?
Jiri Vesely has endorsement deals with Wilson, Bicz and Lotto.
What is the nationality of Jiri Vesely?
Jiri Vesely is a citizen of the Czech Republic.
Where was Jiri Vesely born?
Jiri Vesely was born in the city of Breznice in the Czech Republic.
More Tennis news
Follow our dedicated Tennis page for instant Tennis news and updates
.