Let us check whether the children's favorite series Paw Patrol has introduced an LGBT character or not in this article.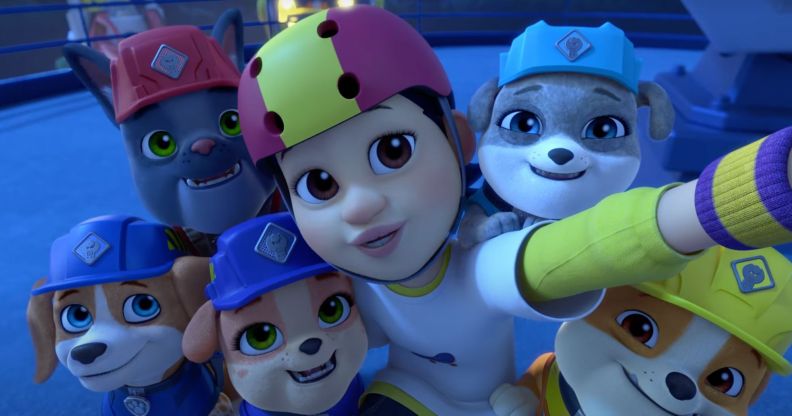 Is there an LGBT character in Paw Patrol?
"Paw Patrol," the beloved children's TV show, has introduced its first non-binary character in its spin-off series, "Rubble & Crew." This character, named River, brings more diversity to the show, but it might not be immediately obvious that they identify as non-binary.
In a recent episode, River joins the Rubble & Crew gang, which primarily consists of animals. River is depicted as a skateboarder with a passion for photography who moves to a town next door to where the Paw Patrol is based. In their debut episode, River assists the team in photographing a shooting star and even builds an observatory.
So, how do we know that River is non-binary? The show doesn't explicitly mention River's identity or pronouns. Instead, it was the episode's writer, non-binary author and activist Lindz Amer, who revealed River's non-binary identity on social media.
Lindz Amer shared on Instagram that they were brought in to consult on the show's first non-binary character, describing it as a "bucket list item." They aimed to create an aspirational and cool non-binary character for both the young viewers and kids at home to look up to. 
What's even more inclusive is that the production team hired a non-binary actor to voice River, ensuring authenticity in the character's representation. Additionally, River's character wears socks with stripes in the same colors as the transgender pride flag, a subtle yet meaningful detail.
The spin-off series, "Rubble & Crew," centers around Rubble, a young bulldog who is a cherished character from the original Paw Patrol. In this new animated series, Rubble moves to a different town and participates in various construction projects. 
It's important to note that "Paw Patrol" is one of the most popular children's programs on television, and introducing a non-binary character like River is a significant step toward inclusivity and representation. This move reflects the show's commitment to reflecting the diversity of the real world, even in a world of animated rescue pups and their adventures.
"Paw Patrol" has taken a step by introducing its first non-binary character, River, in the spin-off series "Rubble & Crew." While the character's non-binary identity might not be explicitly mentioned in the show, the behind-the-scenes efforts to make this representation authentic are commendable. This addition reflects a growing commitment to diversity and inclusion in children's programming.
About Paw Patrol
Popular children's animated TV show "Paw Patrol" has won over children all over the world. It chronicles the exploits of Ryder, a young human buddy, and a pack of rescue dogs. Here is a brief explanation of what makes "Paw Patrol" unique.
The main characters of the show are a team of six adorable and talented rescue dogs, each with its own unique skills and personality. They are:
1. Chase He's the police dog and often takes on leadership roles.
2. Marshall Marshall is the firefighting Dalmatian, known for his clumsiness and love for jokes.
3. Skye The aviation expert, Skye is a fearless and fun-loving pup who can fly.
4. Rubble Rubble is the construction pup, always ready to dig in and help.
5. Rocky Rocky is the recycling pup who cares for the environment and invents cool gadgets.
6. Zuma Zuma is the water-loving pup who handles aquatic rescue missions.
The Paw Patrol team's mission is to keep the community of Adventure Bay safe. Whether it's rescuing a kitten stuck in a tree, helping a lost penguin find its way home, or saving the day during bigger emergencies, these pups are always on the job.
Ryder, a young boy, is the leader of the Paw Patrol team. He's resourceful and quick-thinking, using his knowledge and a high-tech command center to coordinate the pups' missions. Ryder is also a caring friend to the pups and helps them when they face challenges.
Lessons and Values
"Paw Patrol" is not just about cute puppies and exciting missions; it also teaches valuable life lessons. The show promotes teamwork, problem-solving, and helping others in need. It encourages kids to be kind, brave, and responsible.
The series is set in the fictional town of Adventure Bay, which provides a colorful and engaging backdrop for the adventures. Adventure Bay is home to various other characters who often find themselves in need of the Paw Patrol's assistance.
One of the reasons for "Paw Patrol's" success is its ability to connect with young viewers. The relatable characters and exciting missions make it a hit among preschoolers. Additionally, the catchy theme song and cute catchphrases like "No job is too big, no pup is too small!" have become iconic.
"Paw Patrol" is a beloved children's series that combines adorable puppies, exciting adventures, and important life lessons. It's no wonder that kids everywhere are fans of this pawsitively fantastic show.
Read More:
WHAT HAPPENED BETWEEN DRAKE AND ODELL BECKHAM JR? IS THERE BEEF BETWEEN THE TWO?
HOW MUCH MONEY HAS DRAKE MADE FROM ODELL BECKHAM JR? ANALYSING DRAKE'S BETS
IS TAYLOR SWIFT A CHRISTIAN? LEARN ALL ABOUT THE RELIGIOUS SIDE OF THE SINGER