This article will explore Lewis Hamilton's personal life and more on his relationships. Let us check out whether he and his ex-girlfriends are friends are not and about their past relationships.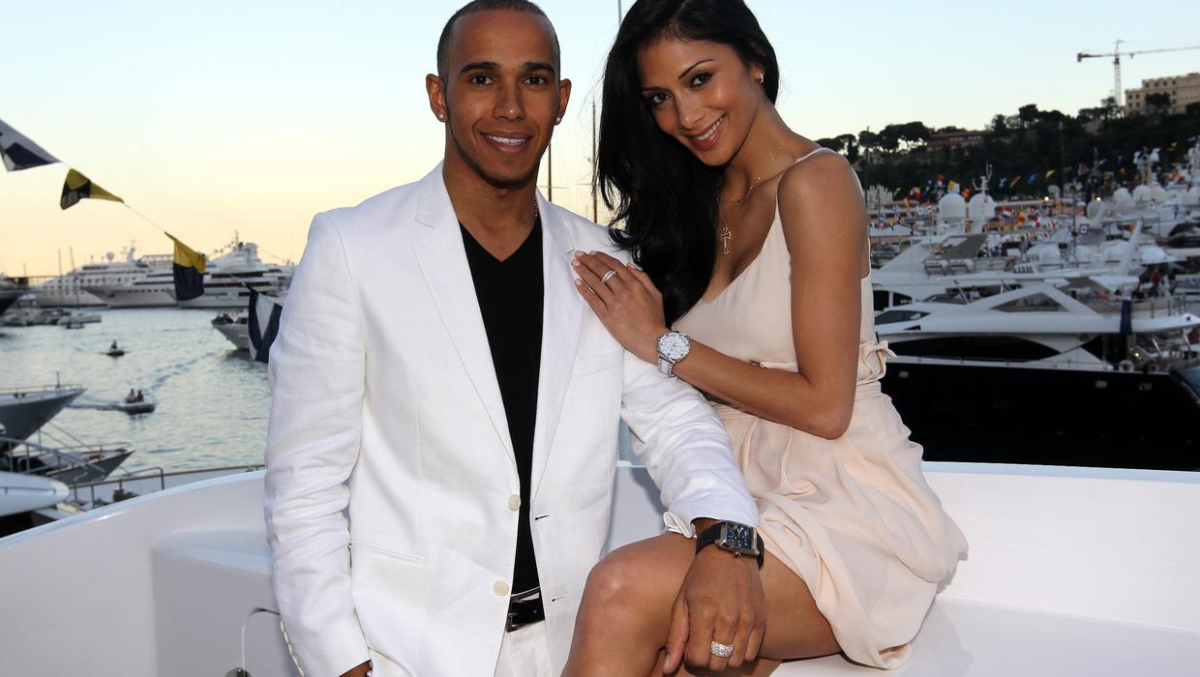 Lewis Hamilton – Early Life
Lewis Hamilton was born on January 7, 1985, in Stevenage, Hertfordshire, to parents of mixed racial heritage. His father, Anthony Hamilton, is of Grenadian descent, and his mother, Carmen Larbalestier, is White British from Birmingham. Despite his mixed heritage, Hamilton identifies himself as black. Hamilton's parents separated when he was two, and he lived with his mother and older half-sisters, Samantha and Nicola, until the age of twelve. After that, he lived with his father, stepmother Linda, and half-brother Nicolas, who is also a professional racing driver.
From a young age, Hamilton showed an interest in racing. His father bought him a radio-controlled car when he was five, and he finished second in the national BRCA championship the following year against an adult competition. However, being the only black child racing at his club, Hamilton faced racial abuse. His father bought him a go-kart for Christmas when he was six and promised to support his racing career as long as he worked hard at school.
To support his son's dream, Hamilton's father took redundancy from his position as an IT manager and became a contractor, sometimes working up to four jobs at a time. He attended his son's races and managed his career until early 2010, after which Hamilton sought new management.
Hamilton was educated at The John Henry Newman School, a voluntary aided Catholic secondary school in Stevenage. As a child, he took up karate to defend himself from bullies at school. Hamilton also played association football for his school team with future England international, Ashley Young. If not for racing, Hamilton stated that he would have become a footballer or cricketer, having played both for his school teams. In February 2001, he began studies at Cambridge Arts and Sciences, a private sixth-form college in Cambridge.
Lewis Hamilton relationships
Lewis Hamilton has been romantically linked with several high-profile women over the years, including singer Rihanna. According to The Sun, F1 superstar Hamilton and Rihanna were spotted together on several occasions, including a night out in New York in 2015.
Hamilton's most significant relationship was with singer Nicole Scherzinger, whom he dated on and off for eight years before splitting for good in 2015. The couple first met in 2007 at the MTV Europe Music Awards and were together until early 2010, after which they briefly reunited before finally calling it quits.
Hamilton has also been linked with models Barbara Palvin and Winnie Harlow. He reportedly dated Palvin in 2016, and the two were spotted together at several events, including the Monaco Grand Prix. Hamilton and Harlow were rumored to be dating in 2018, but the relationship fizzled out after a few months.
In addition to these relationships, Hamilton has also been linked with several other women, including rapper Nicki Minaj, actress Olivia Munn, and fashion designer Vivian Burkhardt. However, none of these relationships were ever confirmed by Hamilton.
Is he still friends with his ex-girlfriend?
Lewis Hamilton discussed his previous relationship with singer and actress Nicole Scherzinger in an interview with GQ magazine. After seven years of dating, they ultimately made the decision to part ways. Hamilton discussed the challenges of keeping up a long-distance relationship with Scherzinger while they both had demanding occupations to pursue. He disclosed that although they had split up several times throughout the years, they always managed to get back together.
Hamilton also discussed how the breakup had affected him and how he had channelled the hurt into driving motivation. He acknowledged that, despite their split, he was still in love with Scherzinger and that she had been significant in his life. As of 2023, there is no report stating they are having a friend zone between themselves post-relationship breakup.
Lewis Hamilton – Achievements
Lewis Hamilton is a highly decorated Formula One driver, with numerous championship titles and awards to his name. He has won the Formula One World Drivers' Championship seven times. He has also won the DHL Fastest Lap Award five times, in 2014, 2015, 2017, 2019, and 2020, as well as the FIA Pole Trophy/Pirelli Pole Position Award five times, in 2015, 2016, 2017, 2018, and 2020. Hamilton has won the Hawthorn Memorial Trophy eleven times and the Lorenzo Bandini Trophy in 2009.
In addition to his impressive performance on the track, Hamilton has also received numerous awards and honors throughout his career. He won the Laureus Breakthrough of the Year Award in 2008 and the Sportsman of the Year Award in 2020. He has also won the Pride of Britain Awards in 2007, the Best Driver ESPY Award in 2017 and 2021, the BBC Sports Personality of the Year Award in 2014 and 2020, the L'Équipe Champion of Champions in 2020, and the Gazzetta World Sportsman of the Year in 2018 and 2020, among many other prizes and awards.
Hamilton's contributions to the sport have been recognized by the FIA, as he has been elected FIA Personality of the Year four times, in 2014, 2018, 2020, and 2021, and was inducted into the FIA Hall of Fame in 2017. His achievements both on and off the track have solidified his position as one of the most successful and celebrated drivers in the history of Formula One.
Read More:
Who is the Tesla rival BYD? Learn all about this new electric car that can dance to
What happened between Achraf Hakimi and his wife?