This article will explore the recent rumour about rapper Ice Spice being pregnant and the truth behind it.
Who is Ice Spice?
Ice Spice is a rising American rapper from the Bronx, New York City. Born to a Dominican mother and African-American father who divorced when she was two. She grew up with her grandparents and cousins due to her parents' busy work schedules.
She attended Sacred Heart High School in Yonkers and was drawn to hip hop at the age of seven, inspired by rappers like Lil' Kim and Nicki Minaj. She began writing poetry and freestyle raps in elementary school, typing out lyrics on her iPhone and rapping out loud to hip-hop instrumentals.
Ice Spice played back row on her college volleyball team while studying communications at the State University of New York at Purchase. However, she dropped out in her sophomore year due to feeling out of place and the strenuous commute. She worked as a cashier at Wendy's and The Gap to support herself and considered herself the protector of her five younger siblings.
The New York Times hailed Ice Spice as "rap's new princess," and Time magazine named her a "breakout star." With her unique sound and growing popularity, she is undoubtedly a rising star in the rap industry.
Ice Spice and her relationships
Ice Spice, the rising Bronx rapper, has been the subject of multiple dating rumours with various men in the industry. One such rumour began in September 2022 when she was spotted with Stranger Things star Caleb McLaughlin, and an insider confirmed that they were in a romantic relationship.
Additionally, she was rumoured to be involved with Canadian rapper Drake after he reached out to her via direct message and invited her to his OVO Fest. Although there was speculation of tension between them after he allegedly dissed her in his song "Her Loss," Ice Spice clarified that there was no beef between them.
Despite being linked to multiple men in the industry, rumours of her dating comedian Pete Davidson were quickly debunked as a joke. Furthermore, Ice Spice and Lil Tjay, with whom she collaborated on the song "Gangsta Boo," were gifted a $150K watch, but both denied any romantic involvement.
In an interview, Ice Spice revealed that dating is not a top priority for her, as she prefers to focus on her family, friends, and herself. While some may speculate on her personal life, it is clear that Ice Spice remains dedicated to her music career and values her personal relationships above all else.
Is Ice Spice pregnant?
Ice Spice, the Bronx rapper who has been in the news for various rumoured relationships in the past, is once again the centre of attention, with speculations surrounding her pregnancy. However, as of now, there has been no official confirmation from her about the news. Fans on social media are going crazy, sharing their thoughts and opinions on the matter.
While some fans are excited about the news and congratulate Ice Spice, others are sceptical and dismiss the rumours as just another attention-seeking ploy. One fan tweeted, "Ice Spice is really pregnant? Congrats to her if true, but I can't help but think it's just another publicity stunt." Another fan expressed their disbelief and confusion, saying, "I had a dream I went on a date with Ice Spice and she was pregnant. Is this real or is just my dream playing tricks on me?"
The pregnancy rumours have also sparked debates about her music career and whether she deserves the attention she is getting. One user tweeted, "Y'all stupid I almost dropped to my knees, I saw a tweet saying ice spice was pregnant. SPICE IS PREGNANT NOT ICE SPICE. I almost had a heart attack".
It is important to note that speculations about celebrities' personal lives are not uncommon, and Ice Spice is not the first artist to be subject to such rumours. However, it is crucial to respect their privacy and wait for an official confirmation before making assumptions or spreading unverified news.
The truth behind the rumour
It could have started from the Instagram post by the Jamaican dancehall recording artist, singer, songwriter and businesswoman "Spice – The Queen of Dancehall". Where she posted saying that" God has been so good to me." The post shows her with a huge pregnancy belly. This could have been the reason behind the speculation of Ice Spice being pregnant and even most fans feel the same.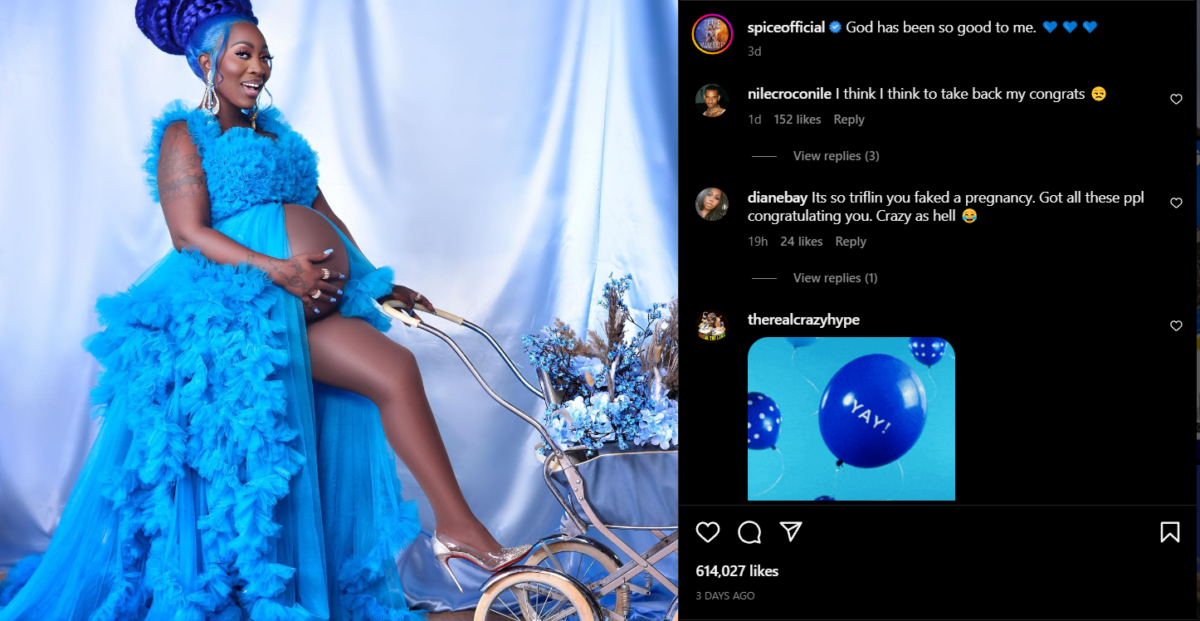 More entertainment news: