Want to unlock the Aegis ship in Starfield? Find the best locations and deals to unlock this Class-B ship.
Starfield, the latest sci-fi RPG from Bethesda is out. Play as an adventurer and explore the solar system where you have to travel across planets and engage in boss fights, ship combat, and quests. Starfield has 19 main campaign missions currently. Apart from these, you can play regular side-quests as well. You have to procure weapons and craft resources to build outposts and ships.
To travel to other planets, you have to unlock the best ships in the game. Spaceships can be collected from vendors, and technicians and you can complete side-quests to get them as well. There are many ships to unlock in the early stages of the game. Aegis, the medium-sized ship will be a useful addition to your ship deck. You can get this from traders across planets. Find out the best ways to purchase the Aegis ship in Starfield here.
Best Locations to Get Aegis Ship in Starfield!
You can buy the Aegis ship from vendor shops in many locations. There's no particular quest to get this spaceship. Here is list of every ship where you can get Aegis ship,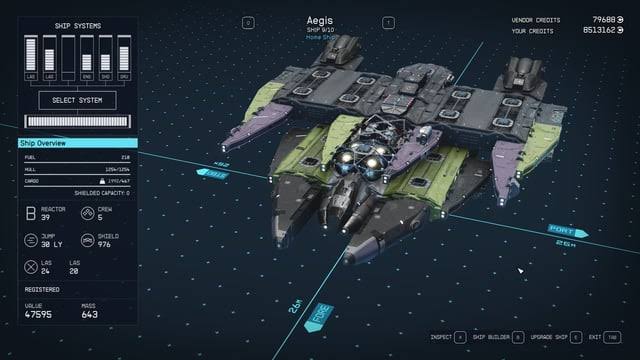 Travel to the Deimos Staryard space station. This is located in Deimos, orbiting around the first moon on planet Mars in the Sol Star system. You have to spend over 190k and purchase the ship from the vendor shop Nikau Henderson.
Travel to planet, Ixyll II, and reach the location called, The Eleos Retreat. This is one of the vendor shops in the Ixyll system. You can reach the location quickly from the Alpha Centauri star system.
Next, you can reach the Key Space station on Suvorov planet, in the Kryx system. Here, you can purchase the ship from ship technicians
Finally, you can reach New Atlantis. This major hub in Starfield is the best location to purchase all resources and equipment. You can purchase the Aegis ship from random vendor shops
These are the best locations and shops to get Aegis ship in Starfield. Aegis is a B class ship and the model is medium. It has high fuel and the cargo capacity is good as well.
The Aegis ship had five crew members. The shield, reactor, mass and value stats are all great. All these make it one of the best ships to obtain in Starfield.
Aegis ship doesn't come as a quest reward. As you can only collect this from shops for some credits. Aegis ship can be obtained from other prominent locations like New Homestead, Neon and Red Mile.
That's everything you need to know about unlocking the Aegis ship in Starfield. We will come back with more interesting updates soon.
FAQ
How Many Planets are there in Starfield?
The star system of Starfield has more than 1,000 different planets. You can land on every planet and acquire new quests. Even discovering new locations on planets will grant you basic resources like credits and XP.
How Many Factions are there in Starfield?
Starfield has 5 main Factions that are Ryujin Industries, Constellation, Crimson Fleet, Freestar Collective, and United Colonies. Apart from these five, you can join six more groups that are connected with every faction. You can join any faction and leave whenever you wish. Starfield also allows you to join multiple factions at once.
For more related content check out our dedicated website Gamition.
More E-Sports news:
Follow our dedicated E-Sports page for instant