Hasbulla Magomedov is a very popular 18-year old TikToker from Russia, and here is all about his net worth, family, next fight and the origin of his nickname 'Mini Khabib'
Hasbulla Magomedov facts
| | |
| --- | --- |
| Birth Place | Makhachkala, Russia |
| Father's Name | To be updated |
| Mother's Name | To be updated |
| Star Sign | To be updated |
| Net Worth (2022) | $500,000 (estimated) |
| Age | 21 |
| Date of Birth | 7 July, 2002 |
| Education | N/A |
| Nationality | Russian |
| Wife | N/A |
| Children | N/A |
| Endorsements | N/A |
| Social Media | Instagram, Twitter |
Hasbulla Magomedov was born in 2002 in Makhachkala (the capital of Dagestan), Russia.
He took the internet by storm in the year 2021. The 21-year-old Internet sensation from Russia first rose to prominence following his viral Instagram and TikTok videos.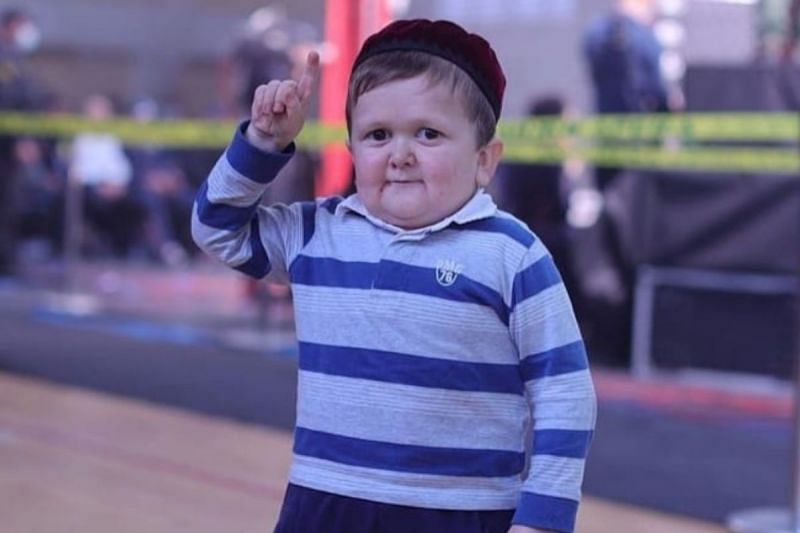 His fame grew to an astronomical extent after people began referring to him as 'Mini Khabib' – in reference to UFC legend Khabib Nurmagomedov.
He has attracted a ton of eyes, especially those of former UFC Fighter, Henry Cejudo, who has called the 21-year-old out numerous times.
Before blowing up Hasbulla had just over 100,000 followers on Instagram. It quickly rose to 2 million followers.
His official Instagram account currently boasts over 8.5 million followers.
Of late, there have been numerous social media accounts under the name Hasbulla, and each account has several thousand followers.
In fact, numerous YouTube channels have profited using Hasbulla's short clips.
Hasbulla Magomedov friendship with Khabib Nurmagomedov
Over the course of months, Hasbulla has become really close with Khabib Nurmagomedov. 'The Eagle' very often shares snaps of himself alongside Hasbulla on social media.
Khabib recently caught up with the social media star at a gym, sharing a photo with the caption: "With my boy."
Hasbulla Magomedov Net Worth
Hasbulla Magomedov has a decent net worth of approximately $500,000. It is largely attributed to his social media and Internet presence.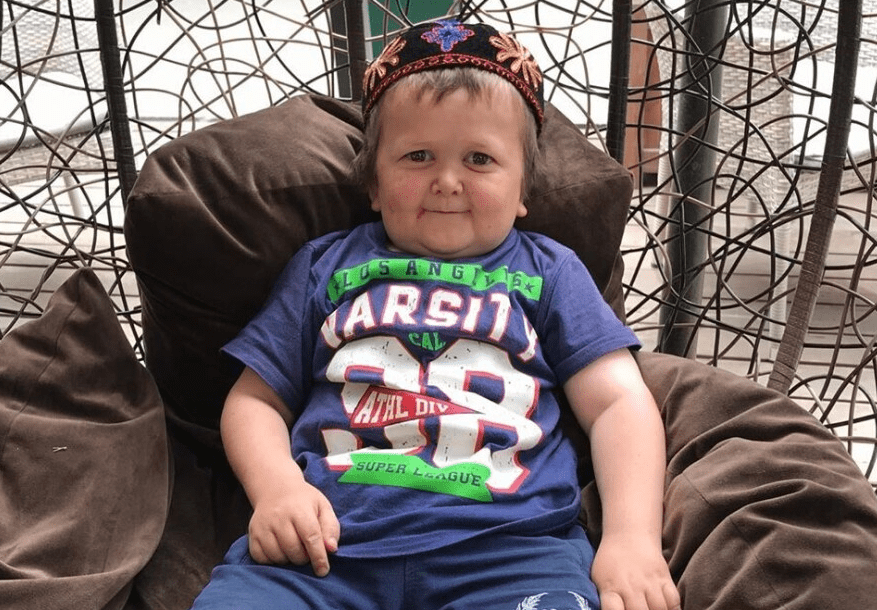 The exact details of how much Hasbulla makes from TikTok and his blogs aren't disclosed yet.
At UFC 267 in October 2021, Hasbulla cornered Khabib's protege Islam Makhachev during his fight against Dan Hooker.
Following Makhachev's quick win, Khabib, Makhachev and the team celebrated their win with Hasbulla.
In June 2023, Hasbulla Magomedov trading card – 2023 Prizm UFC Black 1/1 Autograph of Hasbulla Magomedov, sold for $29,400 at the auction. It became the 7th most expensive UFC trading card ever sold.
Hasbulla Magomedov Salary
Hasbulla's salary as such isn't available on the Internet.
Hasbulla Magomedov Family
Hasbulla hasn't mentioned anything so far about his family. Details of the same will be updated once they are available.
Hasbulla Magomedov Next Fight
Hasbulla Magomedov's next fight is against Abdu Rozik. Rozik is a YouTuber from Tajikistan who suffers from GHD as well. He is 18a-years old, and has over 400,000 subscribers on his YouTube channel.
However, the fight has received severe criticism from the Russian Dwarf Athletic Association. Hence, the exact date of the fight is still unknown, but it is expected to take place sometime in the coming months, provided the coast is clear.
Nearly two years later, the fight is yet to come to fruition.
Meanwhile, another social media sensation going by the name of Tain also challenged Hasbulla to a fight, back in 2021. Like Hasbulla, Tain also suffers from Growth Hormone Deficiency. Hasbulla's manager Axsab Tamaev took to his YouTube channel to unveil 'Tain'.
Hasbulla Magomedov manager
Hasbulla Magomedov is managed by Axsab Tamaev who is a teenager as well. The 21-year-old Russian is an MMA fighter competing in the heavyweight division. According to the popular MMA website Sherdog, Tamaev has one fight on his MMA record (1-0-0).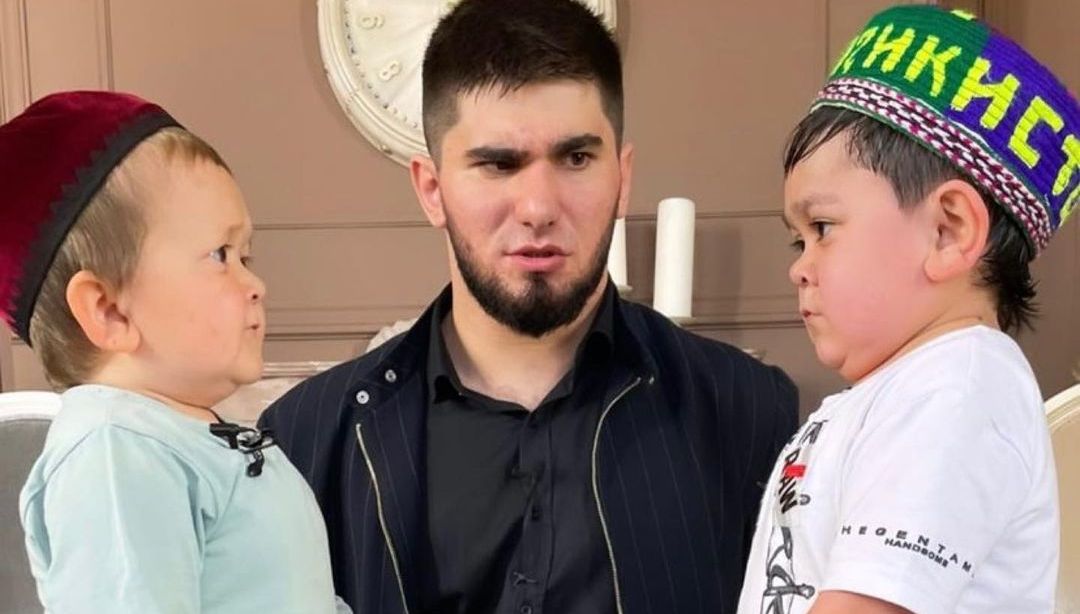 Tamaev also has a YouTube channel where he promotes the fights of his clients. The massive Russian has amassed almost 2 million subscribers on his YouTube channel.
According to Social Blade, Tamaev's earnings per month range from $88 – $1.4k. He makes approximately $10k from his YouTube channel in a year.
Why is Hasbulla Magomedov called 'Mini Khabib'?
Hasbulla's fame reached Khabib Nurmagomedov after he recreated the UFC legend's weigh in from UFC 229, against Conor McGregor back in 2018.
Hasbulla can be seen walking in on to the scales, just like the way Khabib walks. Stepping onto the scales he poses exactly like Khabib and even does the Dagestani's pointing to the sky celebration perfectly.
This impression of his went viral and earned him the nickname 'Mini Khabib'.
FAQs about Hasbulla Magomedov
Who is Hasbulla Magomedov?
Hasbulla Magomedov is an 21-year-old old Internet sensation from Russia.
Why is Hasbulla small?
Hasbulla is small due to Growth Hormone Deficiency.
How old is Hasbulla Magomedov?
Hasbulla is 21 years old.
Who is Hasbulla Masgomedov's manager?
Hasbulla's manager is a 21-year-old Russian called Axsab Tamaev.
Who is Mini Khabib boy?
Hasbulla is known as 'Mini Khabib'.
Who is Hasbulla's next fight against?
Hasbulla takes on Abdu Rozik next.
How tall is Hasbulla?
Hasbulla is about 100cms tall.
Where was Hasbulla born?
Hasbulla was born in Makhachkala, Russia.
Is Hasbulla an MMA fighter?
No, Hasbulla isn't an MMA fighter.
Who is the little Russian kid?
Hasbulla Magomedov is the little Russian kid. He is a 21-year-old blogger from Russian.
Is Hasbulla a kid or a man?
Hasbulla might look like a kid, but he is actually 21 years old.
More UFC news
Follow our dedicated UFC page for instant UFC news and updates