Yaoyao, the four-star Dendro character is coming to Genshin Impact on January 18, 2023. Check our guide to farm all the ascension and talent materials for Yaoyao.
Yaoyao's debut in Genshin Impact is so close, and travelers are delighted to welcome her into the world of Teyvat. HoYoverse officially announced that the four-star Dendro character will make her way into Genshin Impact 3.4 from Jan 18th, 2023. Ever since Genshin Impact was launched, the dendro character has been one of the most anticipated characters by travelers. And the two-year wait is going to end in a couple of days. The four-star Dendro's weapon is a Polearm. Yaoyao is a powerful DPS, and you can utilize her skills well by leveling up her character using the right talent and ascension materials.
Though Yaoyao is yet to make her entry into Sumeru officially, still there have been updates about the Dendro character's skills, stats, abilities, talent, and ascension materials among the travelers in the incumbent Genshin Impact 3.3 season. Here's our guide on Yaoyao Ascension materials and talent materials. You can farm the best materials for Yaoyao from these spots in Genshin Impact 3.4, check out everything about yaoyao's character level-up materials in our guide here.
Yaoyao is a powerful four-star tank, and she wields a Polearm weapon, she's also the very first Dendro healer in the game. To enhance her skills and stats, you need to increase her levels.
Yaoyao Ascension Materials
Here are all the character level-up materials for Yaoyao in Genshin Impact:
Phase 1 – Upto Level 20
Nagadus Emerald Silver x1
Mora x20,000
Jueyun Chili x3
Slime Condensate x3
Phase 2 – Upto Level 40
Quelled Creeper x2
Jueyun Chili x10
Nagadus Emerald Fragment x3
Slime Condensate x15
Mora x40,000
Phase 3 – Upto Level 50
Nagadus Emerald Fragment x6
Jueyun Chili x20
Slime Secretions x12
Quelled Creeper x4
Mora x60,000
Phase 4 – Upto Level 60
Nagadus Emerald Chunk x3
Quelled Creeper x 8
Jueyun Chili x 30
Slime Secretions x18
Mora x80,000
Phase 5 – Upto Level 70
Quelled Creeper x12 
Jueyun Chili x45
Slime Concentrate x12
Nagadus Emerald Chunk x6
Mora x100,000
Phase 6 – Upto Level 80
Nagadus Emerald Gemstone x6
Jueyun Chili x60
Slime Concentrate x24
Quelled Creeper x 20
Mora x 120,000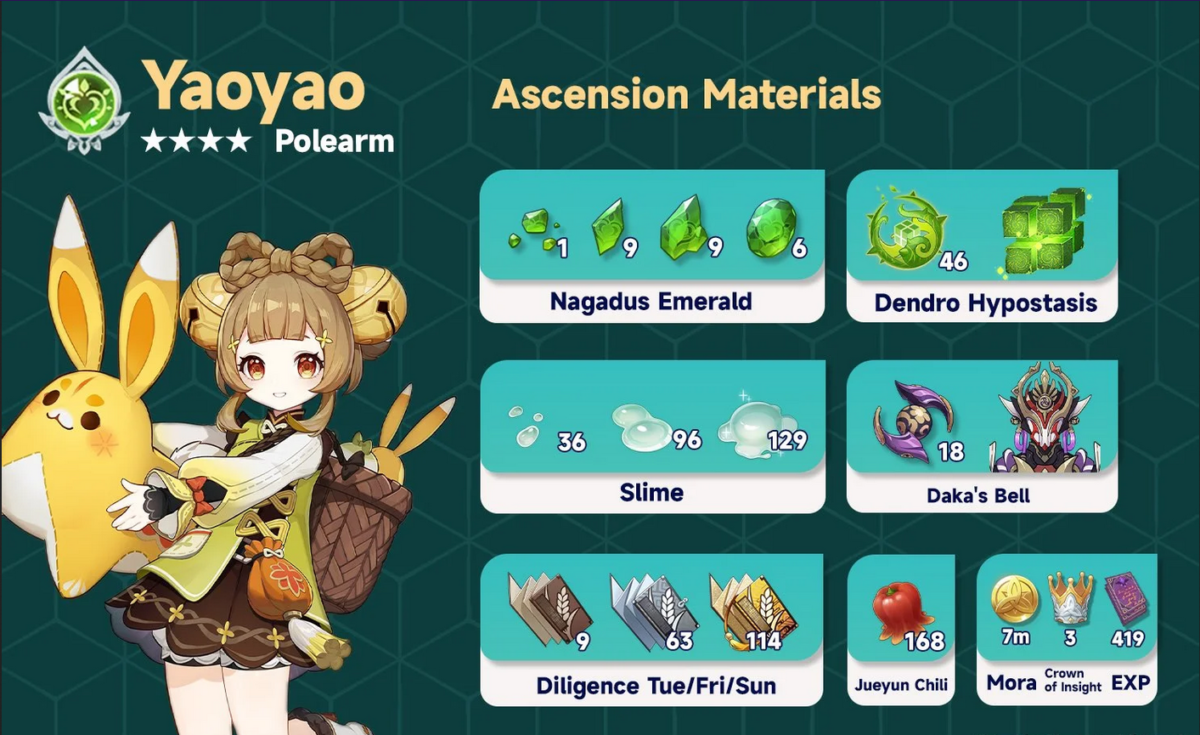 Yaoyao Talent Materials
Here are the best talent materials for Yaoyao, use these materials to increase Yaoyao's powers.
Level 2
Mora x 12,500
Slime Condensate x 4
Teachings of Diligence x 3
Level 3
Mora x 17,500
Guide to Diligence x 2
Slime Secretions x 3
Level 4 
Mora x 25,000
Guide to Diligence x 4
Slime Secretions x 4
Level 5 
Mora x 30,000
Guide to Diligence x 6
Slime Secretions x 6
Level 6 
Mora x 37,500 
9x Guide to Diligence
9x Slime Secretions
Level 7 
Mora x 120,000 
Philosophies of Diligence x 4 
Slime Concentrate x 3
Daka's Bell x 2
Level 8
Mora x 260,000 
Philosophies of Diligence x 6
Slime Concentrate x 6
Daka's Bell x 1
Level 9
Mora x 450,000
Philosophies of Diligence x 12 
Slime Concentrate x 9
Daka's Bell x 2
Level 10 
Mora x 700,000 
Philosophies of Diligence x 16 
Slime Concentrate x 12
Daka's Bell x 2
Crown of Insight x 1 
Yaoyao Ascension and Talent Materials – Farming Locations
Finding and farming the character level-up materials is an easy process, the only difficulty is you need to explore various locations in Genshin Impact. Here's where you can find and farm the entire character level-up materials for Yaoyao in Genshin Impact.
Quelled Creeper
You can get these fragments as a drop from level 30+  Dendro Hypostasis boss. Visit the Rain Forest zone, defeat the boss and get these items.
Jueyun Chili
This plant is available in most of the places in Liyue. Farm Jueyun Chili in Stone Gate, Qingce Village, Jueyun Chili bushes, Jueyun Karst, Minlin, and in other places of Liyue.
Slimes
The Slimes boss drop all Slime materials. You can get Slime Condensate, Slime Concentrate, and Slime Secretions by defeating the slimes in and around Liyue, Mondstadt, Sumeru, and Inazuma.
Nagadus Emerald Items
Every Nagadus Emerald item can be obtained as drops from the Jadeplume Terrorshroom boss in Sumeru. And you can get it from Dendro Hypostasis boss again. Else you can craft one Nagadus Emerald item from the other elemental stones.
Teachings of Diligence Series
To get these talent materials for Yaoyao, make sure to complete the Domain of Mastery: Heart of the Flames on Tuesday, and Friday and the Domain of Mastery: Abyss of Embers on Sunday.
Daka's Bell 
Daka's Bell is a rare talent level-up material from Genshin Impact. So far, only the Wanderer Scaramouche has used this material. Obtain this material from the weekly boss Shouki no Kami, The Prodigal.
These are all the best locations to farm the character level-up materials for the 4-star Dendro playable character Yaoyao in Genshin Impact
Yaoyao Release Date
After a hiatus, HoYoverse has decided to unleash Yaoyao, the four-star Dendro playable character in the upcoming Genshin Impact 3.4 patch update version on January 18, 2023. Yaoyao's primary weapon is a Polearm, and the Dendro DPS unit will be a powerful playable character, utilize her talent with the right ascension and talent materials.
We will be back with more updates about Yaoyao dendro soon. Level up her character with all the materials that are shared in our guide. Yaoyao will be available from Jan 18, 2023.
For more related content check out our dedicated website Gamition.
More E-Sports news:
Follow our dedicated E-Sports page for instant E-Sports news and updates