Defeat the machine boss Aeonblight Drake with ease in Genshin Impact. Here is our guide with some tips and tricks to help you out.
Aeonblight Drake is a new addition to Genshin Impact that was added in the 3.1 update. This mechanical boss is more powerful than Ruin Drake as we have witnessed earlier in Genshin Impact. Here is the ultimate key for you to follow to earn your victory against Aeonblight Drake in Genshin Impact.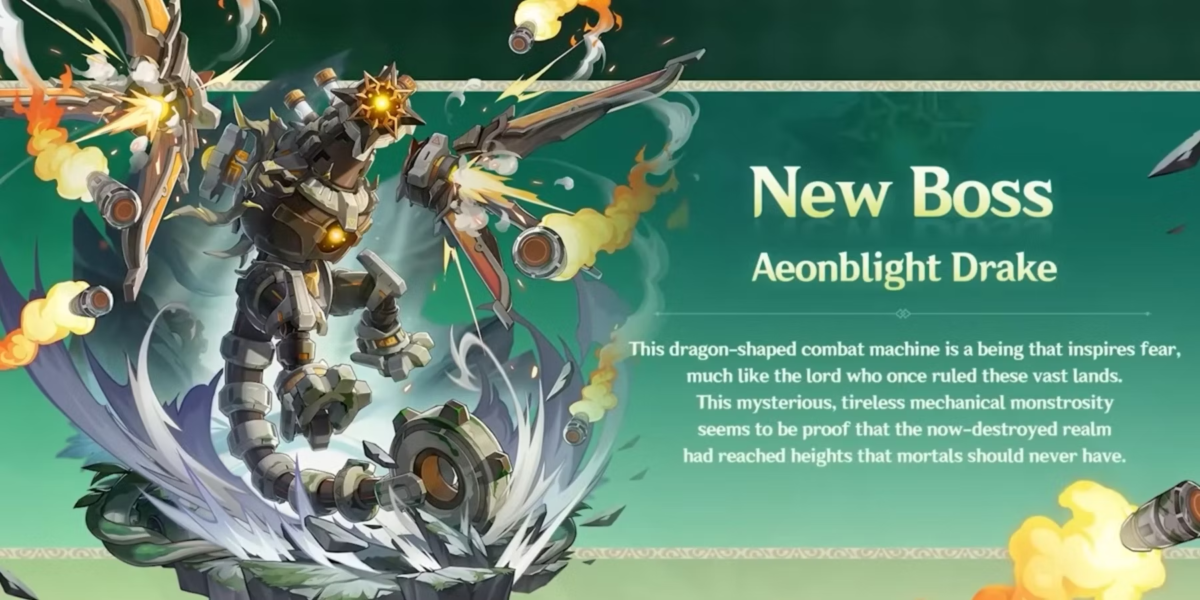 How to find Aeonblight drake in Genshin Impact
In order to defeat Aeonblight Drake in Genshin Impact, you should first know where is the mechanical boss located. Follow the route suggested by us to find Aeonblight Drake conveniently.
The first location to enter in order to meet Aeonblight Drake is Devantaka Mountain"
After reaching this destination go to the Teleport point near the Mountain and go inside the cave behind the Teleport point.
Keep moving ahead and then go left and straight forward after this and you will find an arena. This is the place where you would find Aeonblight Drake boss.
How to defeat the Aeonblight Drake in Genshin Impact
Let's have a look at the attack pattern of Aeonblight Drake in Genshin Impact and see how to defeat it.
Ground attacks 
Tail Sweep: This one is one of the basic attacks of the boss which is easy to dodge and very easily visible. Simply using the dash will do the job as a defense.
Arm Punch: The boss usually uses this attack when the players are in direct contact with it. You can avoid this by using a dash or moving to the side.
Charge Attack: This is used by the boss when the player is away from Aeonblight Drake. You can dodge this by moving aside.
Elemental Rain: When this attack is used by the boss a small AoE area is created surrounding it and then it rains that particular area with an Elemental attack. The speed of this attack reaching is small which gives you ample time to get away from it.
Airborne Attacks 
Air gun: This attack is basically air shooting at the players. To dodge it you can run to the side or double dash.
Homing missile: As the name suggests this shoots a missile at the players and then comes at you in a straight line. It's better to stay away from the boss when this is fired that's the easiest way to dodge it.
Charge Attack (air): The boss charges at you with its tail. To avoid it dash to the side or just move.
Note: Players can't hit the boss when it's in the air. Thus it's suggested that you use bow characters to shoot at its core and head to slow it down for some time.
Best team lineup to defeat the Aeonblight Drake
To defeat Aeonblight Drake you need an appropriate team lineup. Though it's not very difficult to defeat this boss, it's important to keep the following type of characters on your team.
Bow character: This is an important character to keep in your roster as it keeps the boss on the ground.
Healer: As the name suggests, these characters help you and your team to survive in the game with their healing powers and aid you when needed.
Duel DPS: Aeonblight Drake has the ability to develop strong resistance to the main DPS element, players should have a backup that gives high damage to the boss.
These are all the points to keep in mind on your journey to defeat Aeonblight Drake. You are rewarded with 40 original resin upon completing the battle with Aeonblight Drake in Genshin Impact.
For more related content check out our dedicated website Gamition.
Follow our dedicated E-Sports page for instant E-Sports news and updates