The Singapore GP is scheduled to take place from 15th to 17th September at the Marina Bay Street Circuit – let us take a look at the DRS zones at this venue
Formula One has implemented changes to various tracks on the F1 Calendar. Bahrain, Jeddah, Baku, and Miami have seen adjustments to their DRS zones. In contrast, the Marina Bay Street Circuit, which hosts the Singapore GP, will remain unchanged. It will retain its existing layout with three DRS zones, and there have been no alterations to the track design as the upcoming race approaches this weekend.
There are three DRS Zones on the Marina Bay street circuit for the Singapore GP. The first one is situated after Turn 5, the second after Turn 13, and the third after Turn 19, right on the start/finish straight.
DRS Zone 1
The initial DRS Zone for the Singapore GP features a Detection Point located at the exit of Turn 4. The Activation Point is positioned 48 meters past Turn 5. Notably, Zone 1's Activation Point is found at the beginning of the longest straight along Raffles Boulevard on the Marina Bay circuit. This section is crucial for overtaking, as the drag reduction effect is most significant at higher speeds, making it a prime location for passing maneuvers in recent Singapore Grand Prix races.
DRS Zone 2
The second DRS Zone in the Singapore Grand Prix is equipped with a Detection Point positioned 102 meters before reaching Turn 13, while the Activation Point is located 78 meters after exiting Turn 13.The Detection Point follows the technical section through turns 10, 11, and 12, which are relatively slower-speed corners. Consequently, it's quite feasible for one car to stay within the one-second window of another car in this section.The Activation Point, situated just after exiting Turn 13, marks the beginning of Esplanade Drive, also known as Jubilee Bridge, which spans over Marina Bay itself. Although this straight isn't particularly long, the following driver, even with DRS active, will need an excellent exit from Turn 13 to have a chance of overtaking toward the end of the zone and entering Turn 14.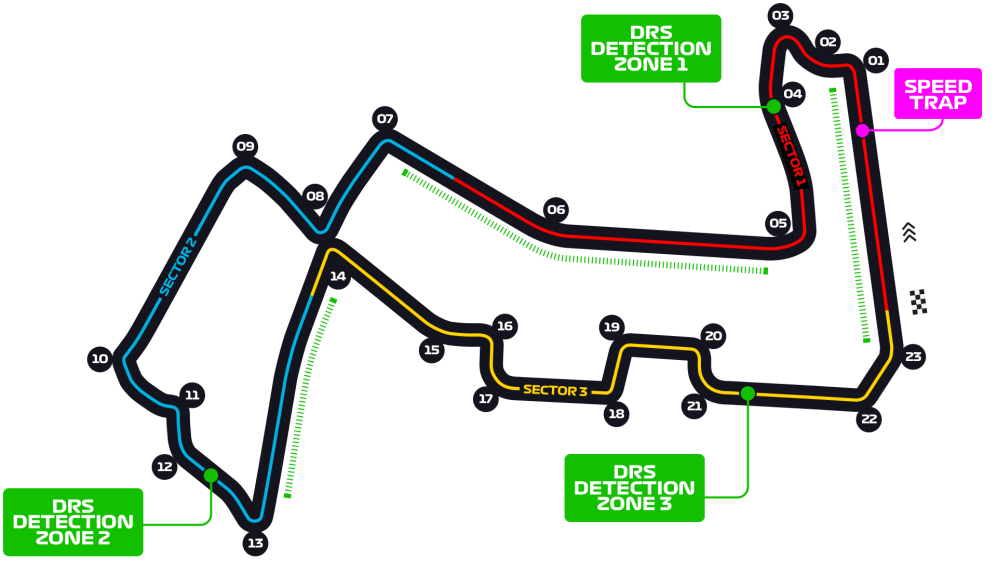 DRS Zone 3
In the Singapore Grand Prix, the third DRS Zone is equipped with a Detection Point located 180 meters before approaching Turn 18, while the Activation Point is positioned just 43 meters after exiting Turn 19.The Detection Point follows closely after the tight and technical turns 16 and 17, which tend to bunch up the cars, making it relatively straightforward for them to stay within one second of each other in this section.The Activation Point is situated at the beginning of the pit straight, near some of the Singapore Premier Walkabout grandstands positioned on the outside of the circuit.
More Formula One news:
Follow our dedicated Formula One page for instant Formula One news and updates